UNLV cadets' holiday project to produce better soldiers
December 9, 2014 - 9:47 pm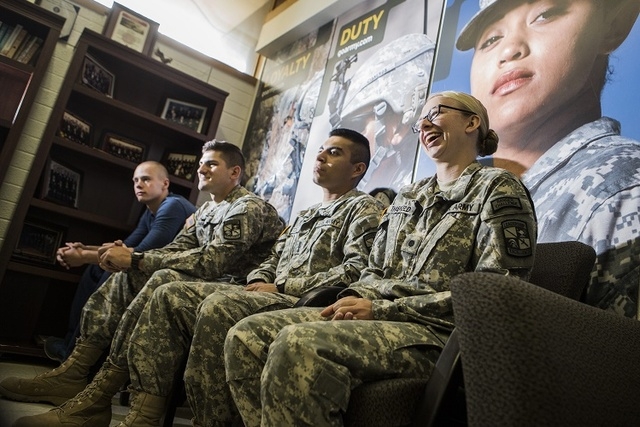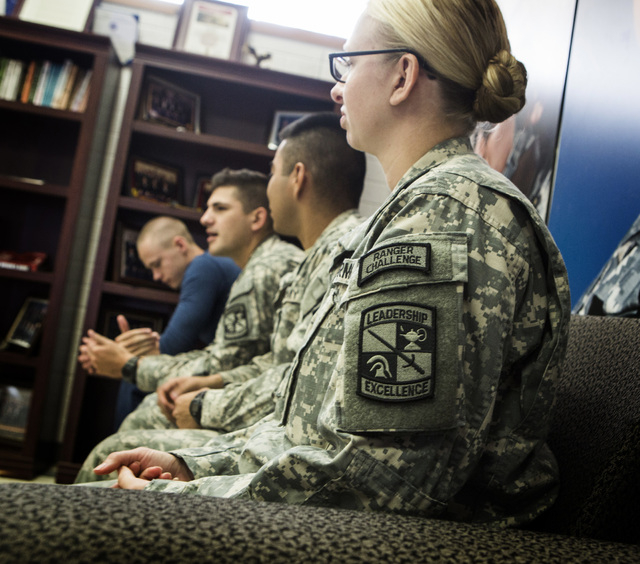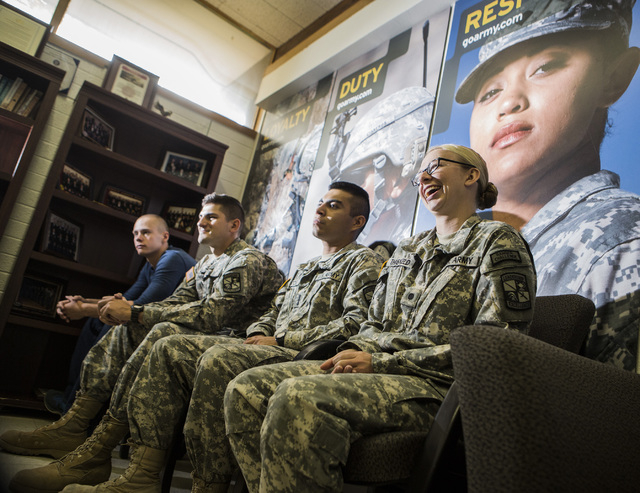 An effort by ROTC cadets at UNLV to help a needy family for Christmas has turned into course work that will make them better soldiers in the field.
That's the upshot of an ongoing project by UNLV's 90 cadets to work with a Clark County child protective services coordinator, who is also a Nevada National Guard soldier, to provide gifts and clothes to a family with six children ages 1 through 12.
"We're collecting together what they wanted as a family to enrich their Christmas season. We're trying as an entire program to bring it together," said cadet Capt. David Watters, 21, a senior from Mobile, Ala.
In interviews Monday, Watters and three other cadets discussed their effort to raise $1,000 for items for the family, including $250 to donate to the Wounded Warrior Project. Much of the money has been raised through out-of-pocket donations and from a campus bake sale. Local Air Force friends have chipped in.
"You give what you can to those around you and everybody benefits from it," Watters said. "We get to see that on a community-size scale."
One cadet, Capt. Keishmer Cardoso, 23, of Las Vegas, raised $250 with help from a razor and a pair of scissors. "I told all the cadets the highest donator would have the opportunity to shave my head."
They are hopeful with more donations they can surpass their goal. "To give back to the community is just opening up doors," Cardoso said.
"The bottom line is we're trying to provide as many leadership opportunities for these future officers as we can and to do a community service event so (they) can motivate their peers to cooperate in donating and getting it in on time," said Maj. Derek Imig, chairman of UNLV's Department of Military Science, and officer-in-charge of the university's Army ROTC program.
"Everything in life is a training event and we look at it from an Army's perspective and this is a good example of that," he said.
For privacy and confidentiality reasons, the family's identity has been kept secret and will remain so but the cadets know the ages of the child and whether they're buying particular gifts for a boy or a girl.
"We got a list of certain things that every member of the family wanted and we took care of that stuff first," said cadet Sgt. Maj. Anthony Lombino, 21, of Las Vegas. The list included a wall basketball hoop for a 3-year-old, bicycles and a PlayStation.
"We've been buying them clothing and more toys," he said. "It reminds me that the holidays are a time for us to come together and charity is really an important part of our culture, especially part of the military culture to reach out and help other people."
Cadet 2nd Lt. Kimberly Threlkeld, 28, of Carbondale, Ill., said the "hard part was just rounding up everyone to say, 'Hey. Would you like to donate?' "
"I've learned not to wait so long," she said, adding that the experience has built character. "When I wait then I get rushed and it doesn't turn out as well."
Anyone interested in donating to ROTC's holiday charity project can contact Maj. Imig at 702-895-0455, or by email at derek.imig@unlv.edu.
Contact Keith Rogers at krogers@reviewjournal.com or 702-383-0308. Find him on Twitter: @KeithRogers2.