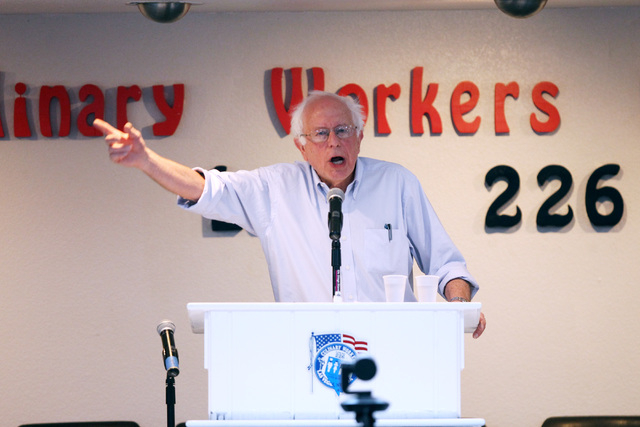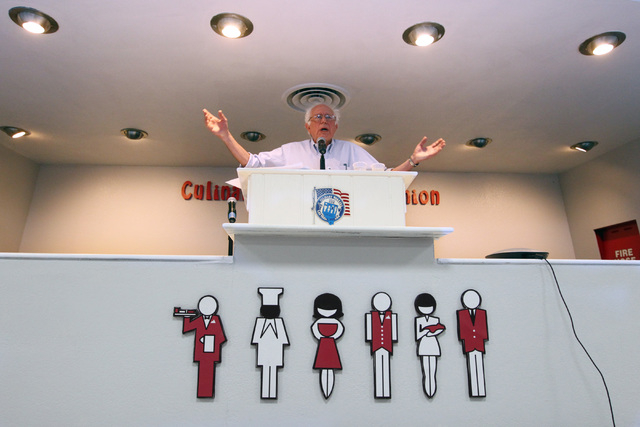 U.S. Sen. Bernie Sanders, an independent populist who may challenge Hillary Clinton for the Democratic presidential nomination, said Tuesday in Las Vegas that if he runs it will be to take on "the billionaire class" that's getting richer while America's middle class is in decline, with more people living in poverty.
"Not only are we not winning the fight, we are losing the fight," the Vermont senator said in a fist-pumping speech at a packed Culinary Local 226 union hall, where workers cheered him on. "If we are going to fight for our children and our parents we have got to organize in a way that we have never done before. … The great middle class of our country has been shrinking, shrinking, shrinking."
Sanders, 73, said he's taking his time deciding whether to challenge Clinton, who hasn't yet officially announced she's running for the White House but is by far the leader among potential Democratic opponents, early polls have shown.
He said his decision will hinge on whether his campaign can keep the middle class at the forefront of the political debate at a time when billionaire donors have a growing influence on elections. He mentioned Las Vegas Sands CEO Sheldon Adelson and the Koch brothers, whose political organization plans to spend $900 million on 2016 races.
"You've got a billionaire class … that can spend as much money as they want," said Sanders, who noted Republican contenders must compete in the "Sheldon Adelson primary for campaign funding." "That's not what democracy's about."
In an interview after his speech, Sanders said the U.S. government, and in particular Republicans in control of Congress, seem more concerned with protecting the rich than helping the poor and the declining middle class.
"There needs to be a political debate about the real issues," Sanders said, adding that's one reason he would run — to ensure the issues don't get lost in all the political name-calling and campaign distractions.
"People don't care about Clinton's emails," he said by way of an example, but do care about "jobs, wages, health care."
Clinton has been criticized for using a private email account during her four years as secretary of state.
Sanders, during his union town hall, said real unemployment is about 11 percent, double the reported national rate if you take into account people who have stopped looking for work or who are in part-time jobs while seeking full-time employment. Some 45 million Americans are now living in poverty, including 20 percent of U.S. children, he added.
Meanwhile, the top 1 percent of America's rich own 42 percent of the nation's wealth, Sanders said.
He specifically called out Wal-Mart's Walton family, the wealthiest family in the U.S. He said the Waltons own more wealth than the bottom 40 percent of Americans. Forbes Magazine reported last year that the combined net worth of the six Waltons on its list of the world's richest people was $148.8 billion, yet the retail giant pays "starvation wages."
"Boycott Wal-Mart!" a union worker yelled from the crowd of more than 300 who attended Sanders' speech.
"The wealthier people have got to start paying their fair share of taxes," said Sanders, who jettisoned his suit jacket in the heat of the union hall. "Corporate America has to start paying its fair share of taxes."
"Enough is enough!" Sanders added in a refrain he used throughout his speech to rally the workers.
Sanders, a self-described Democratic socialist, said he favors raising the national minimum wage, now $7.25 per hour, to $15.
And he wants to strengthen and even expand Medicare, Medicaid and Social Security, the nation's safety-net entitlement programs that protect seniors, the poor and retired workers who paid into the system.
"Anybody who works 40 hours a week should not be living in poverty," Sanders said.
Women should be paid the same wages as men for doing the same job, he added.
The United States also should invest $1 trillion in its infrastructure, employing 13 million people at the same time.
Sanders has been traveling the country testing the political waters and the appetite for challenging Clinton.
"I think an uncontested primary, or as they sometimes say, a coronation, is not a good thing for America," Sanders said on a recent stop in New Hampshire, one of four early voting states that includes Iowa, South Carolina and Nevada.
If Sanders doesn't run for the White House, Clinton still may see a Democratic challenger from the left.
U.S. Sen. Elizabeth Warren, D-Mass., has insisted she will not run for the White House although she's the liberal darling of the Democratic left. Maryland Gov. Martin O'Malley, however, appears to be preparing to launch a campaign. Vice President Joe Biden is facing pressure from some quarters to run as well.
On the Republican side, the potential field is packed. U.S. Sen. Ted Cruz of Texas last week became the first major GOP candidate to announce he's running for president. U.S. Sens. Rand Paul of Kentucky and Marco Rubio of Florida both have planned announcements scheduled in April.
Contact Laura Myers at lmyers@reviewjournal.com or 702-387-2919. Find her on Twitter: @lmyerslvrj.