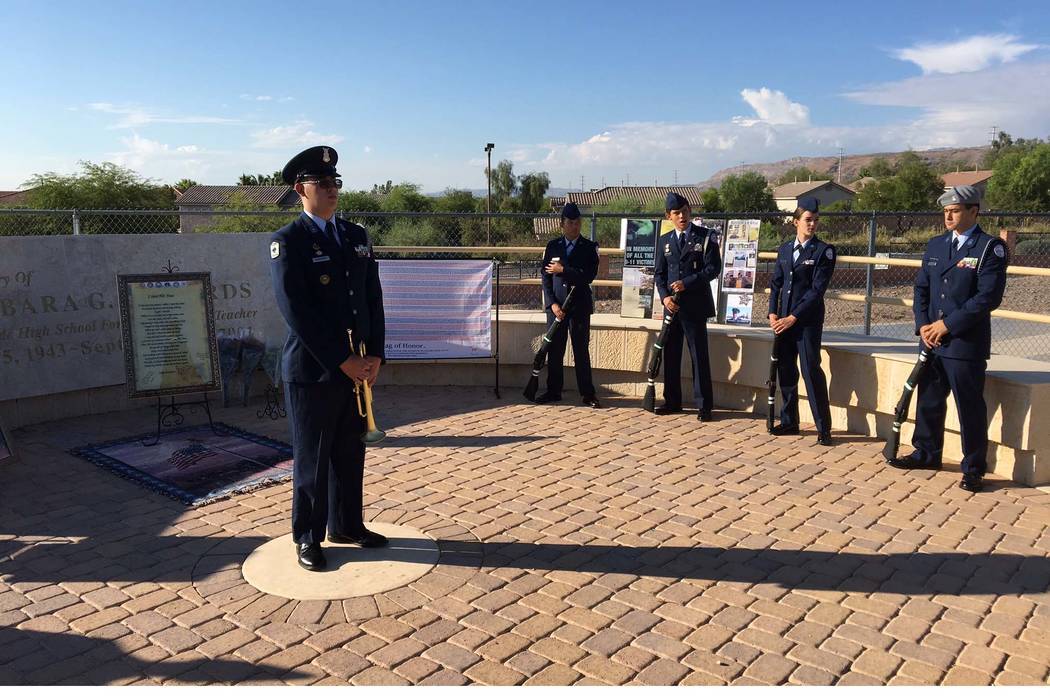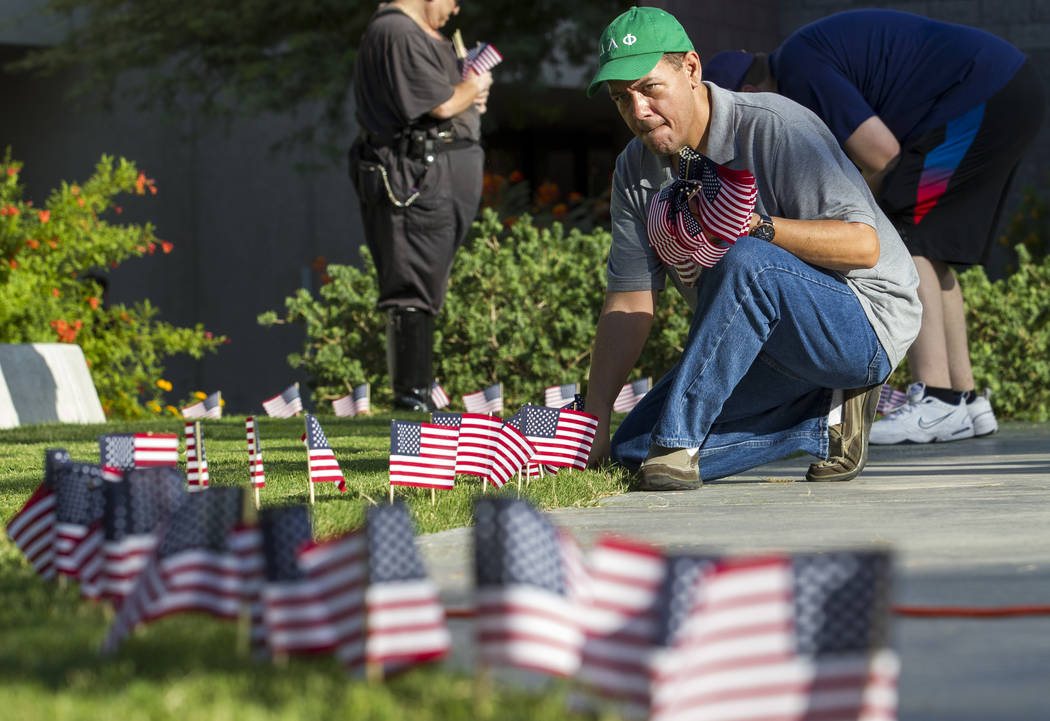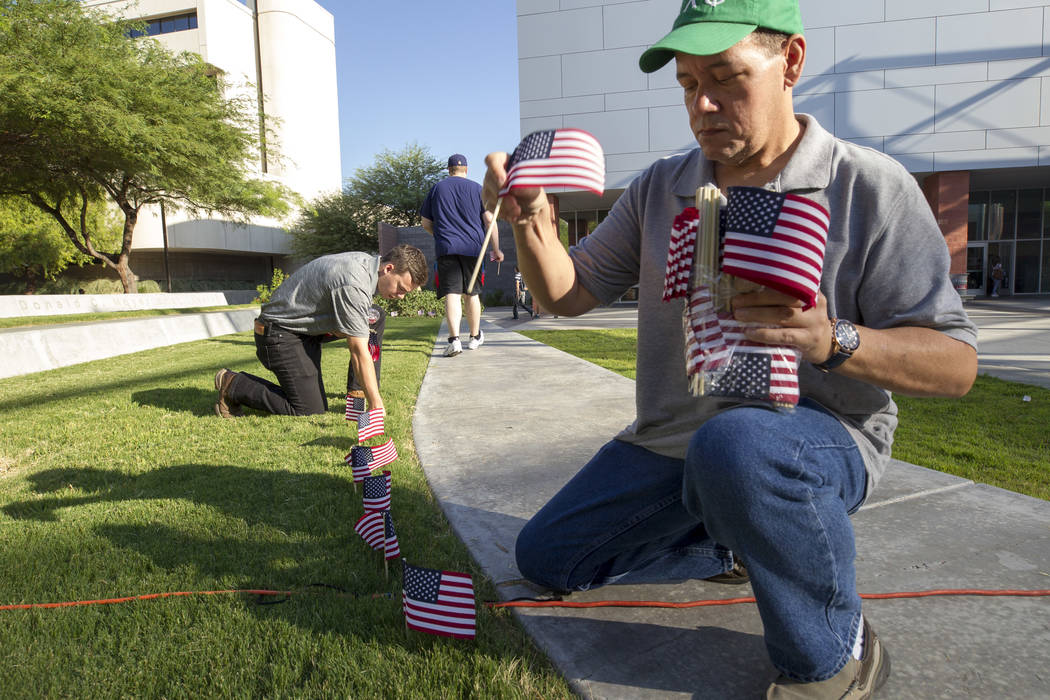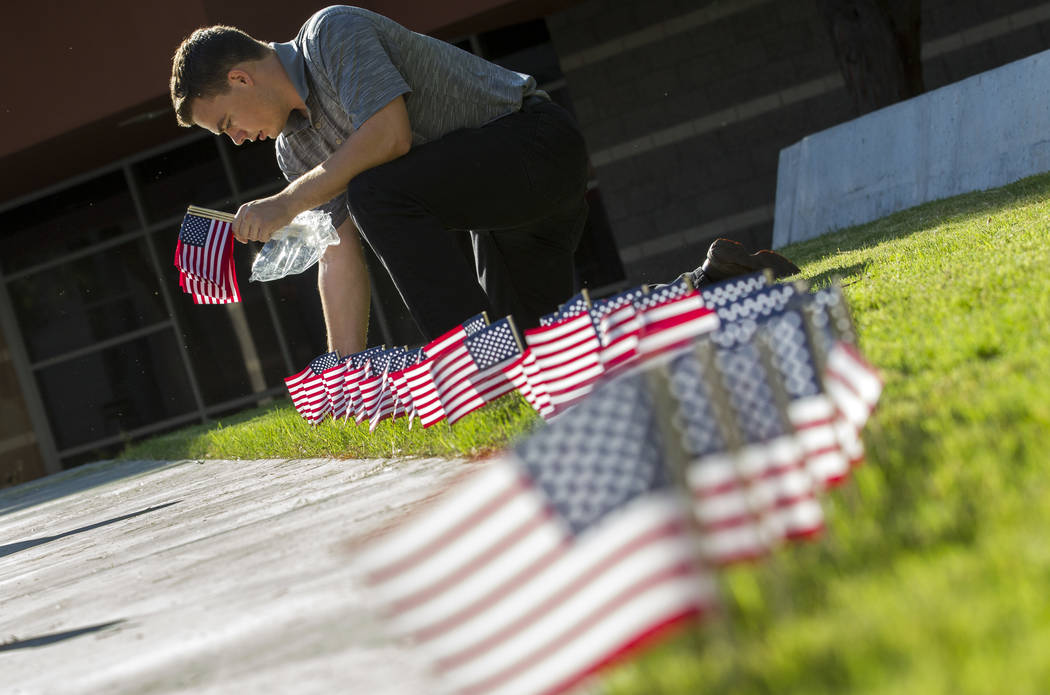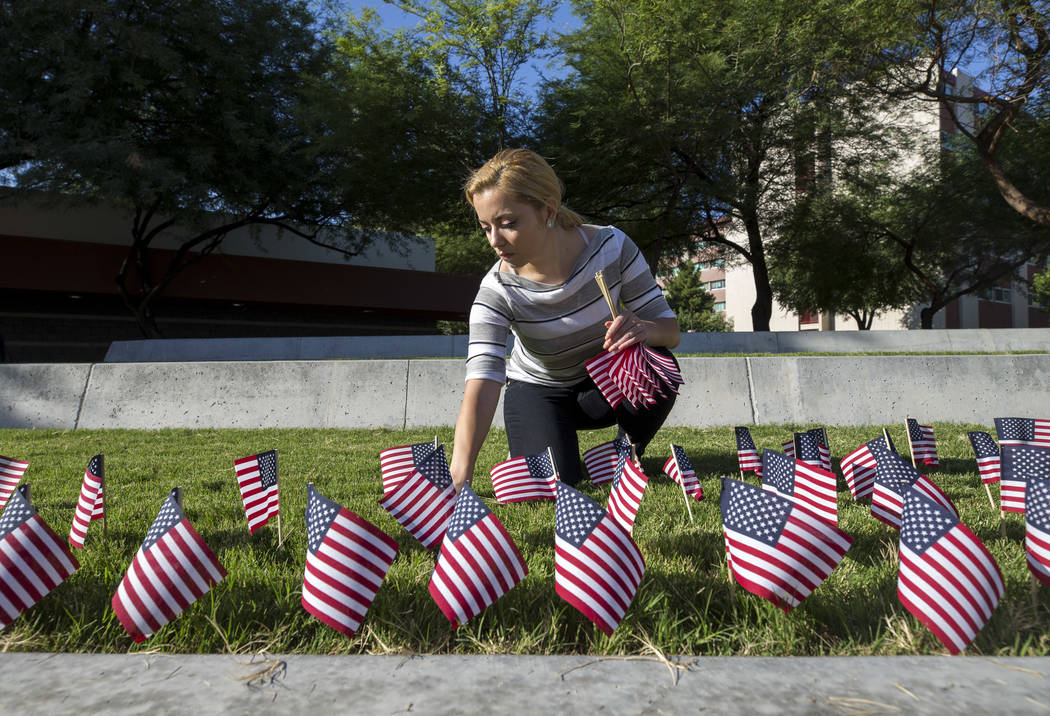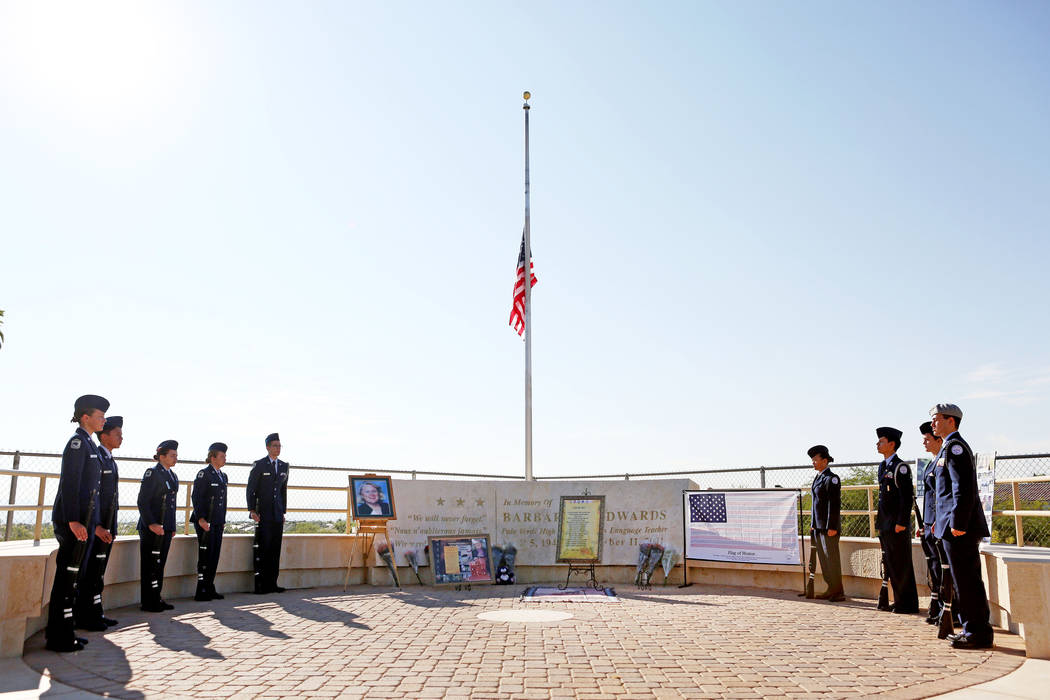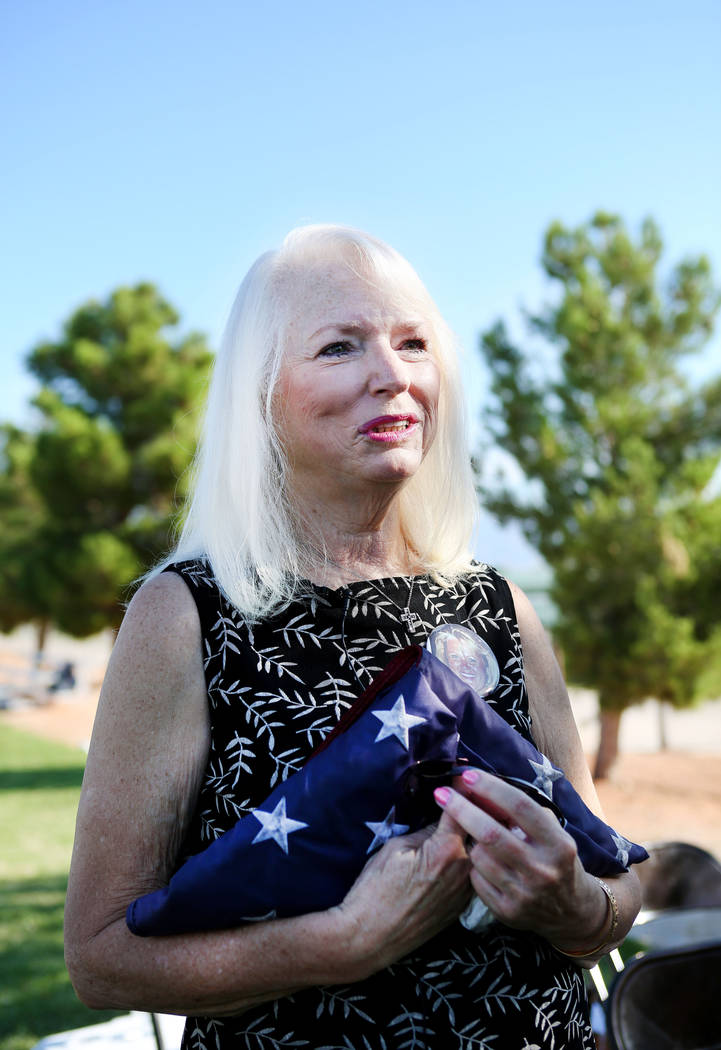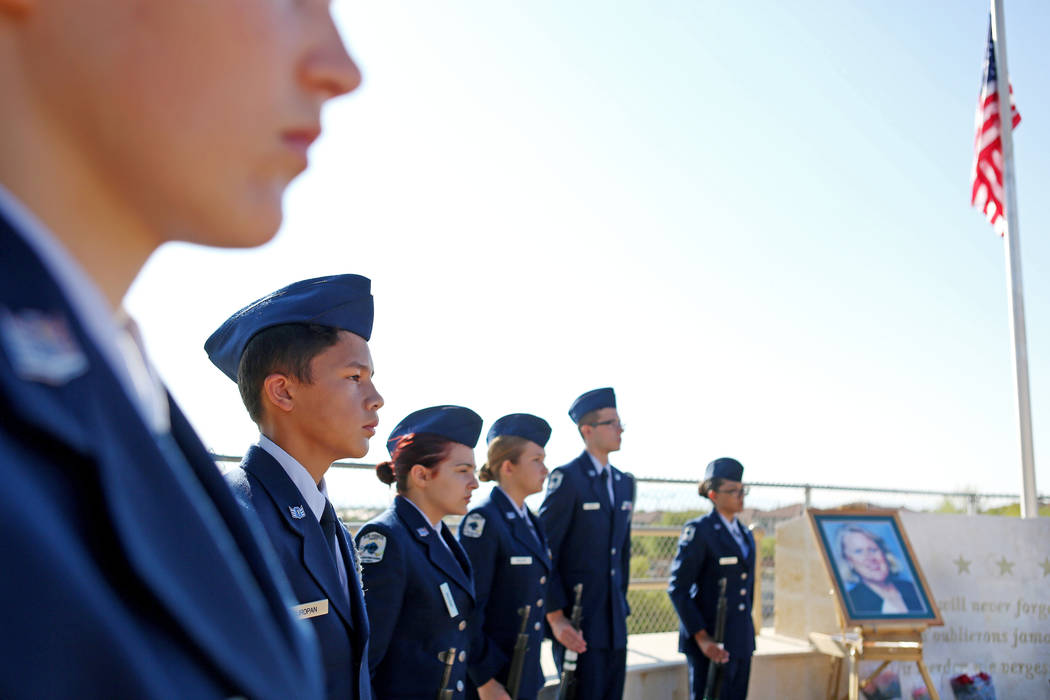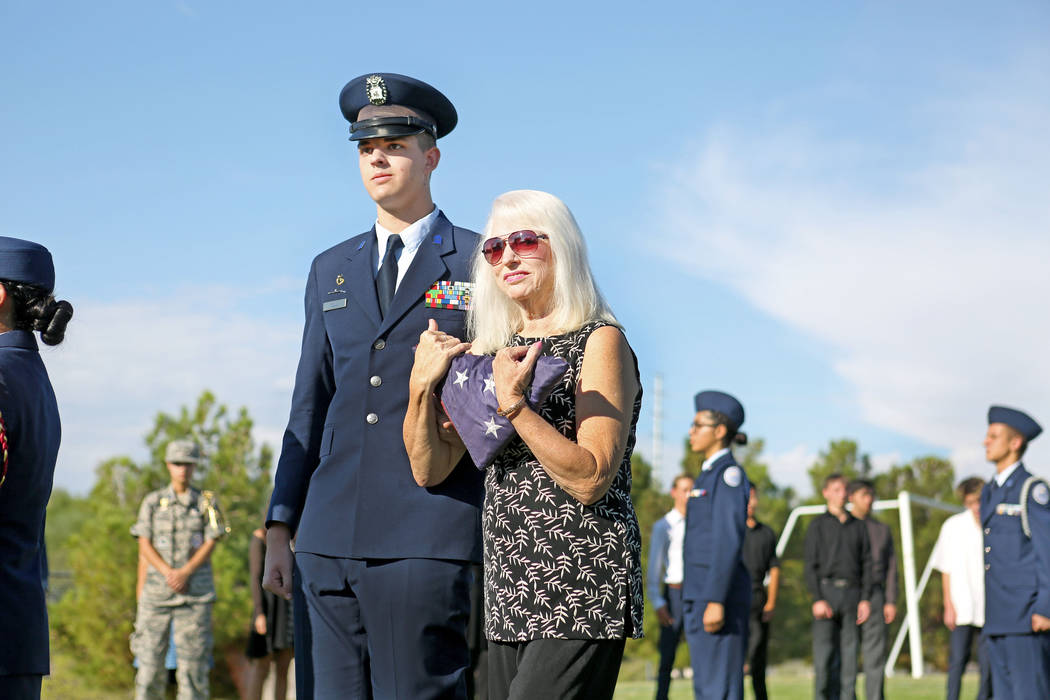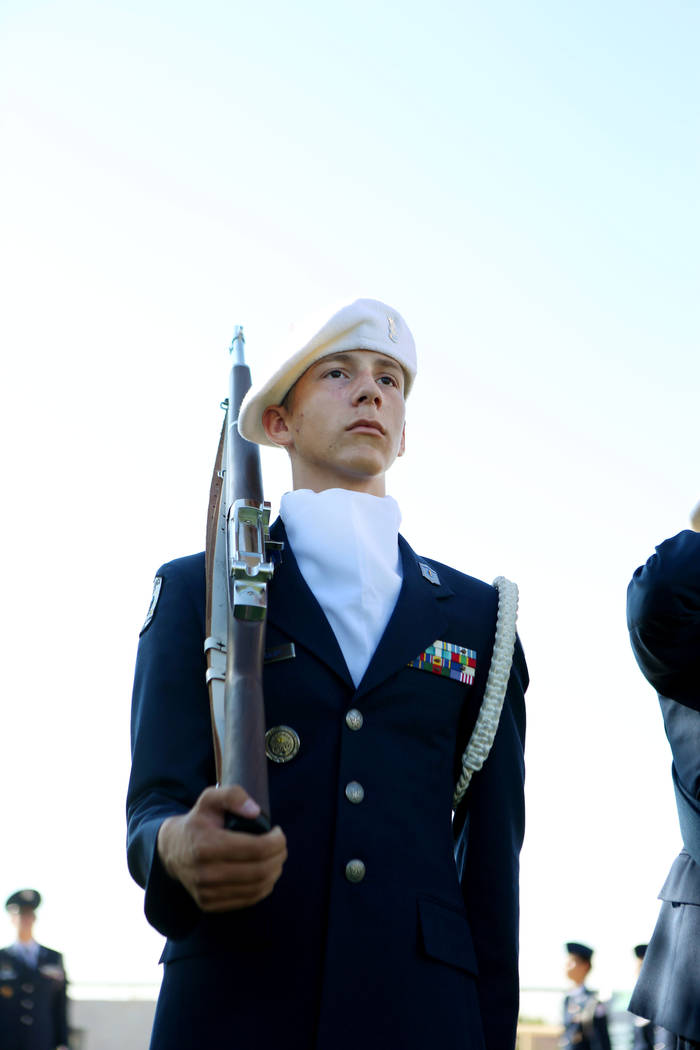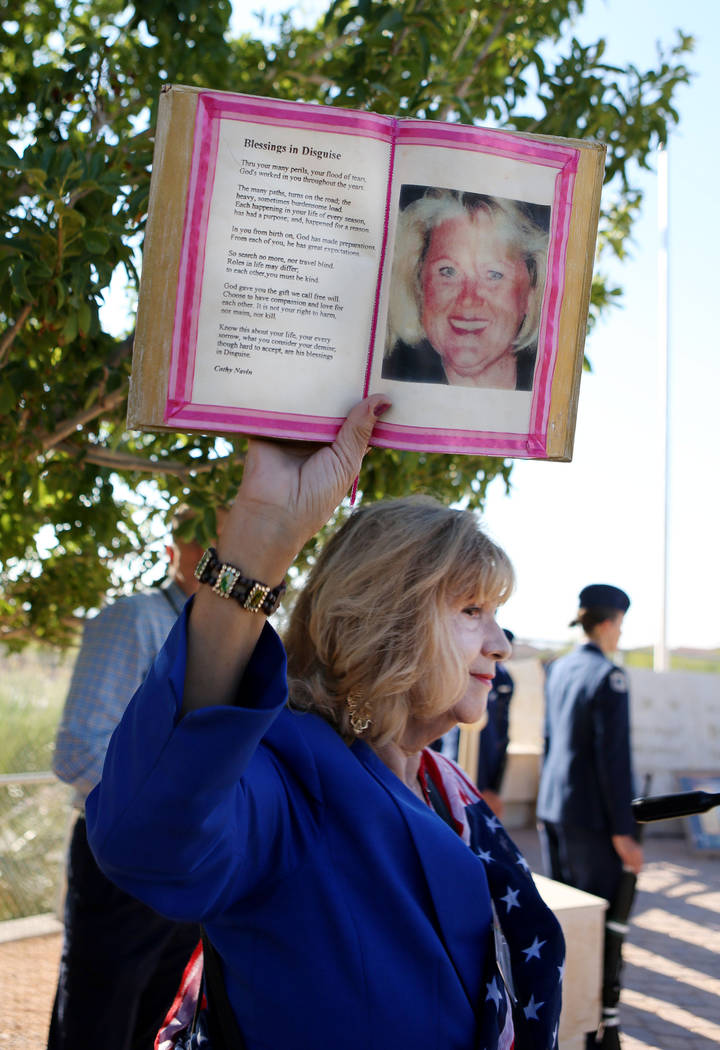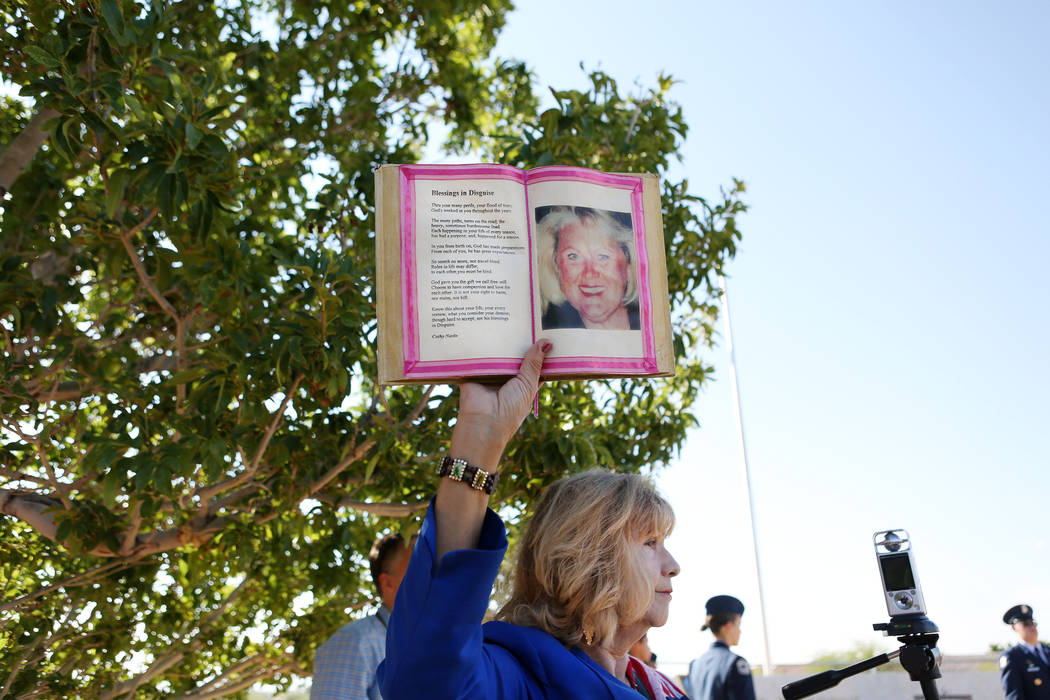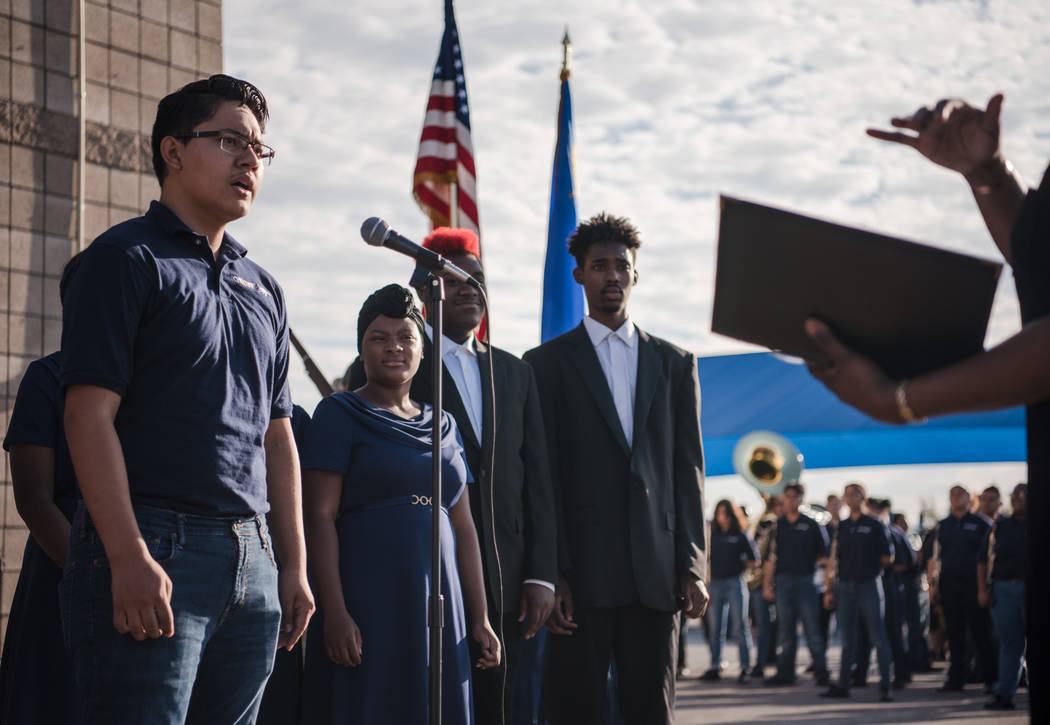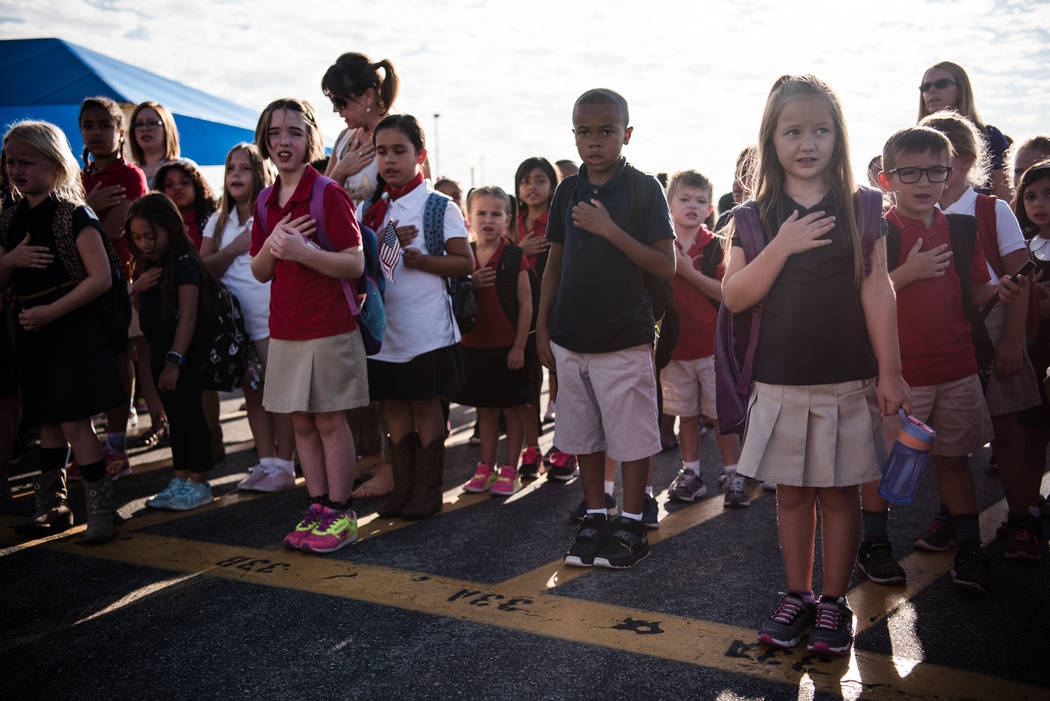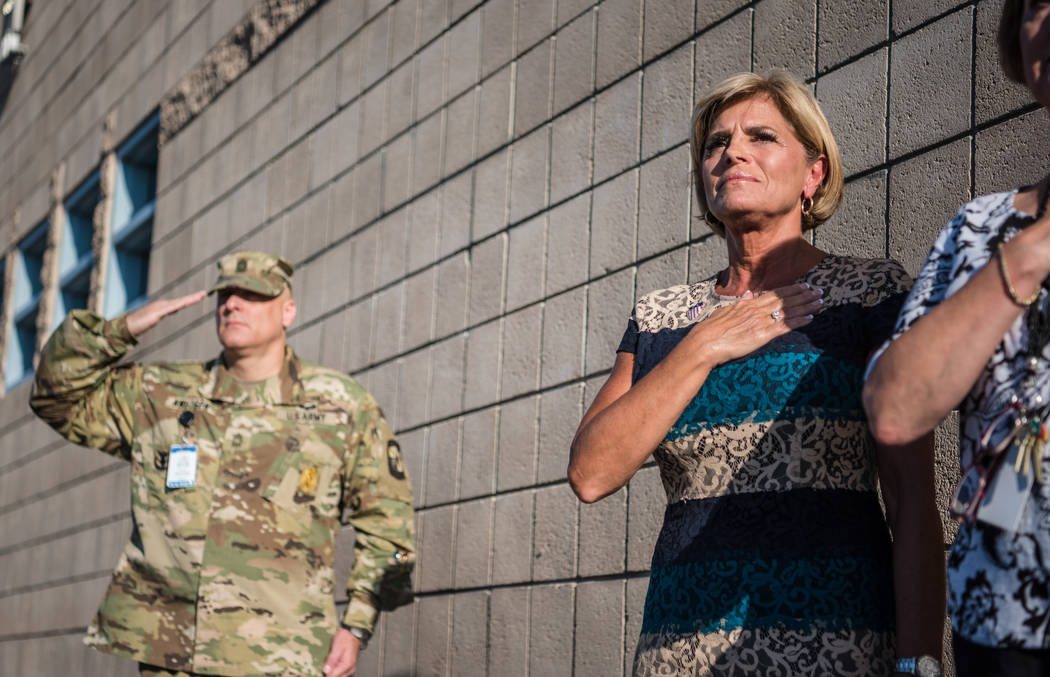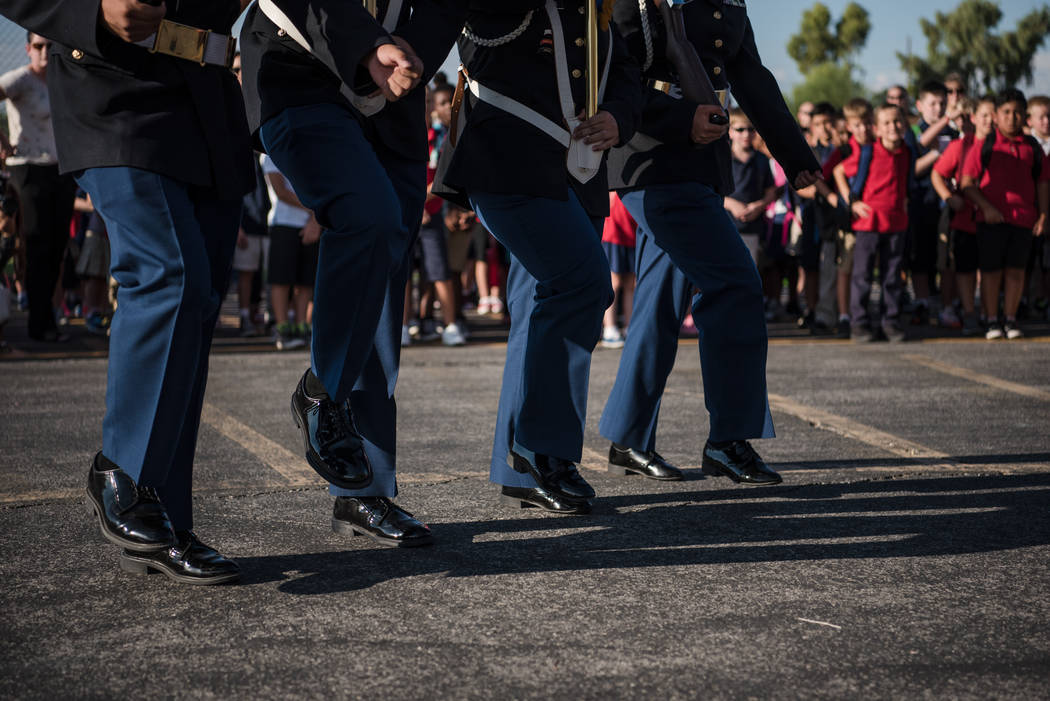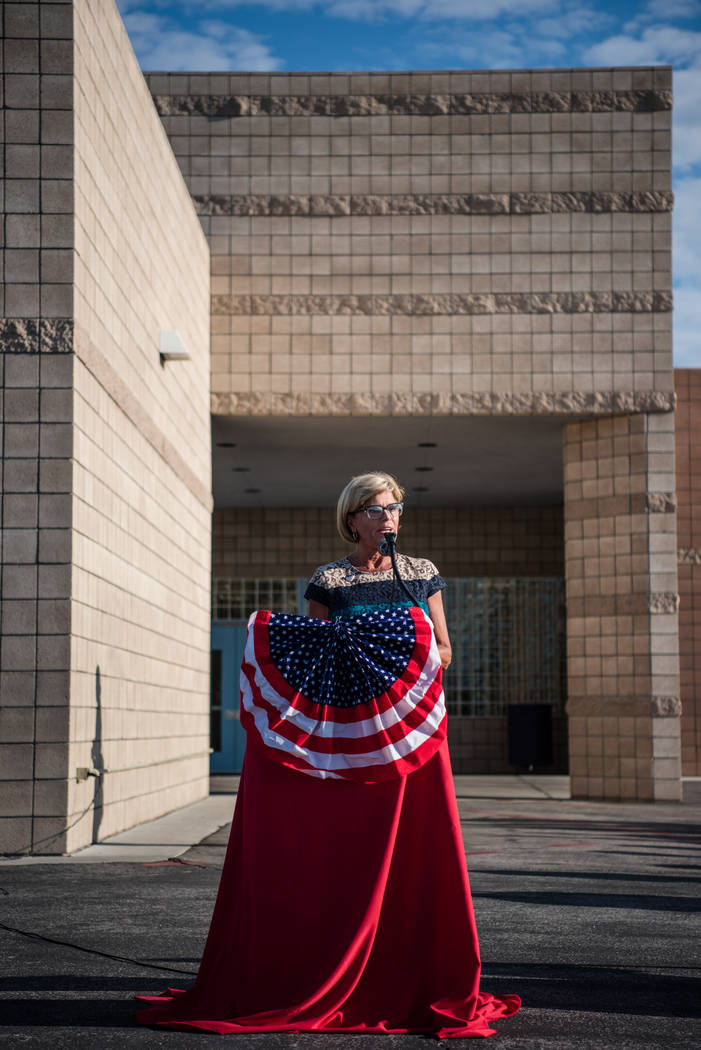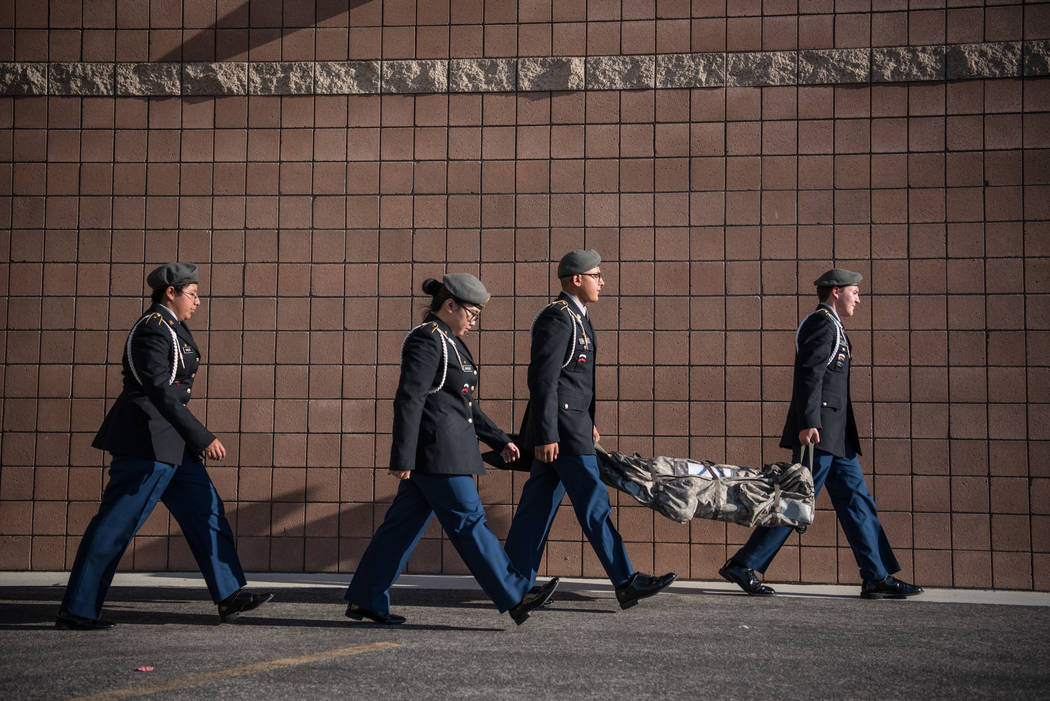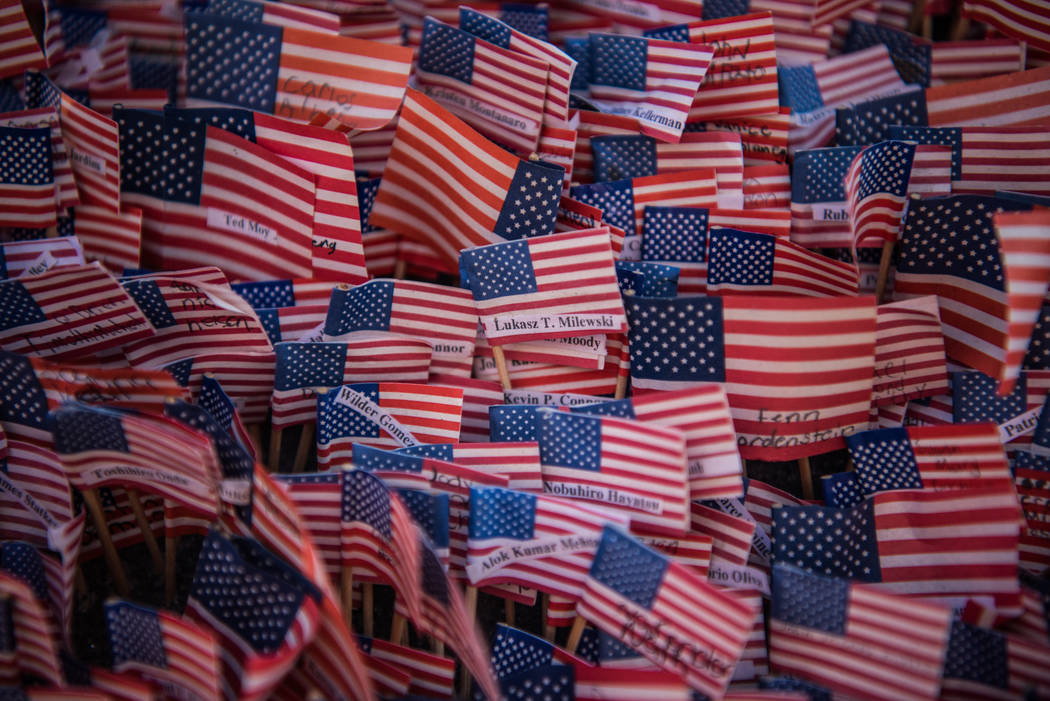 Ceremonies around the Las Vegas Valley were held Monday to mark the 16th anniversary of the Sept. 11 terrorist attacks. Bells tolled at a Las Vegas fire station, police officers marched with bagpipes and a flag was rededicated at Palo Verde High School to honor teacher Barbara Edwards, who died in the attack on Washington, D.C.
For the 11th straight year, Palo Verde students honored Edwards, who taught German and French at the school, at a special ceremony at her campus memorial.
The tattered American flag flying over the memorial was lowered as those on the adjacent soccer field observed a moment of silence in honor of the nearly 3,000 victims of the attacks.
"This reminds us of people who have gone before us," said Brittany Chambers, a senior in the ROTC program. "We will never forget those lives lost, especially our own, Ms. Barbara Edwards."
A new flag was then raised over Edwards' memorial. Flower bouquets and a stuffed bear with red and white stripes decorated the concrete memorial, along with a framed photo of Edwards, who died aboard American Airlines Flight 77 when hijackers crashed it into the Pentagon.
Uniformed ROTC members folded the lowered flag and presented it to Gail Fahy, one of Edwards' closest friends and former head of the school's foreign language department.
'It's important to not forget'
"It's important to not forget what happened in the world," Fahy said.
She described Edwards, who was returning to Las Vegas after attending a friend's birthday celebration in Virginia, as someone who could pop in her classroom and snap her out of a bad mood.
Monday was Fahy's birthday, but she said she wouldn't be celebrating.
"This is Barbara's day," Fahy said. Holding the lowered, tattered flag, she smiled, saying, "It feels like having a hug from her."
In an early ceremony at the Joseph M. Neal STEAM Academy, students were asked to honor the day with an act of kindness.
"We must always defend freedom and democracy and treasure family and community," said Denise Murray, principal of the elementary school.
Murray and her husband, a retired police lieutenant for the Port Authority of New York and New Jersey, lost 37 friends that day.
She stood next to a plaque with the names and faces of the 37 victims, surrounded by twin tower replicas decorated with tiny American flags bearing the names of all those who died in the attacks.
Although Murray's students weren't alive at the time of the attacks, she said she makes a point to talk to the students about the event each year.
"I know they have empathy for me when I tell them my story," she said.
Attacks discussed in classroom
On Monday and in the week leading up to it, students were watching age-appropriate videos and discussing the attacks with teachers.
"It gives people who weren't alive at that time of a picture of it," said 9-year-old Aubrey White, a fifth-grade student at the school. "It was a very sad time."
At UNLV, members of the College Republicans ignored baking temperatures to plant more than 2,000 American flags outside the student union Monday morning in remembrance of the victims of 9/11.
"I wholly believe, 100 percent, that this is our American duty," said Jacob Deaville, president of the club. "And besides political divides, 9/11 united the country. And I think we are in a need now to be united once again, especially with the hurricanes happening, our political discourse."
A memorial service followed at 10 a.m.
Nicole Mirkovic, deputy treasurer for the College Republicans, said she remembers seeing the second plane hit the World Trade Center and thinking it was a movie.
She was only 4 at the time.
"The ones that are in college right now remember the event briefly, and even younger ones are learning about it through a textbook, which is completely different," Mirkovic said.
Among the flags, a poster bearing one name — Karen Wagner — stood out. The UNLV alumna was killed in the attacks while working in an area of the Pentagon that was hit by Flight 77.
"It's 16 years later, and as we move forward in time, it becomes more and more of our responsibility to remember the events that took place and the people who lost their lives," Deaville said.
The Las Vegas Fire Department held a ceremony at 6:45 a.m. at Fire Station No. 5 at 1020 Hinson St., paying tribute to those who died on 9/11.
Firefighters also were to march on Fremont Street Monday night to honor the 343 New York firefighters who lost their lives in the attack on the World Trade Center.
Contact Meghin Delaney at mdelaney@reviewjournal.com or 702-383-0281. Follow @MeghinDelaney on Twitter. Contact Briana Erickson at berickson@reviewjournal.com or 702-387-5244. Follow @brianarerick on Twitter. Contact Natalie Bruzda at nbruzda@reviewjournal.com or 702-477-3897. Follow @NatalieBruzda on Twitter.