'Voices' provoked man to fatally shoot woman, police say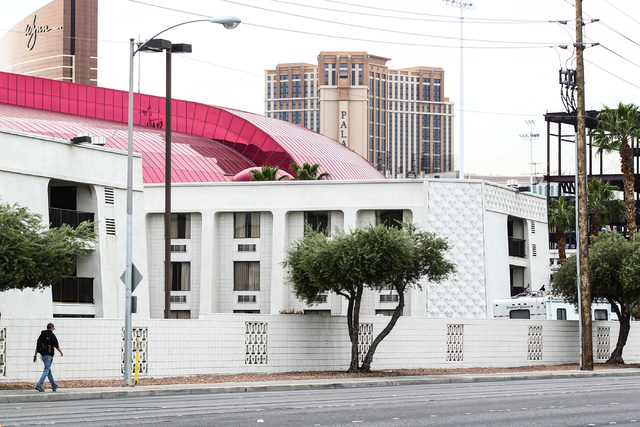 Cassandra Rosete made a fatal choice when she decided to walk to work Nov. 22, before the sun came up.
Her 2005 BMW sedan was making a funny noise and leaking coolant, her boyfriend told the Review-Journal, so she decided about 5 a.m. to make the two-mile journey on foot.
William Peterson, 28, said he planned to walk with Rosete to Sapphire Gentlemen's Club, on Industrial Road, south of Sahara Avenue, where she danced. It was cool out, so he walked back into their apartment, near the intersection of Oakey and Las Vegas boulevards, to grab warmer clothes.
By the time he came back outside, Peterson said, she was gone. He tried to trace her path but didn't spot her and went back home. Thirty minutes later, Rosete was shot dead.
Police say it's because she walked past Kevin Meade Jr., 27, of Enid, Okla. He would later tell investigators that he had been arguing with the voices in his head and that he fired a .38-caliber Smith and Wesson at the first person he saw.
He had flown into Las Vegas that night from Wichita, Kan., according to a Metro arrest report. Before sunrise the next day, investigators said, he had gotten drunk on whiskey and beer and gunned down Rosete.
The 27-year-old died of a single gunshot wound to the neck, according to the Clark County coroner's office. She was four months pregnant and was to tell her family on Thanksgiving, Peterson said. She left behind a 9-year-old daughter.
Meade faces a murder charge. He is being held at the Clark County Detention Center. The police report describes Meade's behavior during the seven hours between his arrival in Las Vegas and Rosete's slaying as drunken and delusional.
And he didn't seem to have an itinerary.
His flight landed at McCarran International Airport about 10 p.m., according to police. Meade told investigators he brought a handgun in his checked luggage "for protection."
Meade tried renting a car at the airport, police said, but his prepaid Discover card was declined. He ended up booking a room at the Circus Circus on Priceline.com. and took a cab to get there.
Just after midnight Nov. 22, he checked into room 2317 at the Strip resort, police said. After that, Meade told police, he walked south on Las Vegas Boulevard to Carnaval Court bar at Harrah's.
There, he drank "three or four Jack Daniels" plus beer, the report said. And it was the first time he had drunk alcohol in about nine months.
Walking back toward Circus Circus, Meade said he met a man he identified only as "Maximus," police said. The pair sat and chatted on a bus bench before walking to the Olympic Garden strip club, about a mile north of Circus Circus on Las Vegas Boulevard.
Meade didn't say whether they went in, only that a friend of Maximus drove him from the strip club to Circus Circus in a black, two-door Mercedes Benz sedan, the report said. That was about 4 a.m.
The next nearly hour-and-a-half was a blur in the police report between Meade saying he was "too buzzed" to sleep and going on a search for bottled water.
But by 5:23 a.m., police said, he had walked to the 2600 block of Industrial Road on the back side of Circus Circus.
And the voices in his head, police said, were "loud and threatening." The voices made him angry, Meade told police. And he fired his gun when he saw somebody.
He was standing 6 feet away from whoever it was, Meade said to investigators. He wasn't sure whether the person was a man or woman.
A passing cabdriver saw the shooting in his rearview mirror, police said. The cabby tried to follow Meade but lost him.
He checked out of his hotel room about 9:10 a.m., stopped by a store in Circus Circus, then hailed a cab back to McCarran, police said. He told that cabdriver that he was in the valley from Arizona and on the way to California to celebrate Thanksgiving.
The cabby said Meade talked on his phone to someone he called "Grandma" during the ride, according to the report, and that he sounded "frustrated and desperate." By 9:56 a.m., he was back at the airport, where he rented a car.
Police didn't say what happened in the next 23 hours, but by 8:30 a.m. the next day, Meade was under arrest in Hemet, Calif., about four hours southwest of Las Vegas and 45 minutes north of Temecula. He was taken in for an outstanding warrant from Santa Clara County for a probation violation, police said.
Witnesses, surveillance video and rental records helped police stay just hours behind Meade, according to the arrest report. The cabby who saw the shooting told police Meade was wearing a dark hooded sweatshirt and blue jeans. Video from Circus Circus showed a man who looked like the shooter walk toward the resort and into a room. And front desk records connected the man in the video to a name. Hotel records showed the door to Meade's room opening four minutes after the first cabdriver lost sight of him.
Rosete "was an unbelievable person," Peterson said. They had known each other since middle school and met again at Freedom House Sober Living where both were trying to kick opiate addictions in 2012.
The pair left the house in 2013. They were able to keep clean and attended meetings at a "heroin anonymous" group they had started three years ago, Peterson said. The group meets almost daily, and they have a photo of Rosete hanging on the room's wall.
Rosete was kind, Peterson said. Once she donned a pink tutu and the pair drove around the valley handing five-dollar bills to homeless people.
"I've had an amazing week at work so I need to give some of this back," Peterson recalled her saying.
On March 9, Meade waived an initial hearing, and his case was moved from Clark County Justice Court to District Court. Meade's Las Vegas attorney, Michael I. Gowdey, told the Review-Journal the court would be in a position to appoint a psychological expert because Meade previously has been diagnosed as a paranoid schizophrenic.
Gowdy said the case does not revolve around a question of identity.
"We all know what happened here, and the question is on how it happened," he said. "Unfortunately (Rosete) was in the wrong place at the wrong time."
Contact Ricardo Torres at rtorres@reviewjournal.com or 702-383-0381. Follow @rickytwrites on Twitter.