Volunteer program that helped kids in troubled neighborhood now is homeless
August 28, 2016 - 2:35 pm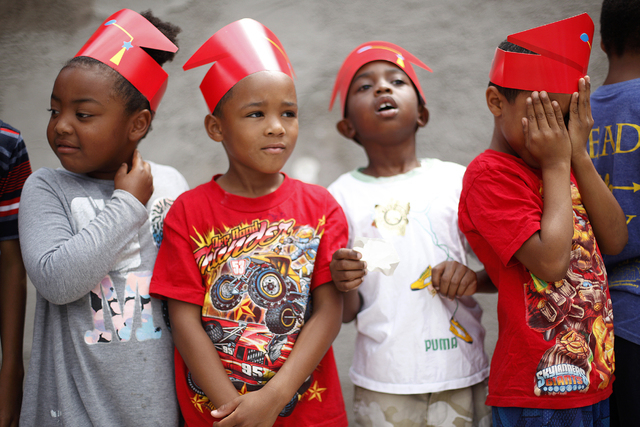 After providing much-needed services and inspiring children this summer in one of the most troubled neighborhoods in the valley, the STARS program is homeless.
STARS, an acronym for Striving to Achieve Real Success, set up shop in May in the shuttered recreation center of the Mi Casita apartment complex at 3600 Swenson St., near Twain Avenue. Co-founder and CEO Lekisha Hayes, 35, and a team of volunteers then went to work in an area that has long been plagued with poverty, gangs and crime.
They helped families get food and clothes. They worked with children with bad behavior. And they inspired dozens of children to work hard in school and come up with dreams and goals.
Now STARS is looking for a new home after being forced to close early and told to move out. Hayes said she spent the week before school started crying over having to leave.
"There's so much poverty (in the neighborhood), so much violence, so much of the opposite of what we bring," she said. "People were literally getting shot on the premises. There's no one willing to service the children we service there."
Hayes began working with needy children in 2001, when she created a program for girls to help them avoid the most common pitfalls for women in their neighborhoods — things like drugs and teen pregnancy. This year, Hayes decided she wanted to move into a troubled area and bring services directly to those that needed them.
Mi Casita seemed promising. The complex had a reputation for having the police called there every day, and its new management wanted to clean up the complex, Hayes said.
STARS spent about $5,000 to refurbish and clean the recreation center, and its summer camp opened with 14 children on the first day. Some of the kids came in hungry and didn't have shoes.
"There was a lot of kids cussing and hitting each other," Hayes said. "They didn't respond to, 'Please be quiet.'"
So the STARS team came up with songs and chants to hold their attention and drive home concepts like manners and respect. They built case files on the children and identified ways to empower the families and tackle some of the problems holding them back.
It wasn't long, six weeks or so into the program, before 146 children showed up.
On Aug. 19, the last day of camp, Hayes and her team were scrambling to throw together everything left undone, including a career day, show-and-tell presentations and graduation.
Arthur Smith IV, 13, stood up during show-and-tell and said that he's thinking about his future and going to college for the first time thanks to STARS.
"Camp made me a better person," he told the crowd. "Before camp, I was hotheaded. I tried to fight everything."
Hayes said she was told little about why the program was getting the boot. She was told it was because of an insurance issue, even though the program has its own insurance. She asked why STARS couldn't just get a different policy and if there was anything else the program could do to stay.
She never heard back. Stout Management Co., which runs the complex, didn't return a call from the Las Vegas Review-Journal on Friday.
Hayes is trying to find a new space in the area so she can keep in contact with those families.
Incoming Valley High School sophomore James Harden, 15, said on the last day of camp that his dream now is to be a professional football player.
"I just wish everyone to have a good life, because you're all my family," he told the children in the crowd.
Contact Wesley Juhl at wjuhl@reviewjournal.com and 702-383-0391. Find @WesJuhl on Twitter.