Volunteers 'opt outside' for cleanup at Las Vegas geologic site
November 23, 2018 - 4:01 pm
Updated November 23, 2018 - 6:29 pm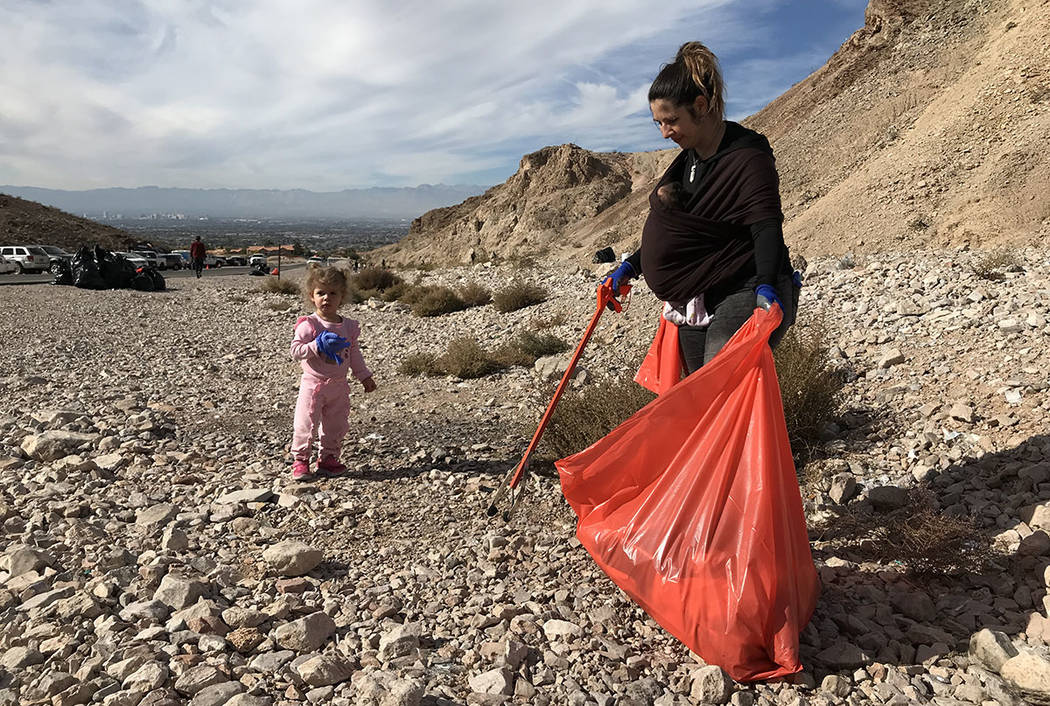 While some people lined up to buy stuff, about 75 volunteers spent Black Friday at the opposite end of the supply chain, picking up litter from public land at the eastern edge of the Las Vegas Valley.
Over the course of almost three hours, the team filled a 30-foot rollaway trash bin with broken bottles and other debris dumped along both sides of Lake Mead Boulevard near Frenchman Mountain.
The event was organized by the nonprofit advocacy group Get Outdoors Nevada in cooperation with the Bureau of Land Management and outdoor retailer REI, which closes its stores nationwide the day after Thanksgiving and encourages its employees and customers to "opt outside."
It was the second cleanup this year at the Great Unconformity Interpretive Site, a geologic oddity about a mile east of Hollywood Boulevard that has been trashed by illegal dumping, vandalism and late-night parties.
Friday's effort barely seemed to make a dent in the broken glass strewn through the area.
"It's a long-term project, obviously," said Steph Clark, chief law enforcement ranger for the BLM in Southern Nevada.
The Great Unconformity is the line where rock formed about 1.7 billion years ago touches rock formed about 500 million years ago. Some people hike to the bottom of the Grand Canyon to see such a humbling, 1.2 billion-year gap in the geologic record, but one of the easiest places in the world to view it is at the edge of a wash just a few yards off Lake Mead Boulevard.
There used to be a plaque and interpretive signs at the site, but they were smashed and spray-painted years ago.
Clark said the goal is to restore the area to "a recreation and scientific site that we can be proud of," but that will require new signs and fences, stepped-up enforcement and more public involvement in preserving the area.
"It's kind of like a village commitment, right? You have to bring in multiple partners," she said.
Xandra Magas took part in Friday's cleanup with her 7-week-old daughter, Lilly, strapped to her chest. Her 2-year-old daughter, Dalyla, walked beside them with a purple pair of adult-sized surgical gloves pulled over her tiny hands.
"I just want to show my kids early on that there's problems in the world they need to help with," the mother of three said.
"She won't understand all those words," Magas said, motioning toward Dalyla, "but she sees all these people out here helping."
Contact Henry Brean at hbrean@reviewjournal.com or 702-383-0350. Follow @RefriedBrean on Twitter.