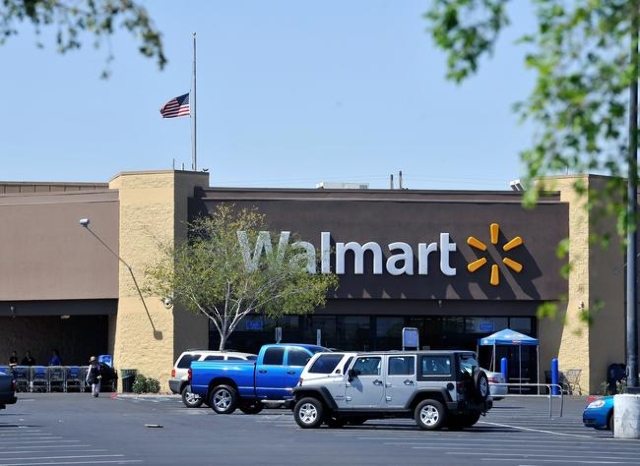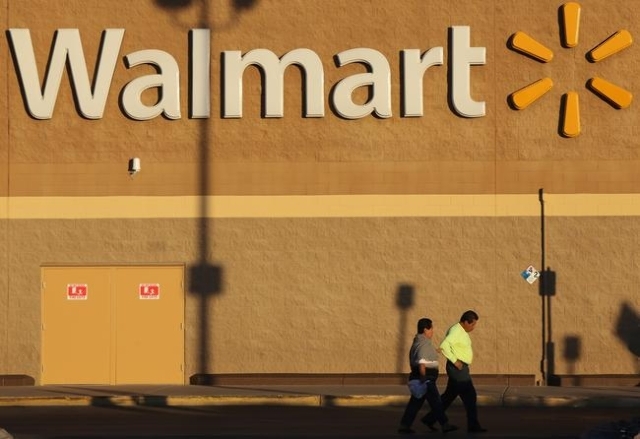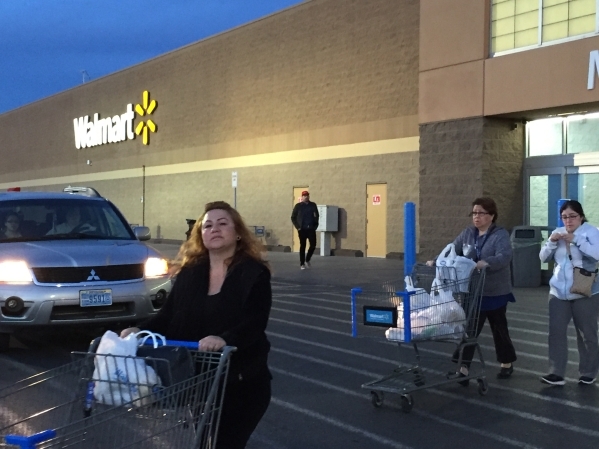 Wal-Mart Supercenter customers expressed shock, frustration and dismay Sunday night in the final hours before closure of the Nellis Boulevard store, one of the few grocery shopping venues for Nellis Air Force Base families and others who live nearby.
Shock that the store was closing so suddenly — just two days after the Bentonville, Arkansas-based parent company, Wal-Mart Stores Inc., announced that the store at 4350 N. Nellis Blvd. was one of the 269 stores slated for closure globally and the only one in the Las Vegas Valley.
Frustration that they now would have to travel farther to buy groceries, fill prescriptions and pick up other goods.
Dismay over the short notice Wal-Mart gave employees about the loss of their jobs.
"I can't understand for the life of me why they're closing this store," said Jeanette Taylor, 47, a regular customer who lives nearby. "It's not like they don't make money. This store is packed every day."
With its closure, "now it's like I've got to drive all over town," she said. "With any store you're used to going to all the time, it's sad to see it go."
Taylor spoke Sunday with an acquaintance who is a store employee. "When they came in Friday, everybody was just going about their day, and then in the next five minutes, they're telling them they won't have their jobs in the next couple days," she said. "That's hard coming in to work and finding out you don't have a job."
Her friend told her that employees would help pack up the store and would have first crack at openings at other Wal-Marts.
In an email Friday, a Wal-Mart spokeswoman told the Review-Journal that once removal of the store's merchandise and fixtures is complete, employees who have not be transferred to other stores will start receiving 60 days' pay. Those who have not been transferred at the end of 60 days' pay, will receive severance, if eligible.
Ana Hernandez said she learned of the store's imminent closure upon reaching the checkout counter Sunday evening. "I was shocked," Hernandez said. "It's sad because it's been here a long time. It's an inconvenience," with the nearest alternative at East Charleston and Nellis boulevards.
Lupe Saldivar, 55, said she is disappointed she is losing the store she depends on for groceries and prescriptions.
"It's not good. We're not happy about it," she said. "'Food 4 Less closed not too long ago. That was the best store besides Wal-Mart."
Several shoppers expressed concern about the closure's impact on Nellis Air Force Base families.
"I'm shocked actually," Lisa Vilhear said. "It doesn't support our military. A lot of our military families are right around here, and they don't have large budgets to be able to go around shopping everywhere, and this was a good resource for them. It's going to be a hardship for them for sure."
"The only store other store in this corner of the valley that's given them any competition is the commissary on base," said Verne Hogan, who with Katriona Deel was leaving the store with a few necessities.
Deel said the supercenter also was super convenient.
"I walk up here all the time with my kids." Now, she said, the nearest grocery is a Smith's five miles away and the nearest Supercenter some 10 miles away on Boulder Highway.
"We're going to miss this one," Hogan said.
— Contact Marian Green at mgreen@reviewjournal.com or 702-387-5205. Find her on Twitter: @mgreen0708.