'Welcome Home': Vietnam veterans honored with Quilts of Valor
Updated June 15, 2023 - 3:39 pm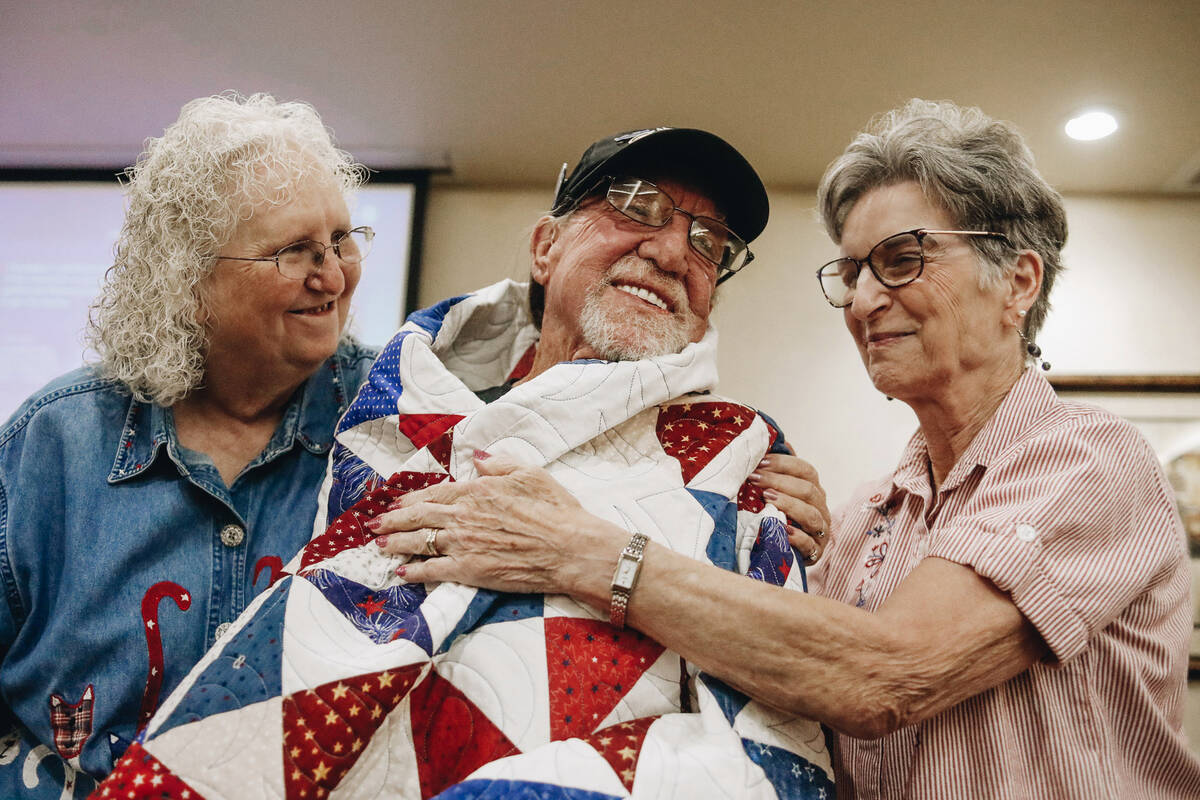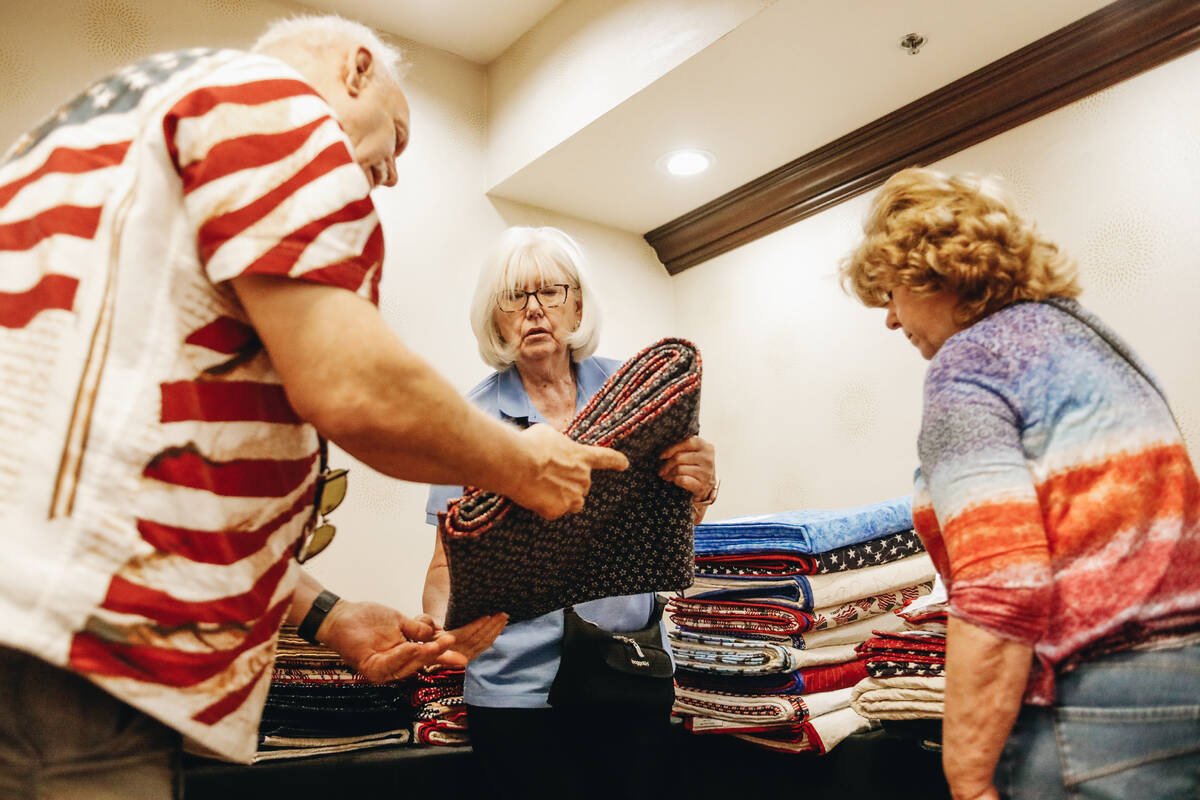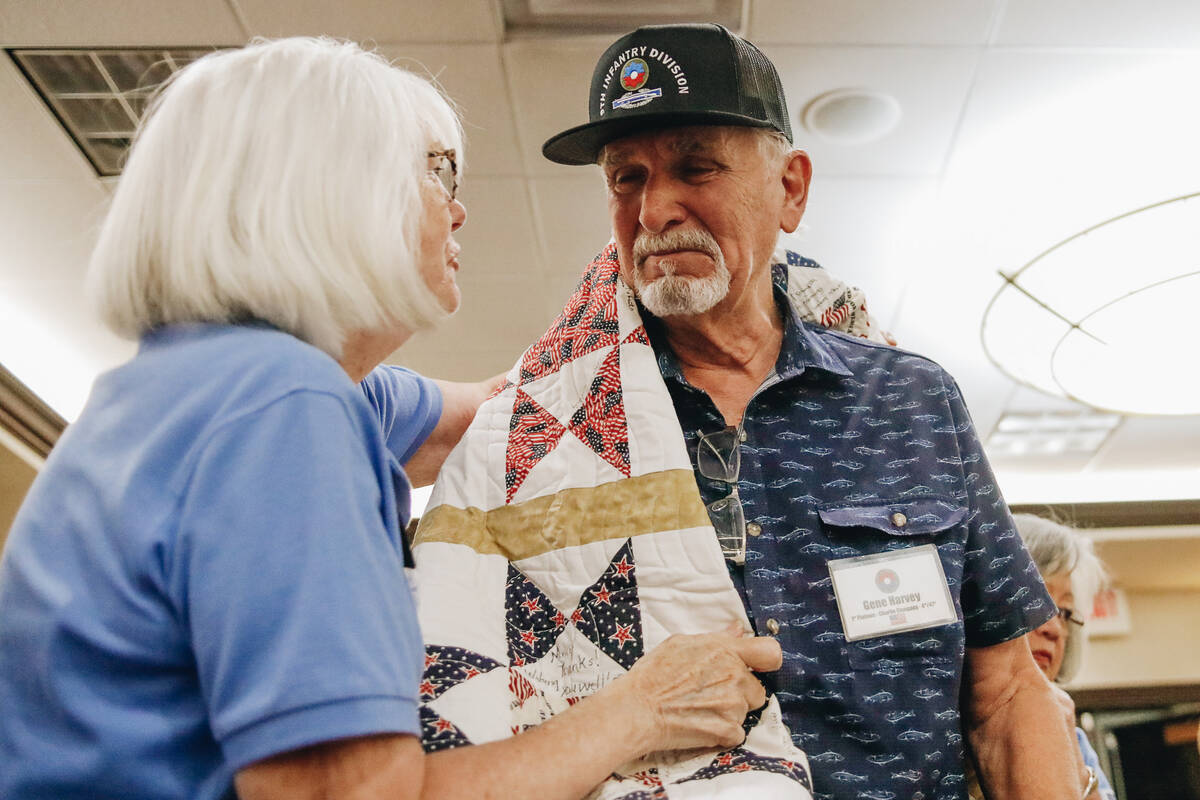 Many veterans were lost in the Vietnam War, and some who came home never quite received a proper "Welcome Home."
But Wednesday afternoon, thanks to the Quilts of Valor Foundation, a group of veterans in Las Vegas finally did.
Members of the Alpha, Bravo and Charlie Companies of the 9th Infantry Division held a reunion Wednesday at the Embassy Suites Convention Center.
"We gather today to renew friendships that have been forged through ways that make us cry and make us laugh," Steve Hopper, Vietnam War veteran and Charlie Company member, said during the invocation. "We gather to remind ourselves of the blessings that have been ours."
The reunion began with the Pledge of Allegiance, and a chorus of veteran voices rang out displaying their unwavering love of country. Some in attendance became emotional, and some veterans opted to salute during the pledge.
The last reunion of the members of the 9th Infantry Division was in 2018. Since then, a few members have died, and they were honored during the reunion with the reading of their names.
Dennis Polisano read the names of fallen Alpha Company members. Mike Masello read the names of fallen Bravo Company members and Jace Jonston read the names of fallen Charlie Company members.
A sentimental montage was shown about passed on Charlie Company members and the Vietnam Veterans Memorial, where more members of the audience became emotional. Shortly after a choked up Steve Hopper took to the podium again to say, "May their memory put a smile on your face."
Quilt presentation
Louise Davenport, who is with the Quilts of Valor Foundation, spoke at the event and stressed that the foundation was honored to recognize the veterans in attendance.
"Though we may never know the depths of your sacrifice to protect and defend the United States of America, as a gesture of gratitude from a grateful nation, we award you this Quilt of Valor and we say welcome home," she said.
Army veteran John Oxley, a board member with the foundation, shared some personal stories and began the presentation of the quilts.
"I am honored to look around this room at the bravest and toughest souls around," the Vietnam War veteran said.
Oxley described how the Quilt of Valor program helped him. He said that he had struggled with PTSD, alcoholism and addiction, but that getting back together with his brothers and being honored with a quilt helped him changed his life for the better.
Quilts were presented by volunteers who wrapped them around veterans and told them, "Welcome home."
When Oxley asked Vietnam veteran and Charlie Company member Willie McTear how it felt to receive the quilt, he responded: "It feels good. It's been a long time coming to hear the words 'Welcome home.'"
A previous version of this story misstated who read the names of fallen Alpha Company and Charlie Company members.
Contact Kiara Adams at kadams@reviewjournal.com or 702-380-0399. Follow @kiadams101 on Twitter.
You can nominate a Veteran you know, who needs to be welcomed home, online at www.qovf.org/nominations-awards/