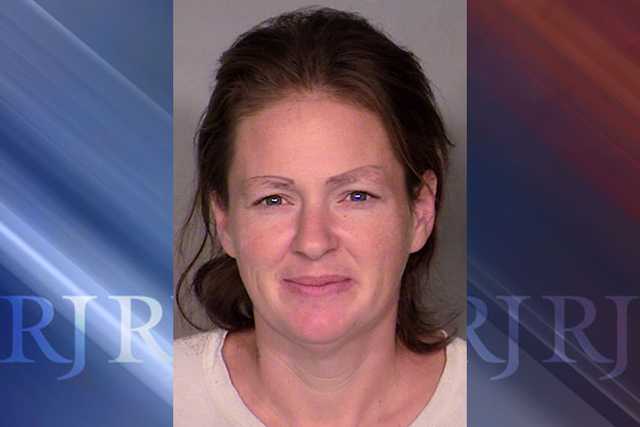 A judge set a preliminary hearing Thursday for a woman accused in a northeast valley slaying, while police continue to search for two other suspects in the case.
Police said two unidentified men and a woman, Jennifer Mustachia, knocked on a woman's door late Monday night and beat Edward Michael Turner, 47, of Las Vegas, to death. Mustachia, 33, was arrested in connection with the attack, in which the female resident was also beaten.
Las Vegas Justice of the Peace Janiece Marshall set a preliminary hearing for Mustachia, who faces charges including murder, burglary, robbery and kidnapping, for May 8.
Prosecutor Frank Coumou said Mustachia, who is being held without bail in the Clark County Detention Center, could face additional charges.
Her defense lawyer, Amy Feliciano, told the judge she planned to argue bail setting at a later date. Feliciano declined to comment outside of court.
The female resident called police from a convenience store in the 6600 block of East Lake Mead Boulevard just before 2:30 a.m. Tuesday. She said another person had been attacked at her nearby home.
Officers went to the 6800 block of Fallona Avenue, near North Hollywood Boulevard and Lake Mead, and found Turner dead from what appeared to be blunt-force trauma, police said. Mustachia was still at the home, where police said she fell asleep after the attack.
Metro's initial investigation found that Mustachia and two men arrived at the home about 10 p.m. The two killers immediately started beating Turner at the door, and Mustachia went inside and attacked the woman, police said.
After the male attackers left and Mustachia fell asleep, the female resident escaped to call for help, police said. She was taken to University Medical Center and is expected to survive.
Mustachia pleaded guilty to a charge of abuse, neglect or endangerment of a child in 2009, according to District Court records. In 2013, she pleaded no contest to a misdemeanor charge of possession of stolen property and had felony drug charges dismissed, according to justice court records.
Contact reporter David Ferrara at dferrara@reviewjournal.com or 702-380-1039. Find him on Twitter: @randompoker