Women's influence shows everywhere at SHOT Show
January 21, 2016 - 11:32 am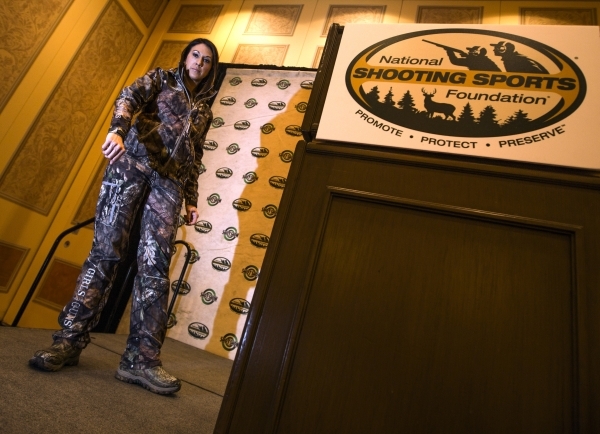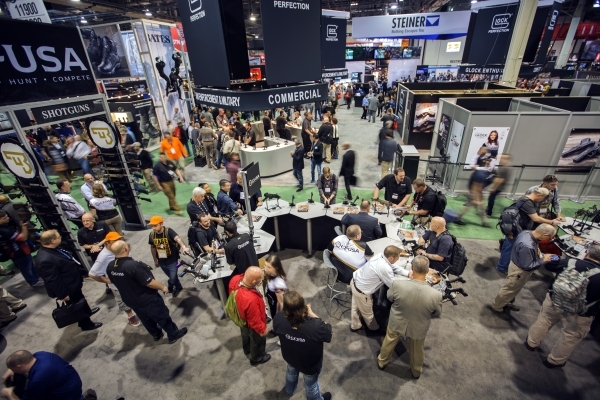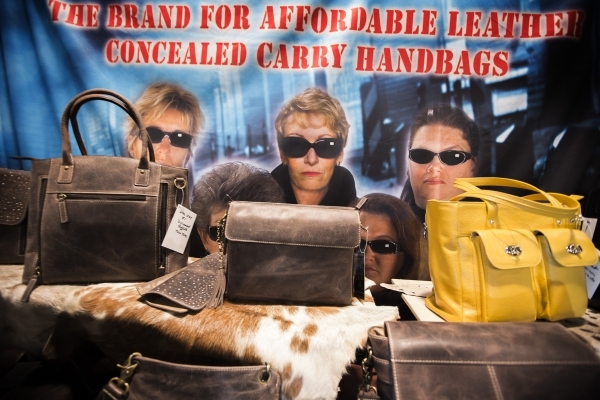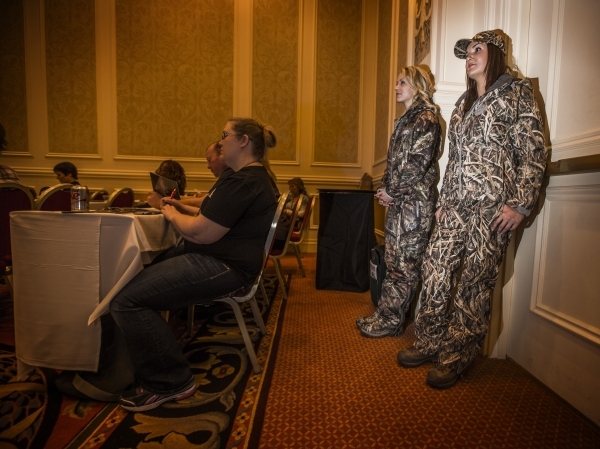 Women's influence on the firearm and hunting industries is reflected everywhere at the 38th annual Shooting, Hunting and Outdoor Trade Show, or SHOT Show, at the Sands Expo and Convention Center this week.
There are pink-speckled rifles, purple pistols and yoga pants for women to wear to the range. There is a line of hunting gear made for women by women and a collection of leather purses for women who carry concealed weapons.
Seven years after Norissa Harman and Jen O'Hara started the Girls With Guns clothing line, they debuted their brand-new line of hunting gear for women at SHOT Show. The two came from hunting and fishing families, but growing up they got hand-me-down gear from men or had to make it work with downsized clothing tailored for men.
"Hunting with boobs and hips is just different," Shelly Moore, the company's vice president of sales, said as she introduced the women's hunting gear line Wednesday. Women and men just need space in different places.
Girls With Guns already sells a number of fashion items and its hunting line is set to launch in the fall.
O'Hara, who co-stars with Harman in the reality TV show "Universal Huntress," said women are the fastest-growing demographic in the outdoors industry.
It's not just the outdoors industry — women are carving out their own space in what used to be a men's industry. The National Shooting Sports Foundation, the trade group that stages the annual SHOT Show for firearms dealers and professionals to meet with manufacturers, displayed statistics to illustrate that point:
— In 2001, 10 percent of hunters were women. By 2013, that number had grown to 19 percent, from 1.8 million to 3.3 million women hunting. And the number of women involved in target shooting rose during the same period, from 3.3 million in 2001 to 5.4 million in 2013.
— In 2013, gun retailers estimated 20 percent of their shooting and hunting sales were to women. Women who own guns spend an average of $870 on firearms and $405 on firearm accessories every year.
5.11 Tactical opened a store in Las Vegas, on Dean Martin Drive near West Flamingo Road, a few months ago. Much of the shop's apparel was, again, designed for women by women.
"5.11 is embracing the yoga pant craze," said Elissa Raigosa, but with a twist: There's a loop for a holster so women can wear them on the range.
"So far we're getting rave reviews. You really feel comfortable and confident," said Ragiosa, a 5.11 Tactical project manager. "We're exponentially growing (women's products) each year and will continue to."
The women at Gun Tote'n Mamas have also seen the women's firearm business grow.
They used to make handmade leather luggage and purses until they saw how much need there was for concealed-carry purses. Nine years ago they had seven purses; this year displayed 88 at the convention.
The purses have ambidextrous gun pouches to allow access from either side. A metal wire runs through the strap to prevent it from being cut and snatched.
"Every woman carries a different kind of gun," Gun Tote'n Mamas' Kerrie Dewhitt said. "Most women aren't carrying for fun. They're doing it to protect themselves."
The SHOT Show is the Sands Expo's largest show — there are more than 13 acres of floor space, on multiple levels, with 12.5 miles of booths and more than 1,600 exhibitors. More than 60,000 people are in town for the show, which runs through Friday.
The Review-Journal is owned by the Adelson family, majority owners of Sands Expo and Convention Center operator Las Vegas Sands Corp.
Contact Wesley Juhl at wjuhl@reviewjournal.com and 702-383-0391. Find him on Twitter: @WesJuhl