Yearlong Harmon Hotel defects trial to start
October 26, 2014 - 10:49 am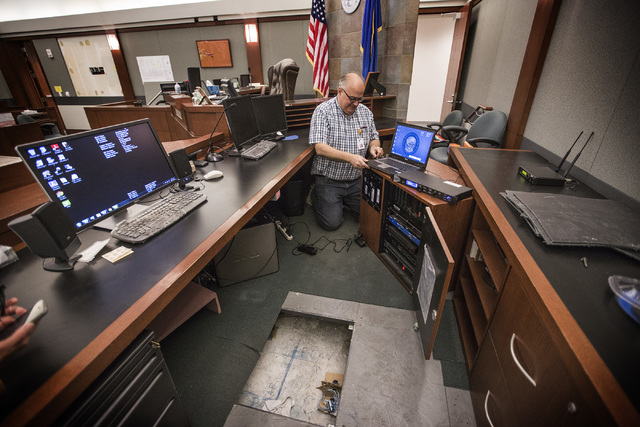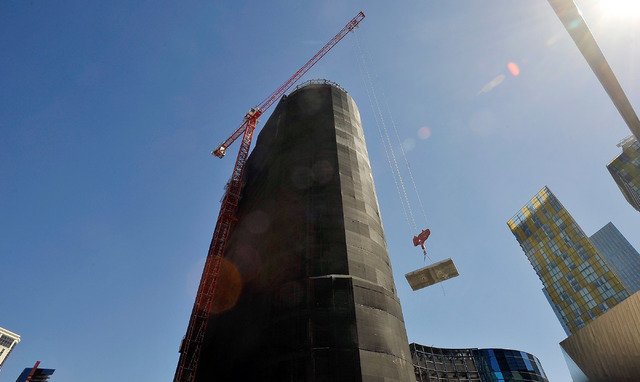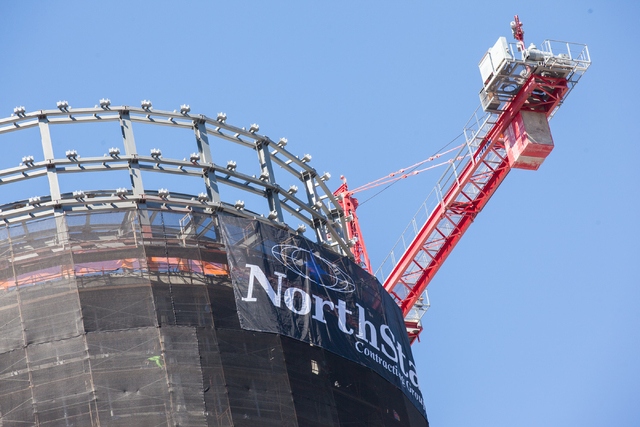 The Harmon Hotel was supposed to be the front door to CityCenter's high-rise complex on the Strip.
Instead, it's being demolished piece by piece because construction defects left it vulnerable to earthquakes.
Six years after those defects were discovered and hotel construction stopped at 26 floors, the massive legal dispute between CityCenter and the hotel's builders is heading to trial. Like the demolition of the hotel, the trial is expected to last a year.
The case is unusual not only because of its length of time; court officials had to plan and make rare accommodations to handle the large number of lawyers and amount of evidence involved in the case.
About four dozen chairs were removed from District Judge Elizabeth Gonzalez's courtroom gallery to make room for additional lawyers' tables. Limited seating will be available for members of the public.
Holes were drilled in the floor to run wires to the lawyers' tables, which will have monitors and microphones, and two 80-inch monitors are being installed for the jury.
Court information technology director Michael Doan said each party will have its own technology team to display the more than 3 million digitally stored pieces of evidence.
A paper list of that evidence fills more than 100 document-storage boxes, he said.
Other numbers in the case, which involves more than $400 million in damage claims, are equally staggering. For example, 6,000 potential jurors were informed of the yearlong proceedings before the pool was whittled down to about 600 people, who then filled out questionnaires.
Court spokeswoman Mary Ann Price said 430 potential jurors remain and will be taken to the courtroom in groups of 50 for additional questioning starting Tuesday. She estimated that jury selection will last a week or two.
The case stems from the construction of CityCenter, MGM Resorts International's 67-acre development on the southwest corner of the Strip and West Harmon Avenue. The Harmon Hotel is the only portion of the $9 billion project that was never completed. Work stopped on the Harmon after construction defects were found in 2008.
A structural engineer hired by MGM Resorts determined the building was unsafe and could topple if an earthquake of a magnitude of 7.7 were to hit Las Vegas. Construction on the planned 47-story tower was stopped at 26 floors.
Related litigation began in 2010.
According to a synopsis of the case provided to potential jurors, Perini Building Co. and MGM entered into an agreement for construction of CityCenter in 2005. Perini then entered into agreements with hundreds of subcontractors to complete the project.
Those subcontractors included the following companies, which are parties in the civil case: Century Steel Inc., whose subcontract was assigned to Pacific Coast Steel during construction; Ceco Concrete Construction; Show Canada Industries Inc.; and Steel Engineers Inc.
Potential jurors were informed that because of issues that came to light in 2008, "CityCenter withheld certain payments due to Perini. Perini similarly withheld payments due its subcontractors Pacific Coast Steel and Ceco. Perini initiated a lien foreclosure action against CityCenter as did Pacific Coast Steel and Ceco. CityCenter filed a claim for damages against Perini."
According to the case synopsis, "Perini and CityCenter have accused each other of breaching their contract, and each side is requesting money damages."
Claims relating to payments at the project were brought by Steel Engineers and Show Canada, and other payment disputes involve Pacific Coast Steel, Ceco Concrete and Silver Steel Inc.
In the questionnaire, potential jurors were asked to give general background information and to describe their habits related to reading and viewing the news. The form included nearly 100 questions.
One question specifically asked, "Do you believe you have seen, read, or heard anything about this case?"
Potential jurors also were asked whether they had worked for a casino, hotel, architect or construction company; and whether they had "ever lived or worked in a building with construction-related defects or design problems."
In addition, potential jurors were asked to give their opinions on such topics as expert witnesses, large companies that own hotels and casinos, large general contractors and construction subcontractors.
Court records indicate the trial will be conducted in a series of "modules" presented to the same jury. Each module will begin with opening statements restricted to the issues to be litigated in that module.
Gonzalez plans to conduct the trial four days a week. Mondays have been set aside for her to hear motions in other cases.
Contact reporter Carri Geer Thevenot at cgeer@reviewjournal.com or 702-384-8710. Find her on Twitter: @CarriGeer.