4 in custody after fatal crash on I-15 near Moapa
October 8, 2017 - 3:42 pm
Updated October 9, 2017 - 5:12 am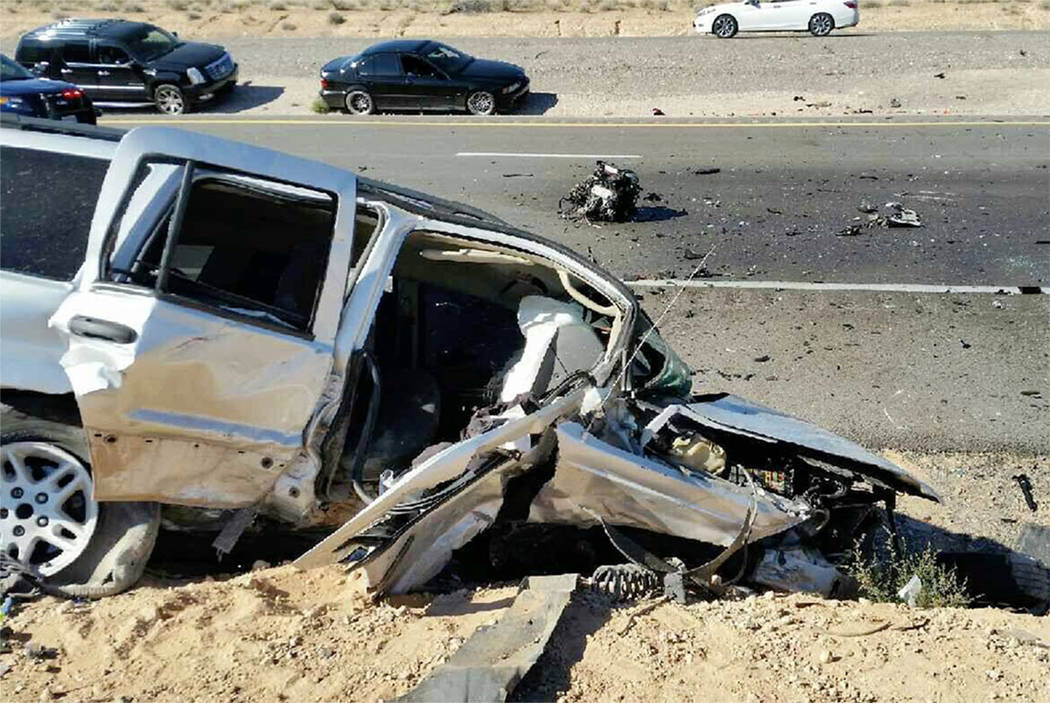 Four people are in custody in connection with an investigation into a fatal crash Sunday afternoon on Interstate 15 near Moapa, the Nevada Highway Patrol tweeted.
Earlier Sunday, Highway Patrol trooper Chelsea Stuenkel said a man died after a driver, possibly involved in road rage, lost control of his car and drove into oncoming traffic.
A silver Jeep and black BMW were driving south on Interstate 15 near Moapa just before 1 p.m. Sunday when the Jeep hit the BMW while trying to pass, drove into the northbound lane and hit an oncoming Mini Cooper, Stuenkel said. The Mini Cooper driver died on the scene.
Immediately after the Jeep hit the Mini Cooper, a Nissan Pathfinder also traveling in the northbound lanes crashed. It is not yet clear whether the Nissan was involved in the incident, Stuenkel said.
The Nissan's driver and one passenger, and the Jeep's driver, were transported by ambulance to an area hospital.
Stuenkel said the Highway Patrol is investigating whether road rage was a factor in the crash. At about 9:15 p.m., the Highway Patrol tweeted tow trucks were on the scene moving vehicles and debris, and that four people were in custody related to the fatal investigation.
All I-15 northbound lanes at mile marker 93 were closed for several hours Sunday afternoon, but have since reopened.
Contact Jessie Bekker at jbekker@reviewjournal.com or 702-380-4563. Follow @jessiebekks on Twitter.