Boulder City's Coffee Cup earns place in hearts of diners
February 10, 2018 - 10:56 am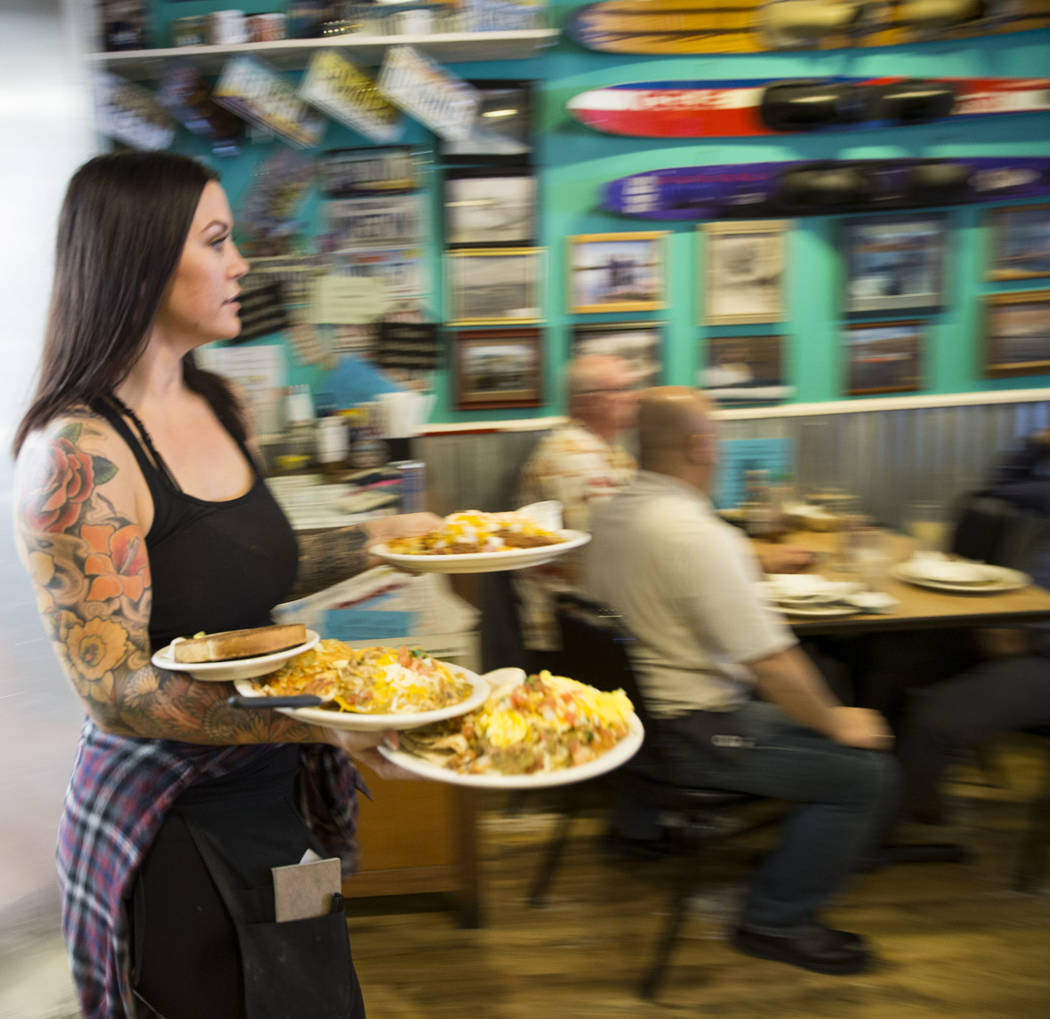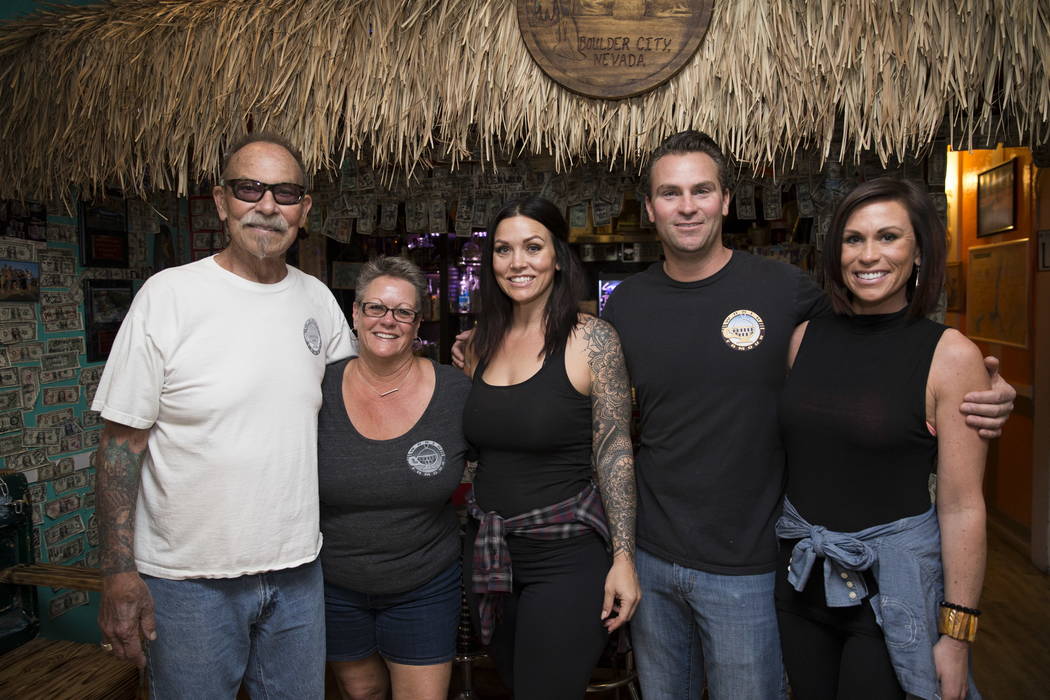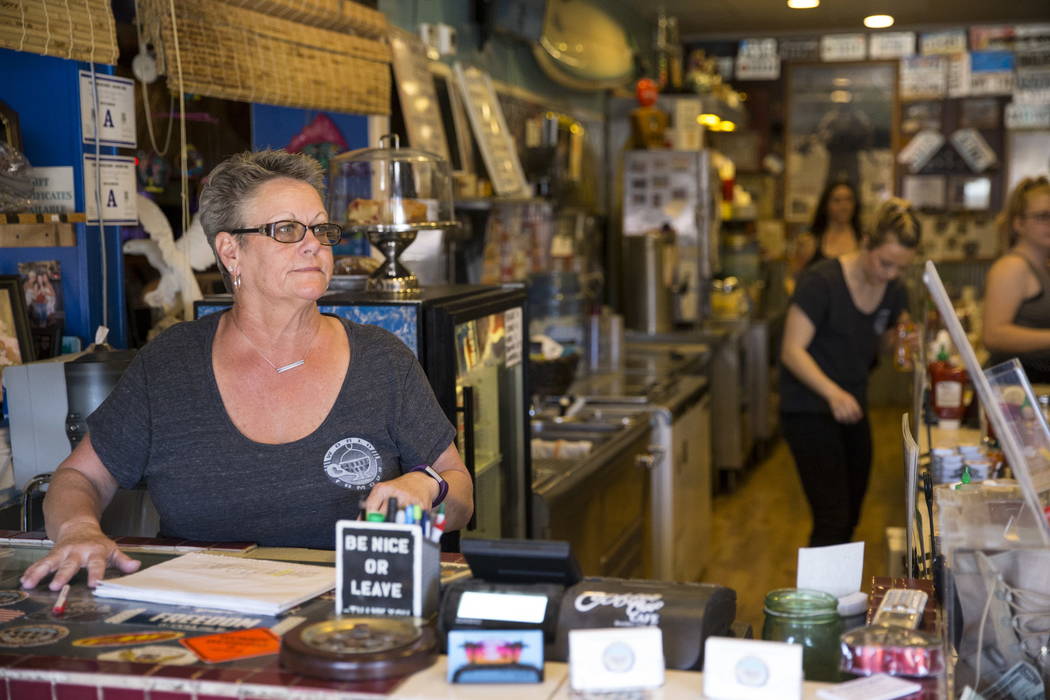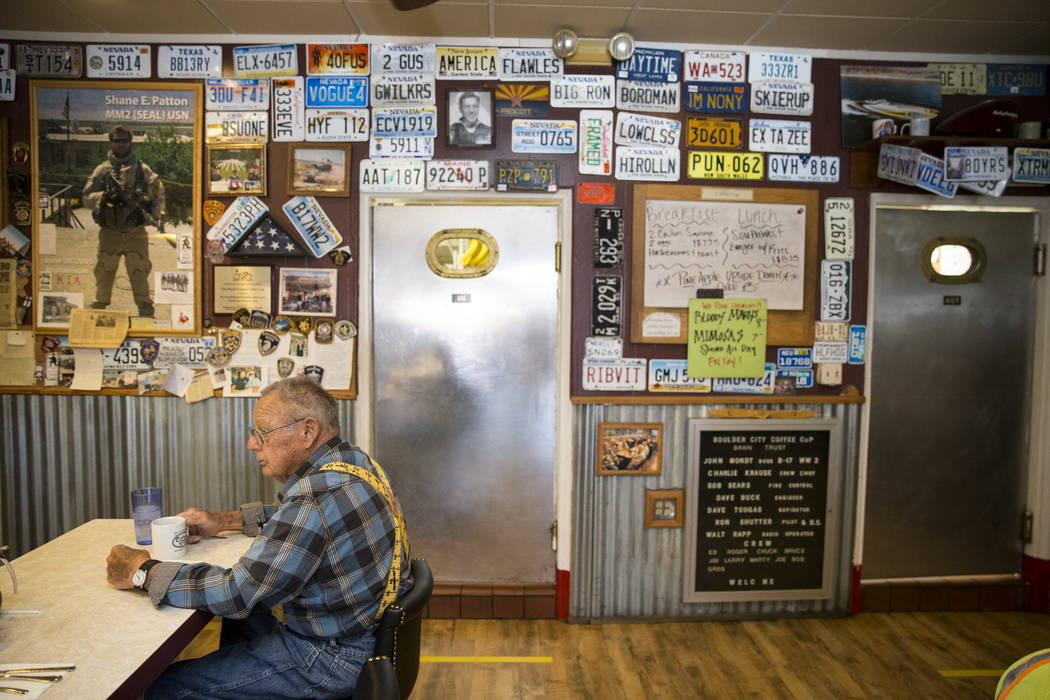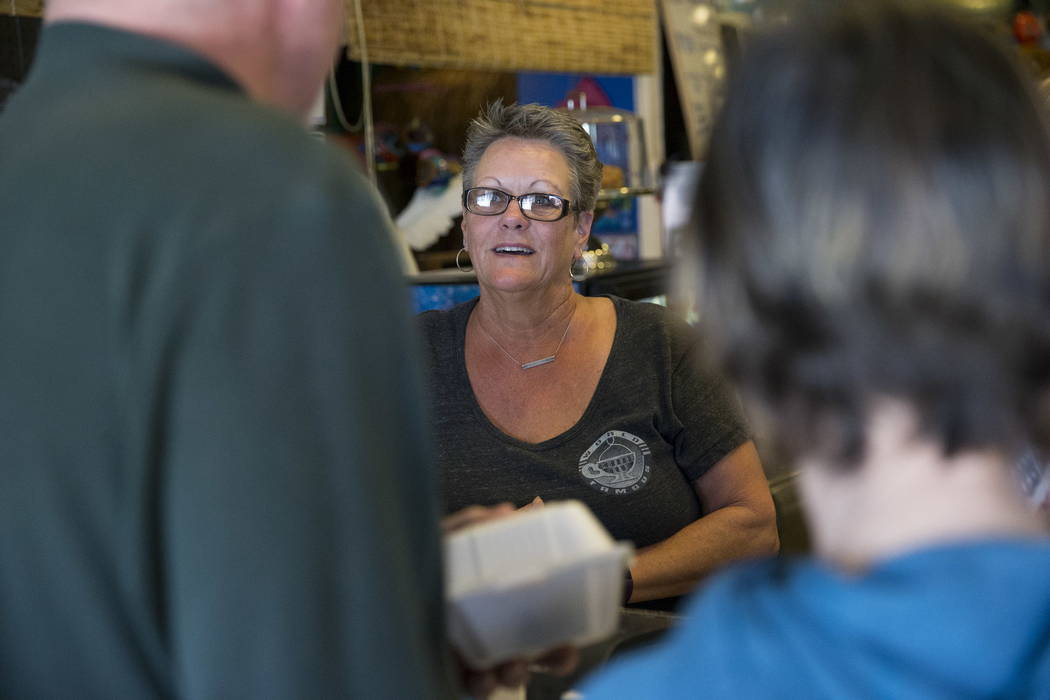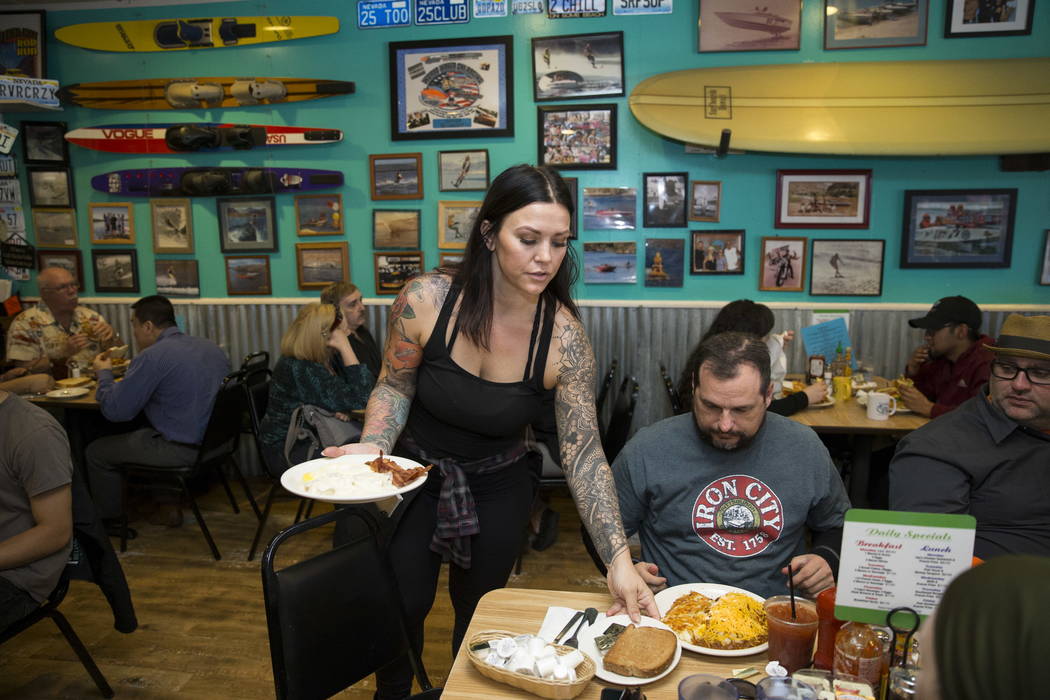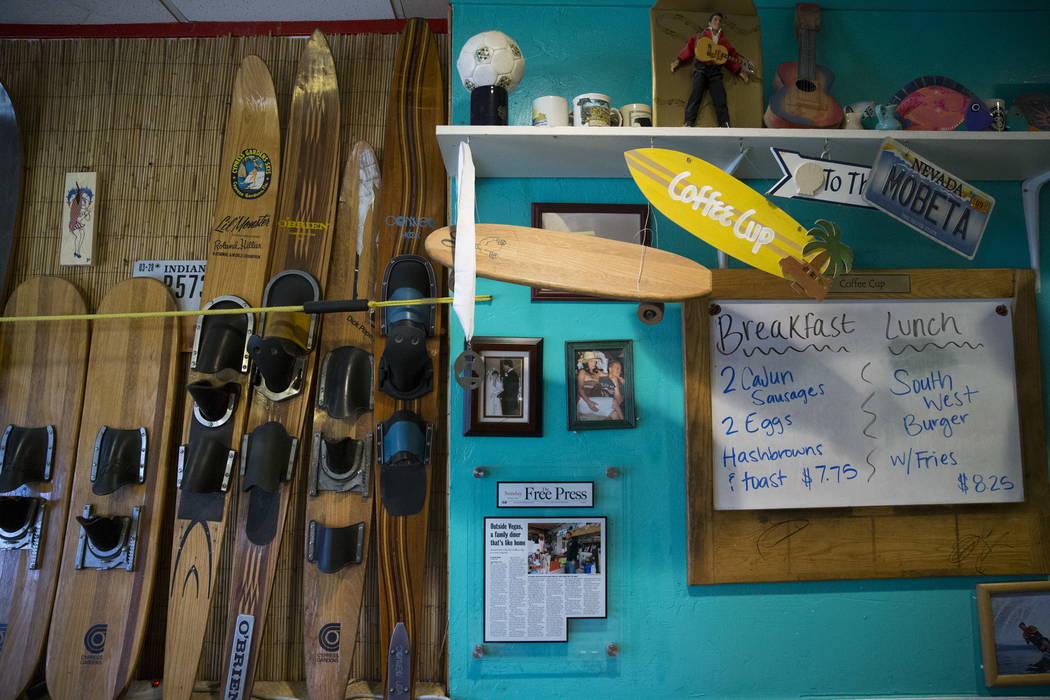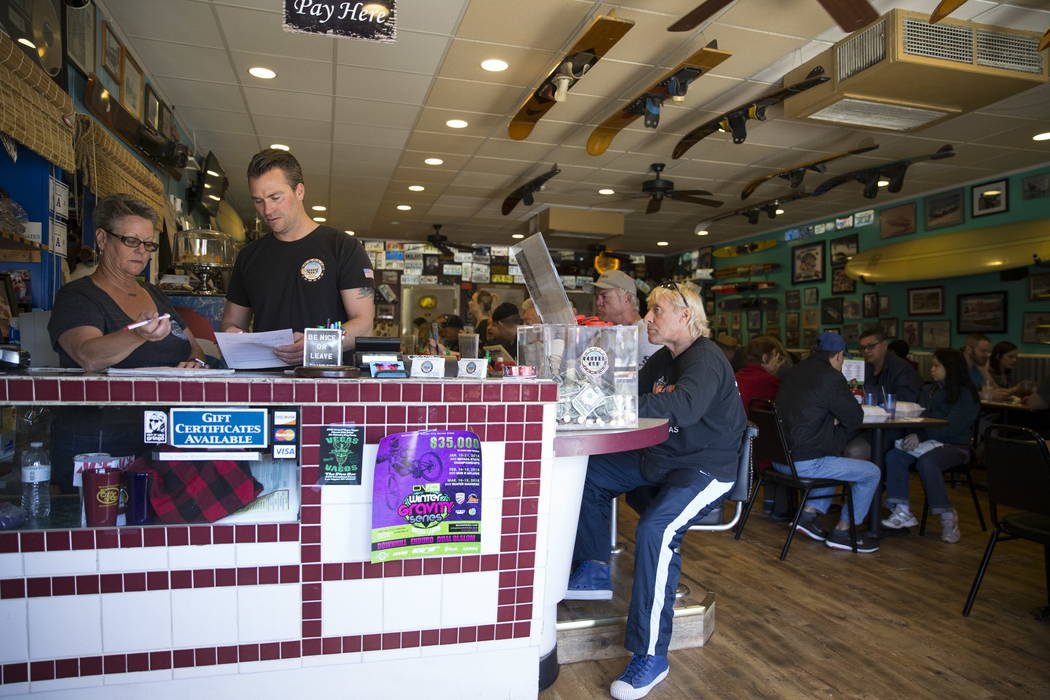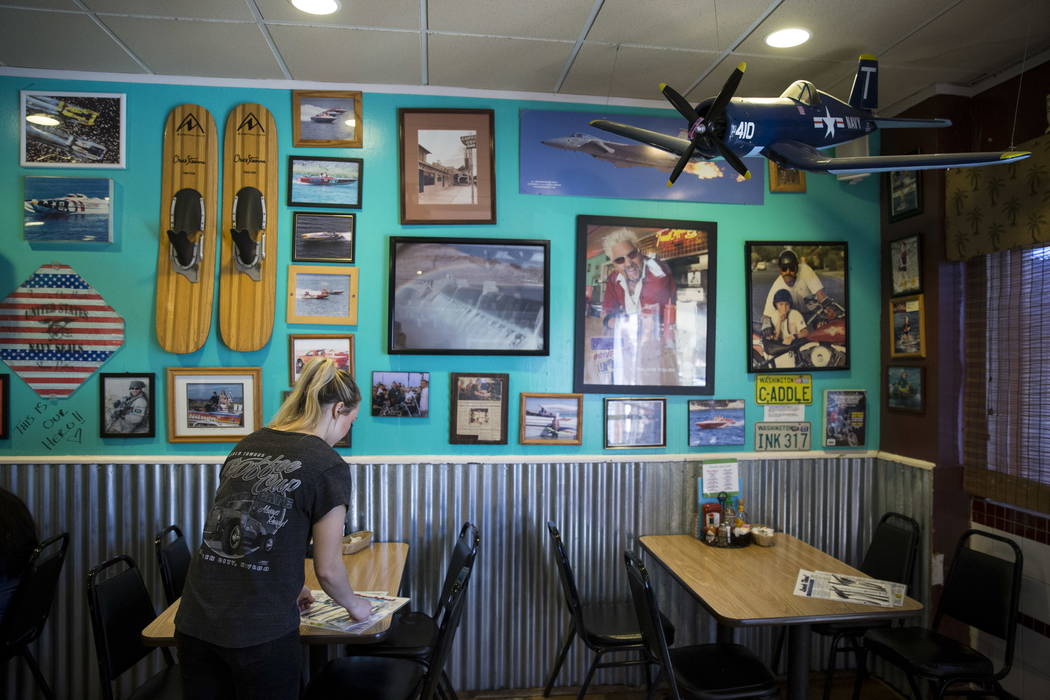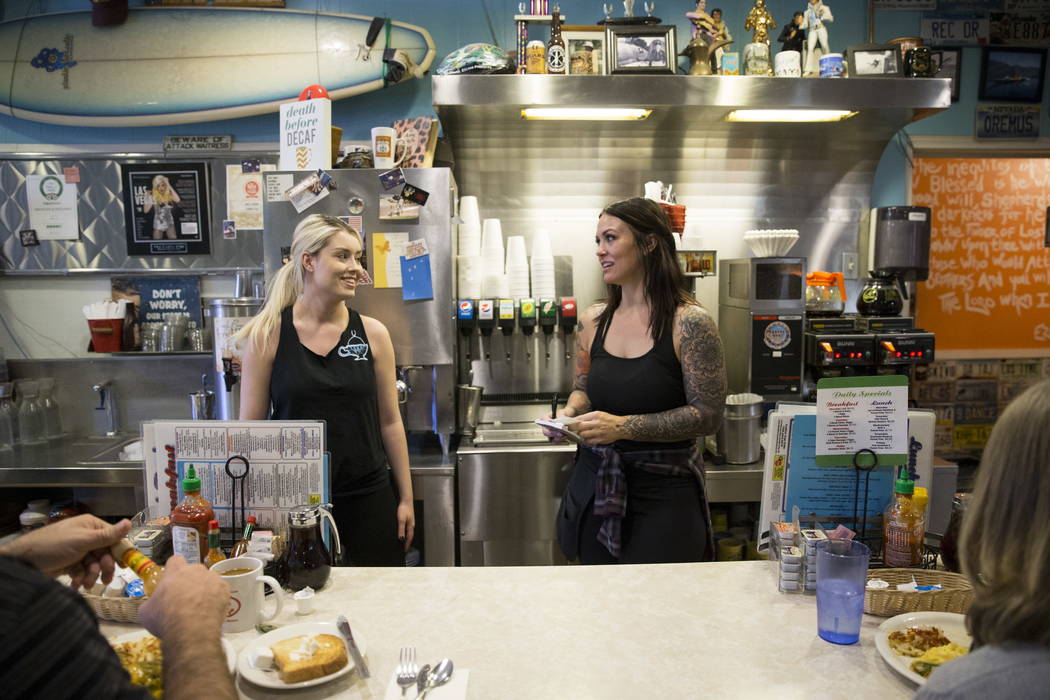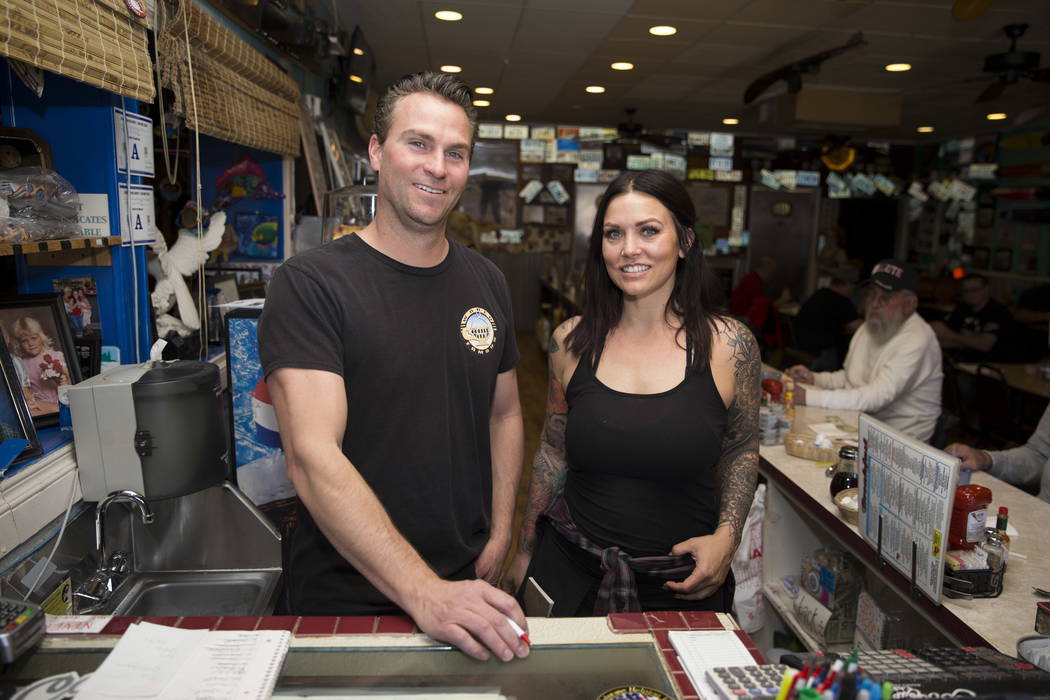 The customer at Coffee Cup Cafe has had a bad night. Sandy Nelson's left hip hurts, putting him back in his wheelchair. That's after a stroke left the 1960s rock drummer with a bit less command of his sticks.
"Hey, Terry," he calls out from his counter stool. "You were a paramedic. Can I ask you a question?"
Just as Terry Stevens, co-owner of the venerable downtown Boulder City breakfast fixture, leans in for another customer consultation, a group shows up to solicit a donation for a local baseball team.
Of course, Stevens handles it all — along with a quick refill of their coffee.
For nearly a quarter-century, the Coffee Cup has been synonymous with good eating and a sense of community. California transplants Al and Carri Stevens first fired up the grill in 1994, and decades later, in a new location five storefronts down, they're still at it — now with the help of their grown children, son, Terry, and daughter, Lindsay.
More than a restaurant, the Coffee Cup, open from 6 a.m. to 2 p.m. seven days a week, offers a little slice of western culinary Americana. Al's pork chili-verde omelet, which celebrity chef Guy Fieri featured on his Food Network series, "Diners, Drive-ins and Dives," and the tall-glass bloody marys served with a thick wedge of bacon as a stir-stick, have earned the Coffee Cup a national reputation as a stopover for RVs and SUVs en route to nearby Hoover Dam.
The family is recognized almost everyplace they go — from the local DMV office to the bike paths of Southern California — where people stop them and say "Wait, aren't you the owner of the Coffee Cup? Great bloody marys!"
Community fixture
Al's occasional grouchiness and Carri's motherly demeanor are part of the diner's draw, and the couple works hard to preserve the Coffee Cup's local touch. Customers and waitresses know one another by their first name. Local conservative politicians stump for votes come election season, especially among the morning coffee klatch of old geezers who call themselves the Circle of Knowledge.
The eatery is so popular the family doesn't need to advertise, so they earmark that money for community donations — sponsoring youth events or purchasing uniforms for kids who couldn't otherwise afford them.
When Nelson lost his keys, Coffee Cup waitresses tore the place apart on a fruitless hunt to return them. Now the drummer's gold record hangs over the counter. Carri keeps a chalkboard list of cherished daily regulars near the kitchen — if they don't show up by noon, she calls them at home to make sure they're OK.
At the Coffee Cup, customers are considered family.
The restaurant and its familial bond have wielded its own gravitational pull on Terry and Lindsay — who in their youth wandered from the fold. But it was Al's two dramatic bouts with throat and blood cancer that have most helped the Stevens children and the entire Boulder City community to better appreciate the little diner gem at 512 Nevada Highway as a precious, irreplaceable thing.
"This restaurant means so much to Boulder City — the whole family does," said longtime regular Bill Burke, a retired National Park Service ranger. "When Al got sick, it was hard on everyone. We pulled for him. And we all pulled for Carri to stay strong."
The concern over her husband's health has made Carri emotional. Even crusty old Al is impressed. "I'm not the world's friendliest person — I haven't always played well with others," the 67-year-old said. "But this restaurant allowed me to meet some special people. They're here because they want to be, not because they have to."
Nelson can't stay away from the place.
"The food is damned good, but I really come to flirt with the waitresses," said Nelson, one of the best-known rock drummers from the early 1960s. "It's not fair; they're all in their 20s and I'm almost 80. Good thing I have a sense of humor."
Family affair
Al Stevens came to the desert as a way to get away from the politics of the ocean; he got into a fist fight over a surfing run off Huntington Beach and retired his longboard — which now hangs on the wall of his signature diner.
He landed in Boulder City in 1977 and later met Carri Ham, a native of Norwalk, California, who bagged groceries at the supermarket where he worked as a meat cutter. They dated six months and got married.
After the couple took out a home loan to buy the first Coffee Cup in 1994, Al, the cook, sometimes wandered around in his white chef's cap and apron to inquire about the food. Delighted customers wanted to know more about this sphinx from the kitchen.
But Carri shooed him back to his post for insubordination. She fired him, he quipped.
Once Al told a customer to shut up so he could hear the TV. "Oh my God, Al," Carri remembers telling him. "You just cannot do that!"
If a group wanted their bill split, Al suggested they pay the check and then go outside and figure it out for themselves.
He'd never heard of Guy Fieri when the chef called about visiting the restaurant for his show.
"I don't want any," Al said and almost hung up.
The couple put their teenage kids to work. Lindsay was hostess, and when the place needed waitresses, she'd bring friends from the local high school, starting a Coffee Cup tradition. Terry, too shy to greet the public, stayed in the kitchen. He soon tired of the all-consuming restaurant life — how even at home his parents would rehash the day's events, the thing the customers at Table Two had said, and how they had to bail a dishwasher out of jail.
In 2004, the owners moved the restaurant down the block to its present location. The local newspaper featured a front-page photograph of the family rolling refrigerators down the sidewalk. Al and Carri relived that day over dinner, for sure.
Four years later, the Stevens kids had left the Coffee Cup. Lindsay was attending college in San Diego, and Terry was racing boats and studying to get his EMT license as a local firefighter.
Then disaster struck: Al was diagnosed with throat cancer.
Terry went to visit his father, who couldn't speak. He asked how he could help, and Al wrote down some chores that needed doing: cleaning the bathrooms, repairing the roof, making stock runs in the family Suburban.
Meanwhile, word got out about Al's cancer. Customers offered to drive him to his daily radiation treatment. Carri couldn't go to the post office without people inquiring about her husband. She was crushed, worrying about losing her lifetime partner in crime, and quietly put the restaurant up for sale.
In San Diego, Lindsay told friend and Navy SEAL Shane Patton about plans to sell the restaurant. "Wait, what?" she remembers him telling her. "You can't do that! That's your family business!"
The exchange brought Lindsay to a decision: She had to go home to do what she could to help save the Coffee Cup. Patton was later killed in Afghanistan. His picture now hangs on the restaurant wall.
In Boulder City, Carri had a buyer. But on her way to the real estate agent's office to sign the papers, she had a change of heart. She arrived with a bouquet of flowers and told the agent the news. "I can't sell The Coffee Cup. If I ever lost Al, what would I do?"
Balancing act
Al eventually beat his death sentence, returning to the restaurant six months later and counseling customers as a cancer survivor.
But in 2014, Al was diagnosed with a new, more aggressive form of cancer. After a year of blood transfusions, he checked into City of Hope Hospital in Duarte, California, and Carri rented an apartment nearby while the grown kids ran the Coffee Cup.
"We'd dreamed of turning over the restaurant to them," Carri said. "But not like this."
Al remained in a hospital isolation unit for 172 days. Once, wearing a respirator, he pointed heavenward, making a circle gesture for his family to surround him. He wanted to die. Lindsay slapped away his hand. Her father was going to fight, she insisted.
At the Coffee Cup, customers bought votive candles for Al and bused their own tables to help out. Terry emerged from his shell. After once guarding his privacy, he engaged with customers, showing pictures of his wife, Kristin, and young son, Cruz. He also bonded with Lindsay, who has her own daughter, Kyra.
Al survived, but the cancer convinced him to let the younger generation start pouring the coffee. He rolls in now and then, cleans the bathroom and riffs with customers.
The family has a newfound ethic of balancing work with their personal lives. Al and Carri run the packed restaurant on Saturdays — when an hourlong wait for a table isn't uncommon — so their grandchildren get some needed bonding time with their parents. Still, they love seeing Kyra, now 7, help her mother swipe customer credit cards at the register or 9-year-old Cruz walk behind the counter to make his own milkshake.
Just ask Al and Carri and they'll tell you: Cancer has taught them a valuable lesson. "Money doesn't rule everything," Carri said. "Family counts."
Customers, too.
Award-winning journalist John M. Glionna, a former Los Angeles Times staff writer, may be reached at john.glionna@gmail.com.