Developer pulls plug on proposed wind farm near Searchlight
Updated April 25, 2017 - 8:29 pm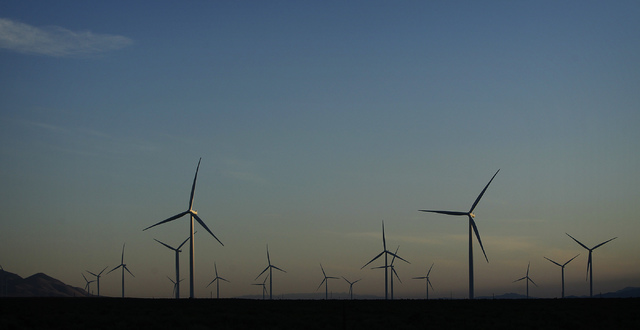 After several setbacks in court, a Virginia-based energy developer has pulled the plug on a proposed wind farm near Searchlight.
Apex Clean Energy confirmed on Tuesday that it is "no longer actively pursuing the project." The company's website shows no developments in Nevada.
In an email, Apex spokesman Dahvi Wilson said the company has taken down the towers it was using to collect weather data from the site 60 miles south of Las Vegas.
"While we believe the environmental concerns brought up by stakeholders in the National Environmental Policy Act process could have been reasonably resolved, our assessment of the site in a rapidly changing market has encouraged us to focus on pursuing other opportunities," Wilson said.
Apex planned to build 87 wind turbines, each about the height of the Planet Hollywood Resort, on 9,300 acres of public land just outside the home town of former U.S. Senate Majority Leader Harry Reid. A federal judge tossed out environmental approvals for the project in 2015, and an appeals court upheld that ruling last year, effectively forcing Apex to restart the multiyear permitting process.
All permitting work has been halted, and the project is now "closing," according to Bureau of Land Management spokeswoman Kirsten Cannon.
"It's finally over I hope," said Searchlight homeowner Judy Bundorf, a plaintiff in the original lawsuit that led to the court decisions. "What can I say other than I'm very happy?"
The proposed array of 400-foot turbines drew opposition from nearby residents, conservationists and American Indians worried about its proximity to Spirit Mountain, a sacred site for the Colorado River Indian Tribes and others.
Conservation groups objected to the project's proximity to three different National Park Service units: Lake Mead National Recreation Area, Mojave National Preserve and the newly designated Castle Mountains National Monument.
Kevin Emmerich is co-founder of Basin and Range Watch, a Nevada-based environmental advocacy group that joined in the lawsuit against the wind farm. He said he hopes Apex's decision to abandon the project will spur federal land managers to consider a blanket ban on all energy projects in the Piute Valley surrounding Searchlight.
"If the BLM doesn't implement some smarter management in that area … we're concerned that we could still have more of these proposals," Emmerich said.
Power giant Duke Energy first floated the Searchlight wind farm in late 2008. Apex acquired the project in early 2014, after the Department of the Interior had signed off on the plans based on an environmental impact statement from the BLM and a biological opinion from the Fish and Wildlife Service.
U.S. District Judge Miranda Du tossed out that approval and the documents underpinning it on Oct. 30, 2015, citing "analytical gaps" that made it impossible to assess the project's potential risk to wildlife. A year later, the U.S. Ninth Circuit Court of Appeals in San Francisco declined Apex's request to overturn Du's ruling.
Contact Henry Brean at hbrean@reviewjournal.com or 702-383-0350. Follow @refriedbrean on Twitter.