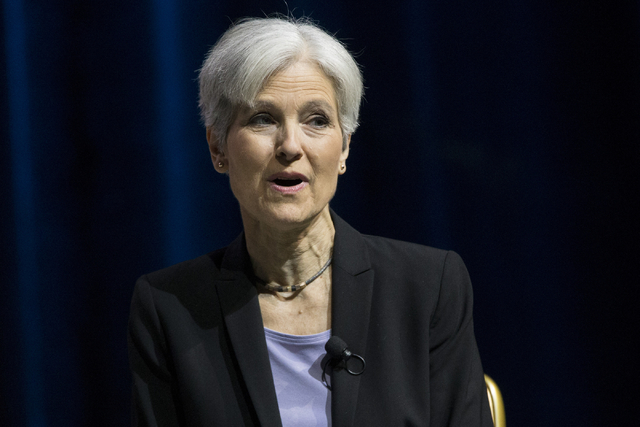 A federal judge is considering a complaint by the Nevada Green Party seeking to force the secretary of state to accept supplemental signatures that would allow presidential candidate Jill Stein to appear on the ballot in November.
The Nevada Green Party in June submitted to Secretary of State Barbara Cegavske roughly 8,600 signatures for Stein to appear on the Nevada ballot. But some of the signatures were later deemed invalid, leaving the party short of the minimum requirement of 5,431 valid signatures by June 3.
The party filed an appeal seeking to have 3,000 signatures rechecked and collected an additional 1,200 signatures to gain ballot access, which Cegavske rejected.
In a complaint in U.S. District Court, the Nevada Green Party argued that the signature submission deadline for ballot access should be extended and that the supplemental signatures collected after the deadline should be accepted. Tony Nasser, the attorney representing the party, said Monday that the state's signature deadlines are unnecessarily and unconstitutionally burdensome to minor party candidates.
Deputy Attorney General Lori Story argued the Nevada Green Party should have been "more diligent" in collecting signatures.
The party pre-filed a petition in March, but waited to begin gathering signatures. That left party officials with little time to regroup when many of the signatures gathered in Clark County were thrown out for not belonging to registered voters, Story said.
"The Green Party 's inability to meet the filing deadline is a failure of diligence," Story said.
The hearing was initially scheduled for Wednesday, and was going to be held alongside a Nevada Green Party rally from 1 to 3 p.m. on the steps of the federal courthouse. It was moved up in light of ballot printing deadlines, but the rally is still planned for Wednesday afternoon, and organizers are hopeful by then there might be a clearer direction, Nevada Green Party Southern Nevada Co-Chair Kim Borghese said.
U.S. District Court Judge Jennifer Dorsey said at Monday's hearing she was taking the arguments from both sides under submission and will issue an order as soon as possible, noting the tight timeline.
Stein was the Green Party presidential candidate in 2012, too.
The Libertarian and Independent American party candidates will appear on the ballot in Nevada, but those parties qualified in other ways and didn't need to go through the signature-gathering process.
Contact Jamie Munks at jmunks@reviewjournal.com or 702-383-0340. Follow @JamieMunksRJ on Twitter.