Las Vegas area sees some snow from late January storm
Updated January 30, 2023 - 10:00 pm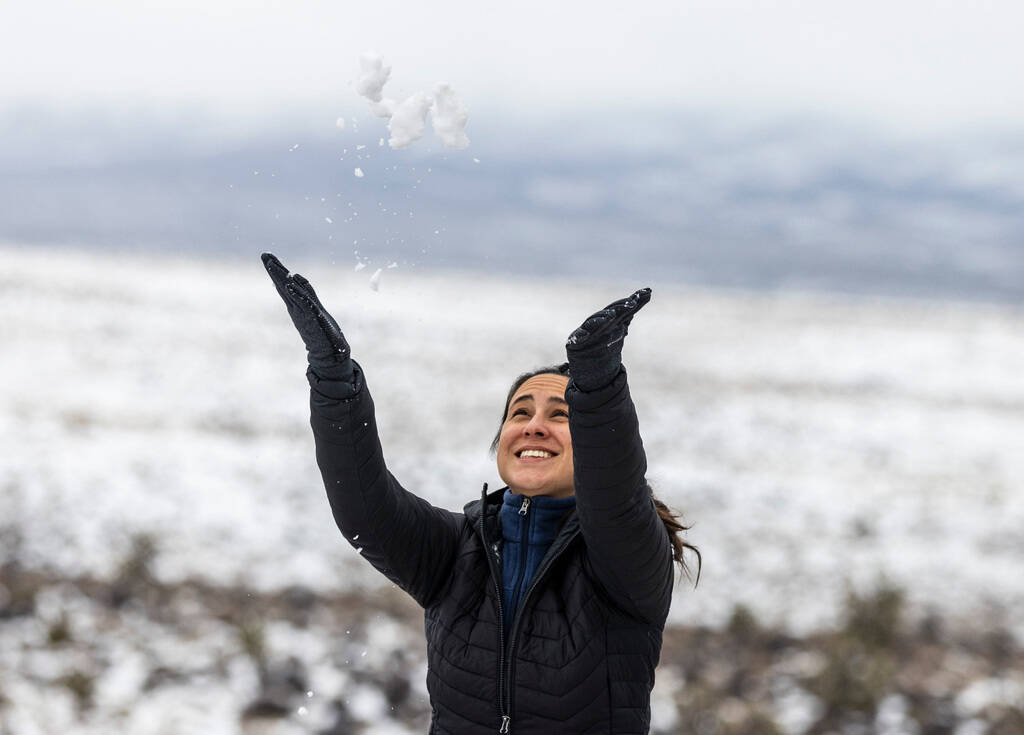 It may not quite be hell freezing over, but the Las Vegas area's Monday snowfall turned the desert landscape into a winter wonderland many of the area's kids had never experienced before.
Measurable snow was reported in some Henderson and Anthem neighborhoods. Flurries also were spotted in Centennial Hills.
It's really sticking now. pic.twitter.com/WpVIQHW4Ct

— Carri Geer Thevenot (@CarriGeer) January 30, 2023
At McCullough Vista Park in Henderson, eighth-grader Ayden Soto was making snowballs and launching them at his friends. He said he was shocked when he first saw the accumulated snowfall.
"I was looking at the weather and it said it was going to be 40 degrees and rainy, which isn't, like, snow," Soto said. "I just thought (the snow) was really cool, really awesome."
Meanwhile, sixth grader Daylen partnered with a friend to build a snowman. He said although he had seen snow when visiting other cities, this was the first time he's witnessed it in Southern Nevada.
"It's fun and you get to throw snowballs at your friends and stuff," said Daylen, who didn't want to give his last name. "I wish it snowed more."
At nearby Mission Hills Park, a handful of Mannion Middle School students slid down a snowy hill, some on sleds, others with their bodies. Despite most of them being snow rookies, they also successfully built a snowman.
"We (had) learned how to build a snowman in class," one said. "That was very helpful."
O'Callaghan Park didn't get snow, but it did get rain. So it didn't attract any children, but resident Tanya Dahar, decked in a hat and coat, was out walking her brother's dog.
"I love (the rain)," she said. "We don't see it very often. … so it's like an adventure."
The weather caused several closures Monday, including the Red Rock Canyon Scenic Drive and the Spring Mountain Visitors Gateway at Mount Charleston.
According to the National Weather Service, there were 3.6 inches of snow in the Sheep Range and Spring Mountain areas.
A winter weather advisory ran through 7 p.m. Monday for higher elevations northwest of the Las Vegas Valley. High temperatures Tuesday are expected to only reach 45 to 50 degrees in Las Vegas and across the Mojave Desert zones, which is about 10-12 degrees below normal.
Temperatures are forecast to gradually rise to the low 60s by the coming weekend.
Contact Justin Razavi at jrazavi@reviewjournal.com. Follow @justin_razavi on Twitter.