Las Vegas lottery hopefuls line up for hours at Primm store
January 5, 2018 - 7:14 pm
Updated January 5, 2018 - 11:47 pm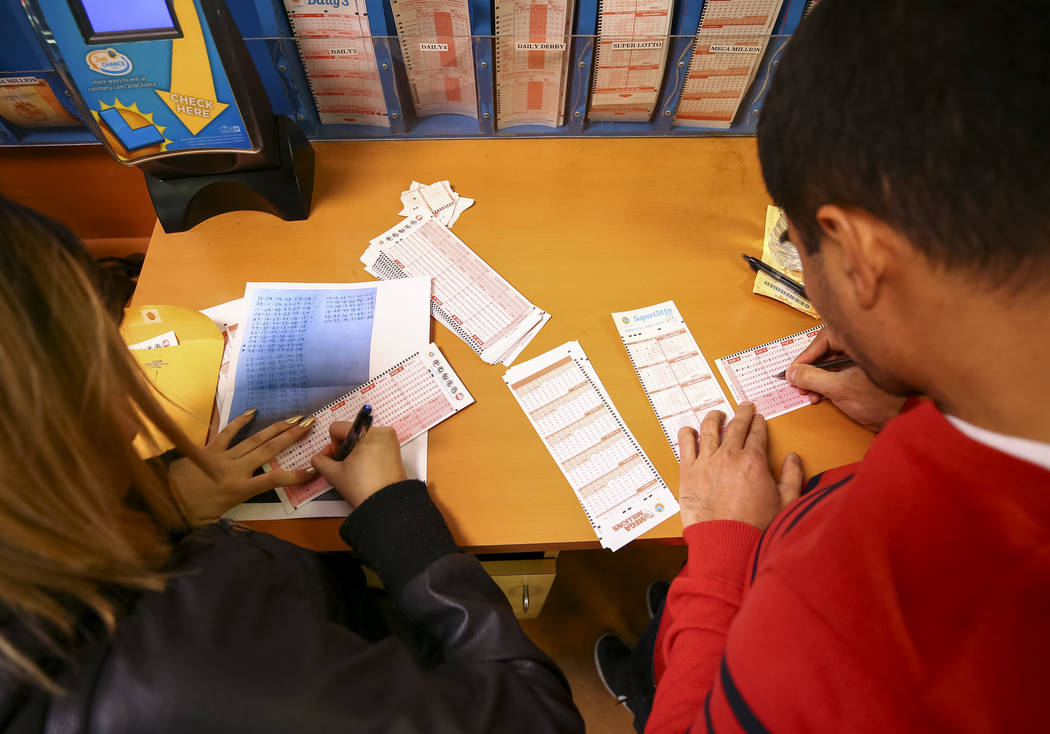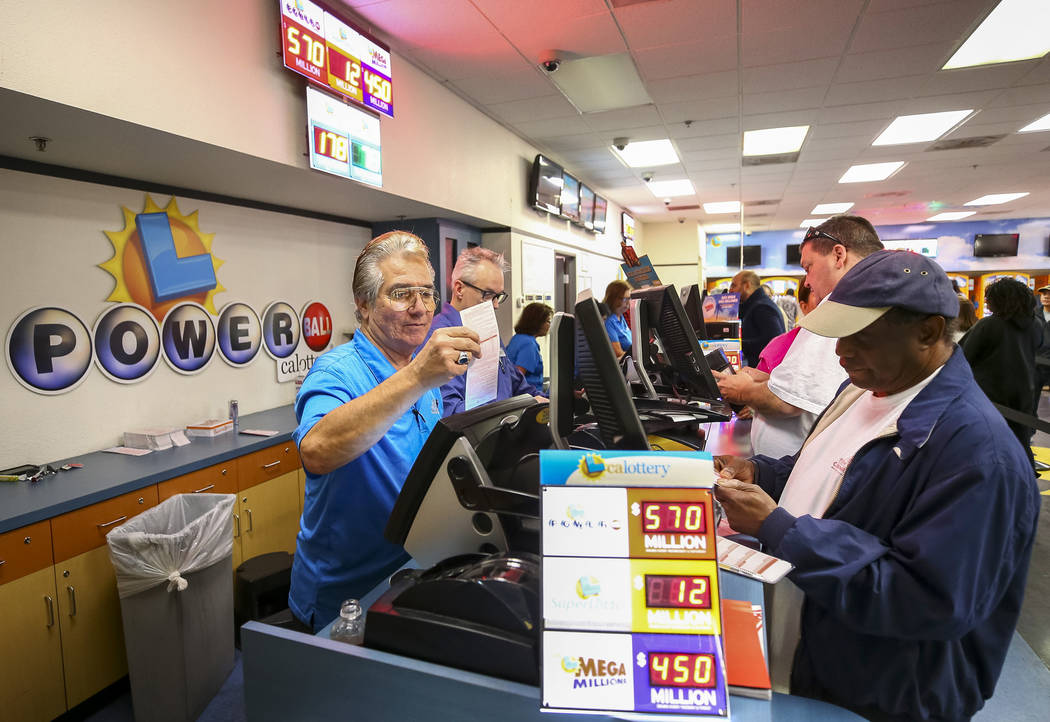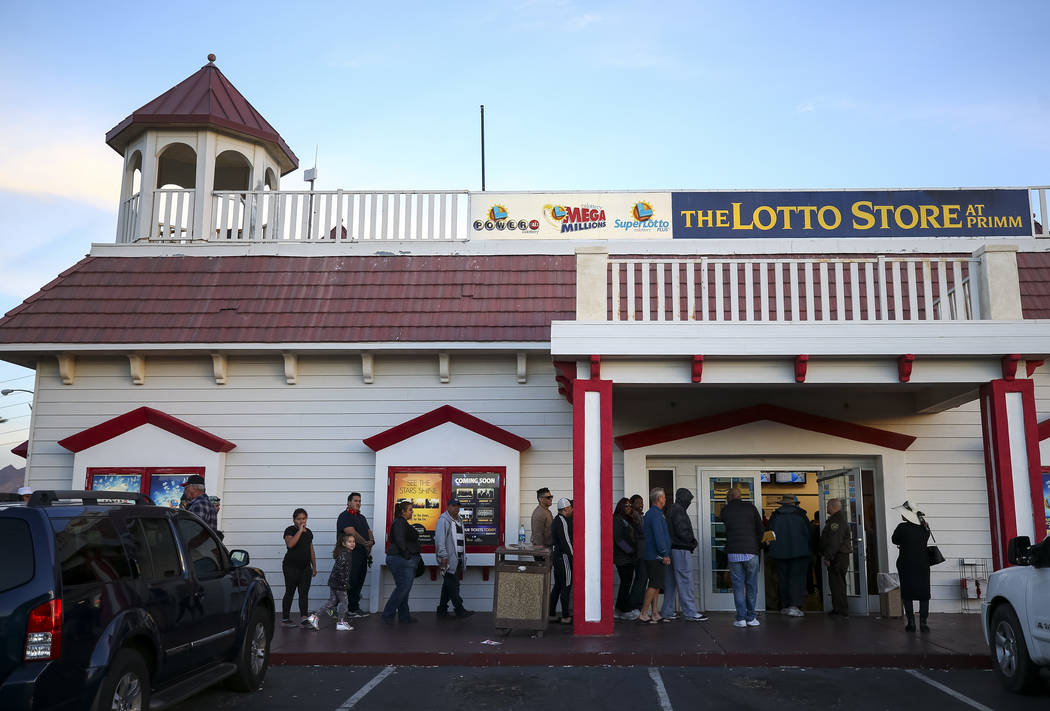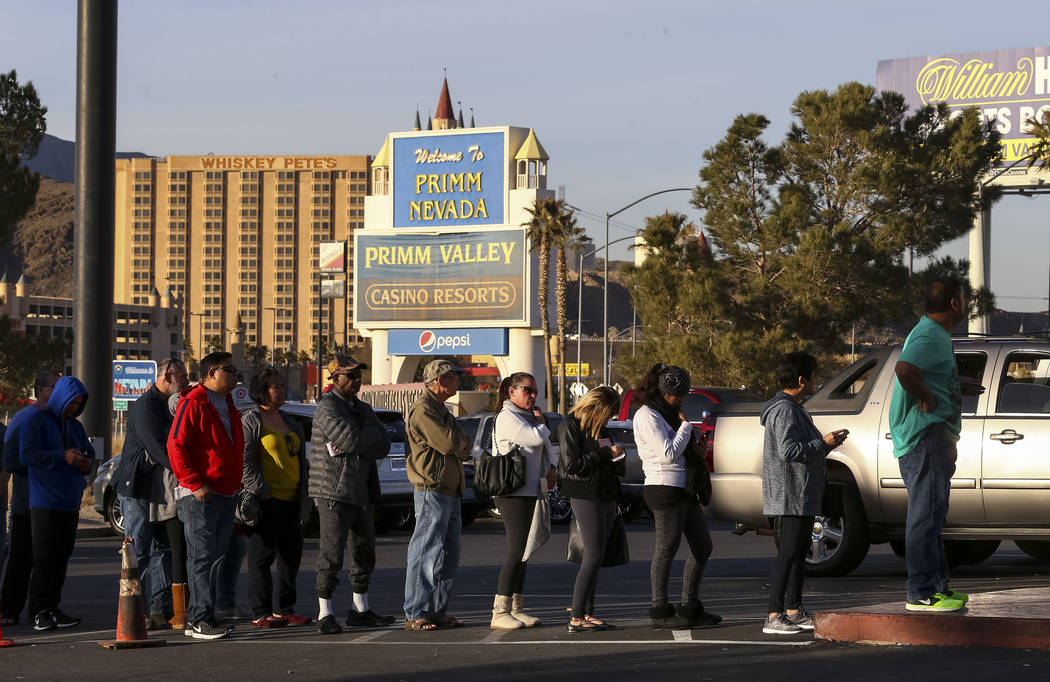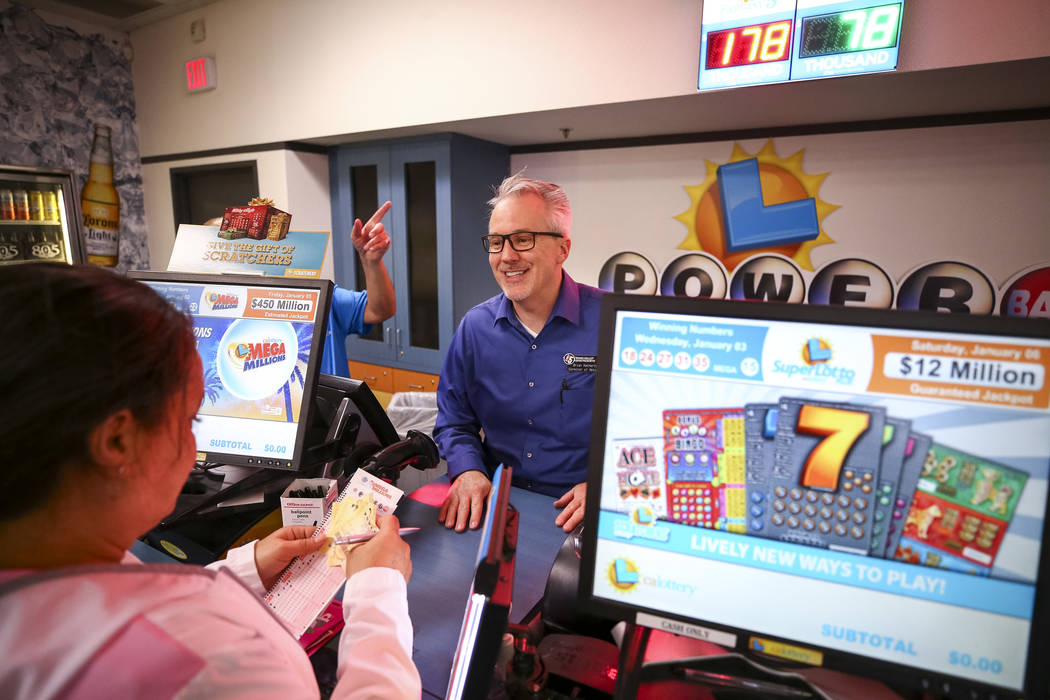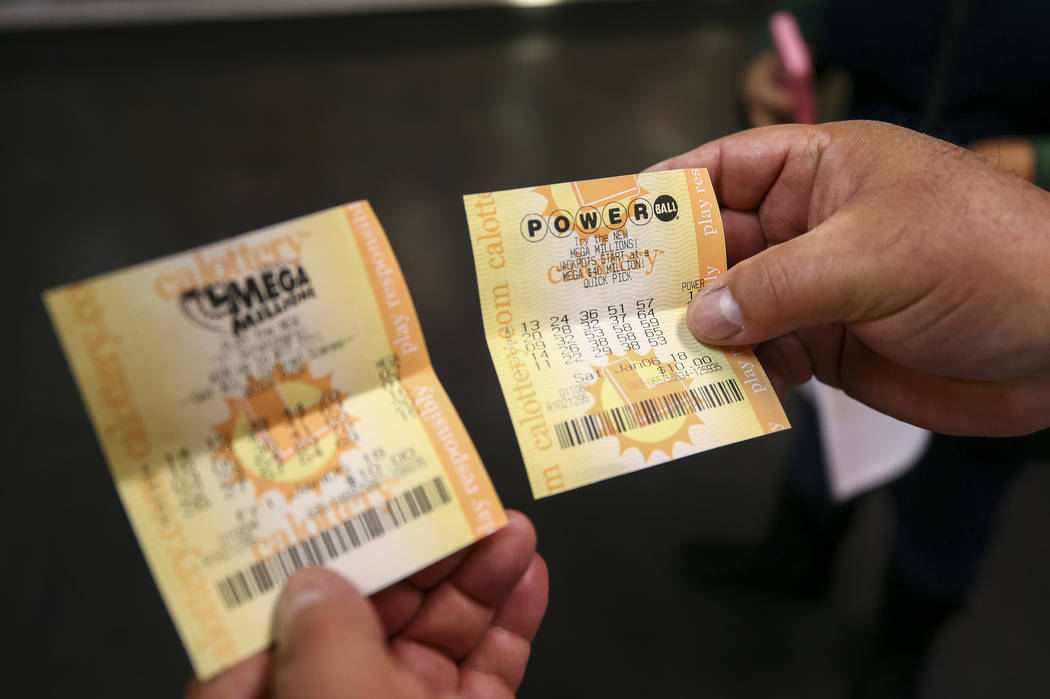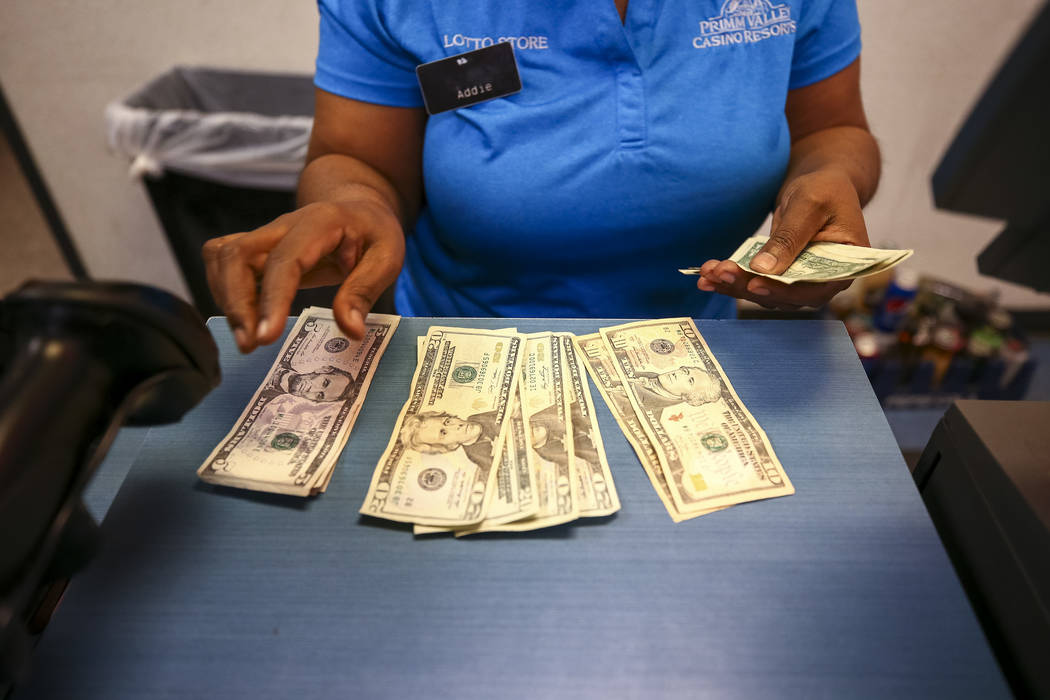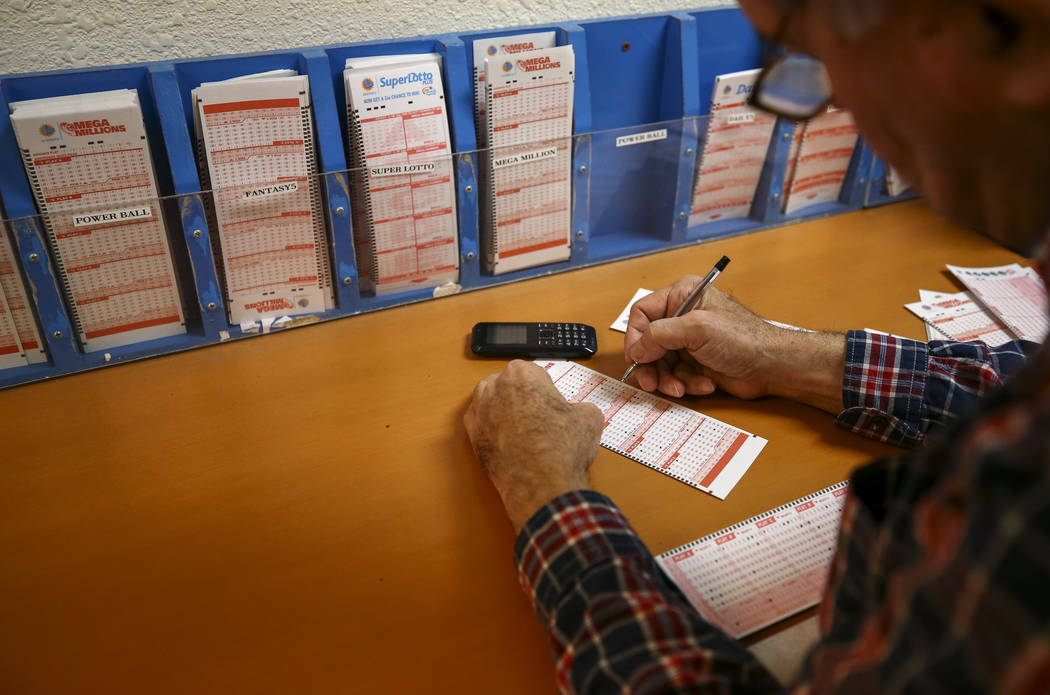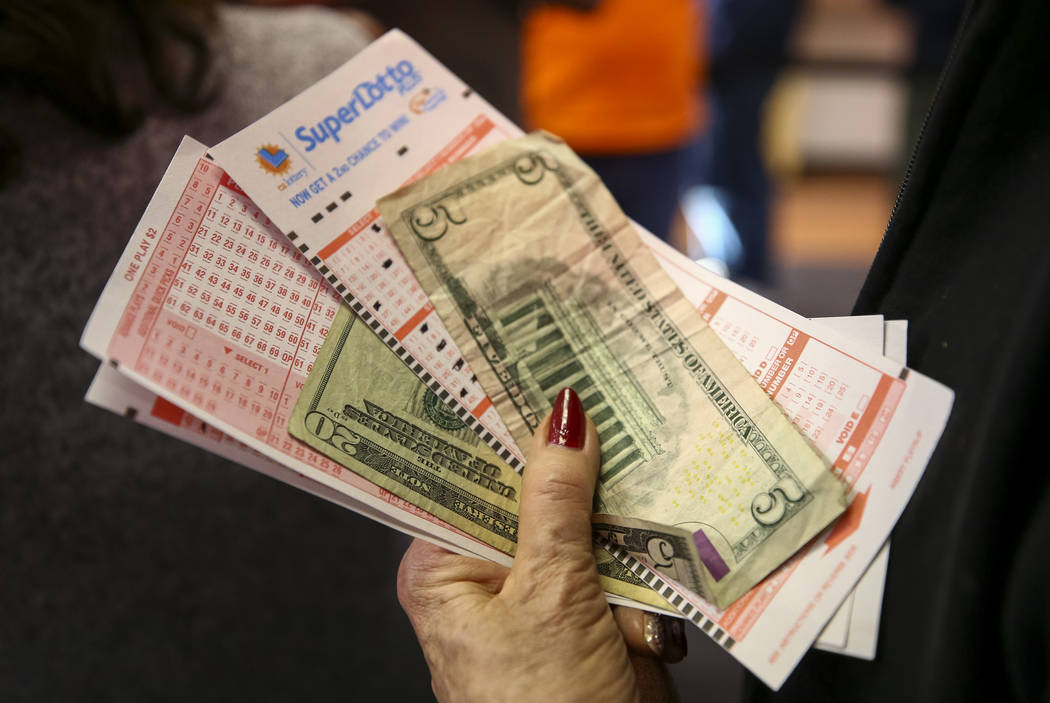 PRIMM — Bruce Huyghue had his wife, a folding chair and a pair of bright red headphones to keep him company during his wait in line.
On his playlist Friday afternoon was the hit song "That's What I Like" by Bruno Mars.
"My wife gave me a Bruno Mars doll for Christmas that sings and wiggles, so I kind of got into Bruno," the 82-year-old Las Vegan said.
He was among the thousands of people who stood in line for more than two hours at the Primm Valley Lotto Store for a chance at winning more than $1 billion from the Powerball and Mega Millions lottery drawings.
"I could use that," Huyghue said. "Blind optimism" keeps him coming back for the big jackpots.
While millionaire hopefuls began lining up as soon as the store opened at 8 a.m., the throngs of people failed to falter throughout the day. The estimated jackpot for Saturday night's Powerball drawing is $570 million, while the Mega Millions jackpot is estimated at $450 million.
The Mega Millions drawing was Friday night, and the winning numbers were 28, 30, 39, 59, 70 and Mega Number 10.
It's a 2-hour wait in this line at the Primm Valley Lotto Store for Powerball & Mega Millions tickerts. Combined, the jackpots total over $1B. Story coming. pic.twitter.com/1PAiwu5qca

— Natalie Bruzda (@NatalieBruzda) January 6, 2018
In addition to putting the winnings into trust for his children and grandchildren, Huyghue said he would donate a significant portion of the money to charities, including educational scholarships.
"A lot of it would go to the public good," Huyghue said. "There's no way my entire family could need half a billion dollars."
Several others who were standing in line at the lottery retailer, located just over the Nevada state line in California, were feeling charitable, too.
Liz Ziegler, 70, of Las Vegas, said she would donate at least $1 million to her church and set up trusts for her 11 grandchildren and four great-grandchildren.
"Somebody has to win," Ziegler said. "I'm a pretty lucky person."
Just three years ago, Ziegler said she won $5,015 on a penny machine at a local casino.
Las Vegas resident Melody Pride said she would use the winnings to pay for her daughter's upcoming nuptials in Washington state.
"My youngest just got engaged," she said. "I'm already paying for it anyway. I just don't have the money. I just need a little for a little wedding."
Pride joined the line with her cousin-in-law and best friend Teresa Falls at 2:16 p.m. By 4:16 p.m., they were inside the store, where they had been many times before.
Most recently, they bought tickets in August when the Powerball jackpot reached $758 million.
"It was a hundred and some degrees out here, and it was a hot wait," Falls said. "This was much nicer today."
Contact Natalie Bruzda at nbruzda@reviewjournal.com or 702-477-3897. Follow @NatalieBruzda on Twitter.
Wednesday's Powerball
— Numbers: 2, 18, 37, 39, 42, Powerball: 12
— Jackpot: $460 million
— Winners: None
— Saturday's estimated jackpot: $570 million
One Mega Millions winner
One Mega Millions ticket matched all six numbers and will claim a $450 million grand prize. The winning numbers drawn Friday night to claim the nation's 10th largest jackpot were 28-30-39-59-70-10. It was not immediately known where the winning ticket was sold. The odds of winning the Mega Millions jackpot are one in 302.5 million. Powerball odds are one in 292.2 million.
Related
Here's why you can't play Powerball in Nevada
No Nevada lottery because gaming doesn't want competition
Lines shorter than usual for $430M Powerball jackpot at Primm store
Powerball manipulated odds to create another massive jackpot
Mega Millions ticket purchased at Primm Valley Lotto wins first jackpot of 2017 for $188M