Las Vegas police officers, civilians honored for life-saving efforts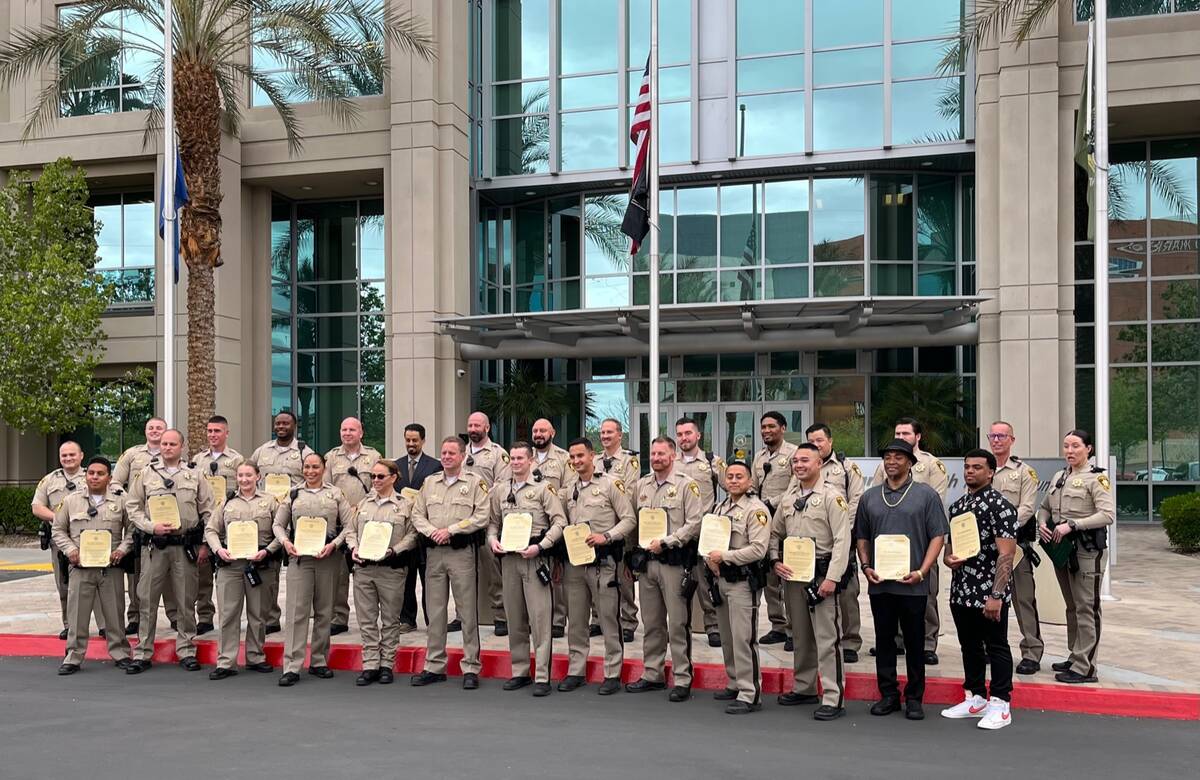 The Las Vegas Metropolitan Police Department honored more than two dozen police officers — and even a few civilians — Wednesday for their help in saving lives in the community.
A commendation ceremony at Metro headquarters Wednesday afternoon began with the department honoring a father-and-son duo, Torrell and Kordell Johnson, with a Certificate of Appreciation for helping save a missing child last year.
On Aug. 13, the pair saw a car in the parking lot of a McDonald's that matched a description relating to a missing 7-year-old that they'd seen on an Amber Alert. They then called 911 and stayed on the line while police responded and found the child safe inside the vehicle.
"I felt like there was a higher power put in me to pay attention to all these alerts," Torrell Johnson said. "There was a reason behind it … I hope the kid's okay, I hope the family's okay."
Metro also gave more than 20 police officers a "Lifesaving Award" for specific actions that helped save lives. This included a group of six Metro officers who rushed to a motel to help revive three people who were reported unresponsive after using fentanyl last year.
On Aug. 27, Officer Ryan Clapp responded to the chaotic scene at the S. Las Vegas Blvd motel.
"These three individuals were snorting what they thought to be cocaine, which ended up being fentanyl," Clapp said.
Officer Jann Valeza soon responded with the overdose medication Narcan to assist.
"All of us (were) determined that we're not going to lose anybody that day," Valeza said.
The other officers involved with the life-saving effort were Officers Danielle Benites, Charles Adam Cruz, Noah Loeffler and Noah Sirkel.
"I feel amazed," Clapp said. "We got recognized, not for doing something for ourselves, but for our community."
"We do this on a daily basis, and there's plenty of others who don't get recognized," Valeza added. "And it's definitely a common thing that we do these type of things day in and day out."
Other officers honored with a Lifesaving Award included Michael Riordan, Gary Sittre, Samuel Solorio, Konnor Bradley, Nancy Bongiovani, Lan Lieng, Shawn Johnson, Ryan Murphy, Thomas Hill, Kathleen Lunn, Aaron Groft, Jordan Turner, Jacob Weissman, Ivan Gutierrez, Trevor Griffin and Clayton Mikleson.
Officers Rex Marshall, Vanessa Mitchell, Wyatt Brown, Tremayne Jackson and Logan Scott were given a Meritorious Service award, while a Certificate of Appreciation was awarded to Michael Fitale with the Department of Aviation.
Contact Justin Razavi at jrazavi@reviewjournal.com. Follow @justin_razavi on Twitter.