Legal hurdles cleared, Nevada sees first same-sex marriage
October 9, 2014 - 6:58 pm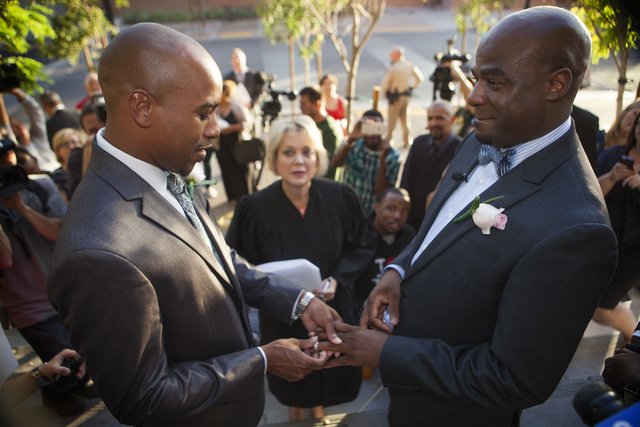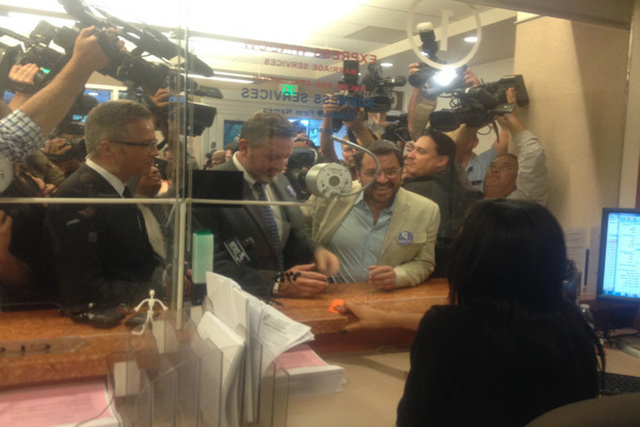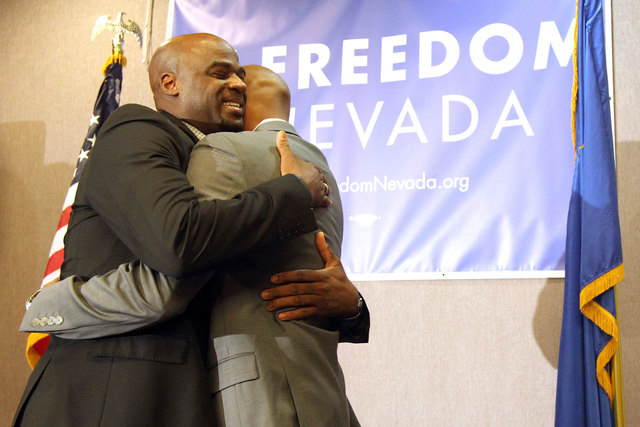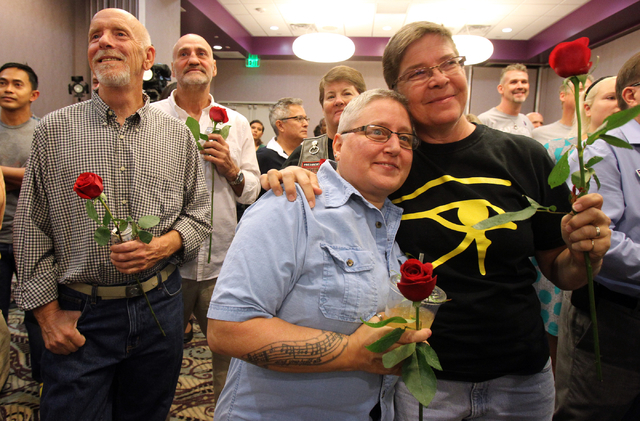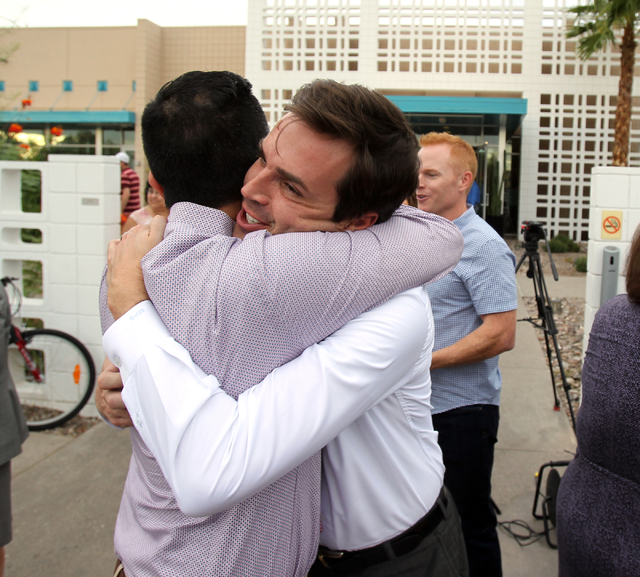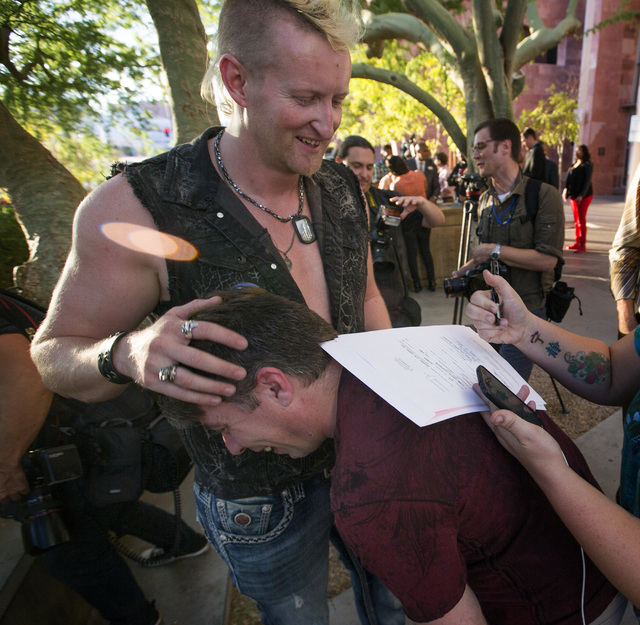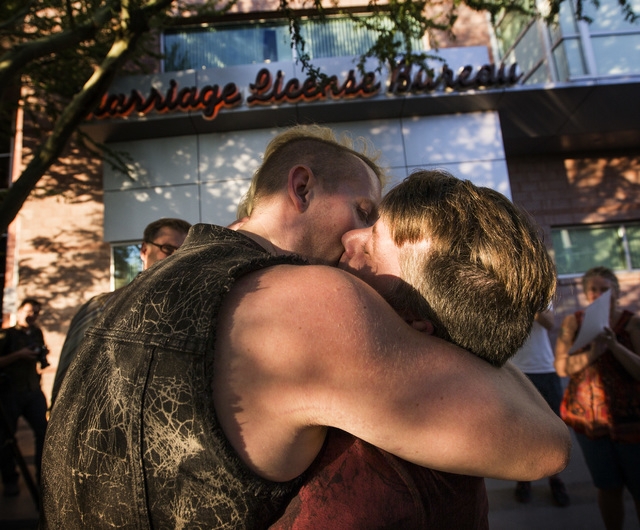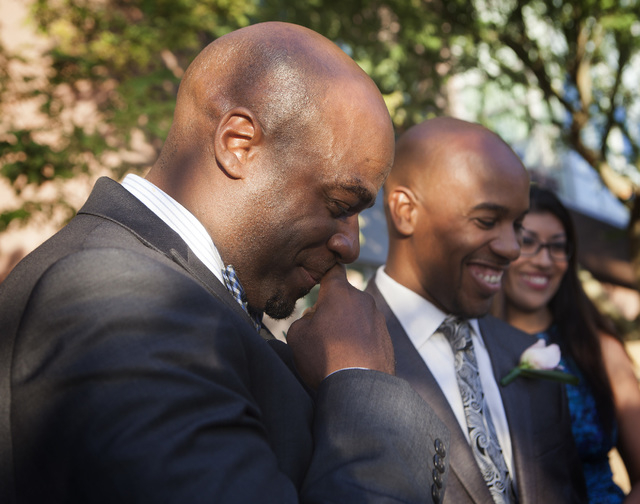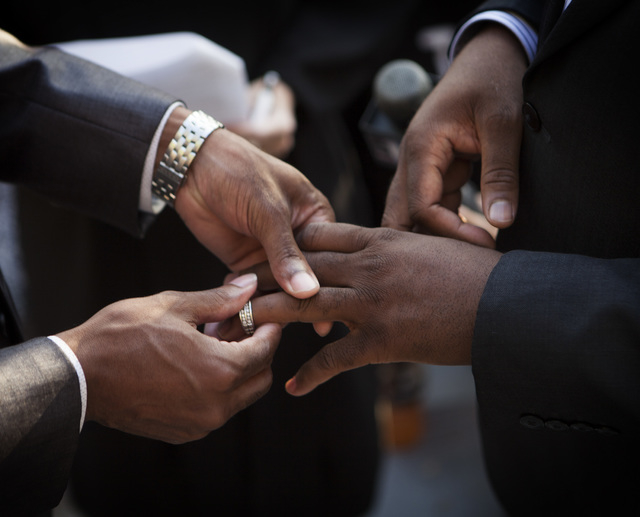 Clark County granted its first same-sex marriage license just after 5 p.m. Thursday, ending days of legal wrangling and waiting for gay and lesbian couples across Nevada.
That license went to Theo Small and Antioco Carillo, one of eight couples that challenged that state's gay marriage ban. That came after Clark County Clerk Diana Alba got the go-ahead from U.S. District Court Judge James Mahan.
Carillo and Small picked up their license ahead of 12 other couples queued up at the Clark County marriage bureau, but they aren't be the first same-sex couple married in the state.
That distinction could go to state Sen. Kelvin Atkinson and his partner, Sherwood Howard, who were united on the marriage bureau steps a little more than an hour after Alba received the judge's greenlight.
Diane Hawley and Carol Przybycien may have run a close second.
They, unlike many of those queued up at the bureau on Thursday, planned to make a beeline for the nearest downtown wedding chapel.
"We never really expected this in our lifetime," Hawley said. "As every state gets added into the mix, my conviction gets stronger that this is a sure thing, that it's here to stay."
Ron Quinn and Ken Solis, who took out the second license issued in Southern Nevada, said they plan to continue working until it is.
"As wonderful as it is, we still have 15 or 18 states that don't recognize marriage equality," Quinn said. "(Marriage equality) is a lot like cell phone service — it goes in and out, depending on where you are. Until we have it everywhere, there's a lot of work to do."
For the record, it's believed that the first same-sex marriage license issued anywhere in Nevada went to Kristy Best and Wednesday Smith, both of Carson City, just before 4 p.m..
Standing in front of the Carson City home she shares with Best, Smith said being first was unimportant in comparison to getting married at all after seven years together.
Best said they went to the courthouse on a whim and came away with a license that had not yet been changed to make it gender-neutral.
Elizabeth Phelps, who processed the license, said the couple had "tears of joy."
Best and Smith expect to marry at the Carson City Courthouse on Saturday in a ceremony they'll share with distant relatives via Skype.
"We're so happy," Best said.
That happiness came after the group defending the same-sex marriage ban withdrew a motion seeking to stay implementation of Tuesday's 9th Circuit Court of Appeals ruling that the ban was unconstitutional.
Monte Stewart, the attorney representing the Coalition for the Protection of Marriage, declined comment on court papers he filed Thursday saying "the coalition hereby withdraws in its entirety its motion and joinder … effective immediately."
Lambda Legal, which challenged Nevada's ban, said in an email that the coalition also had withdrawn its request for a stay filed with the Supreme Court.
"Finally, the confusion has ended and the 9th Circuit's decision is final and fully in effect," Lambda Legal Staff Attorney Tara Borelli said in a statement, "… nothing prevents marriages from beginning immediately for same-sex couples in Nevada."
Gov. Brian Sandoval, in a written statement, said the move "brings finality to the issue of same sex marriage in Nevada."
Despite the view by many that the fight over same-sex marriage is over in Nevada, the Coalition for the Protection of Marriage said in a statement late Thursday that the fight will continue.
"Because of misleading news reports, the Coalition for the Protection of Marriage states that it is defending and will continue to defend Nevada's marriage laws in the 9th Circuit Court of Appeals and, at the right time, will defend those laws at the United States Supreme Court," said coalition President Todd Larkin. "The coalition is confident that, in the end, the constitutionality of man-woman marriage will be upheld."
Contact Sean Whaley at swhaley@reviewjournal.com or 775-687-3900. Find him on Twitter: @seanw801. Contact James DeHaven at jdehaven@reviewjournal.com or 702-477-3839. Find him on Twitter: @JamesDeHaven.
RELATED:
Supreme Court denies gay marriage appeals from 5 states