Nevada experiments with 'biochar' to improve health of forests
January 1, 2016 - 12:51 pm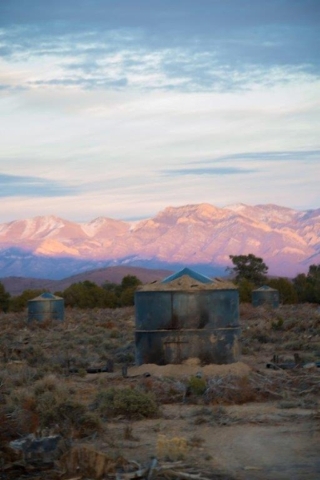 CARSON CITY — State land stewards are experimenting with an ancient method to improve the health of Nevada forests and make use of the renewable resource — baking tree trunks and limbs in a slow cooker to turn them into charcoal.
The technique is as old as the ages and was commonly used by Nevada pioneers and early miners to create an energy source for warmth and smelting.
Today there is a new focus: using "biochar" to improve soil nutrients and water retention.
Eric Roussel, a biomass and seed bank coordinator with the Nevada Division of Forestry, has been toying with the idea for several years.
"The idea really came out of pinyon and juniper utilization," Roussel said. "We're having tremendous issues with pinyon and juniper in terms of forest health and fire fuel."
Pinyon and juniper forests across Nevada's many mountain ranges have been left largely untended, making them more susceptible to devastating wildfires, disease and insect infestations.
"We're seeing this great woodland going away," Roussel said. "One of the ways we treat these problems is having a value on the forest."
Juniper trees were commonly used in the West for fence posts, until metal T-posts came along and shut down the post industry, he said.
"We were left with the forest that doesn't have some tremendous marketable use … besides pine nuts and firewood," he said.
Roussel began researching ways the forest was used historically. Charcoal production was one of them. One prime example in Nevada is the Ward Ovens south of Ely.
The six beehive-shaped ovens, which were built and used in the 1870s, stand 30 feet tall. The ovens could burn 35 cords of wood at a time and produce about 1,000 bushels of charcoal that was used in the mining process. The site is now a state park.
Opportunity knocks
The latest project took shape about four years ago when the U.S. Forest Service began cutting down pinyon and juniper trees in an area near Ely because they were encroaching into critical sagebrush habitat.
That's when state forestry officials decided to experiment with reviving the method of turning trees into charcoal or biochar.
"It's called charcoal when you use it for energy. But when you use it for soil amendment it's called biochar," Roussel said.
"We want to find ways to utilize the forest, encourage management, offset some of the costs and make the forest more healthy and sustainable," he said.
Creating 'biochar'
With funding from the Eastern Nevada Landscape Coalition and the Forest Service, the state agency now has 10 portable ovens, or kilns. Each measures 8 feet tall and 8 feet wide and can convert about 1,200 pounds of tree material into 600 pounds of biochar.
It takes about two hours to load the wood. Inmate work crews help with the labor.
From there, it's all about controlling the burn. Burn it too fast, and the wood turns to ash. The trick is to keep oxygen levels low. Once the fire is burning hot, vents are closed off and sealed to allow the wood to simmer slowly.
"We get 10 of them going at a time," Roussel said.
The cooking process takes about 24 hours. It takes another day for the biochar to cool off.
In November and December, crews made about 70 cubic yards of biochar.
How it's used
Nevada Division of Forestry and other scientists are experimenting with ways to make biochar commercially viable. So far, Roussel said, the prospects look promising not only for backyard gardeners but for rangeland management and pollution control.
Biochar is extremely porous. Because of all its nooks and crannies, one handful can have about the same surface area as an entire footfall field, Roussel said. And all those crevices can hold a lot of water.
"It essentially works like a sponge," he said, "so we're able to retain a lot of water that would otherwise evaporate or move through the soil really quickly."
Biochar is being mixed with other compost materials for use at state nurseries. Besides holding water, biochar adds nutrients to soil, aiding plant growth.
"We are composting it and adding it to agriculture land to see if it increases yield," Roussel said.
Experiments are being done on the open range. Biochar is being spread on test plots, next to areas of untreated ground, to record any differences in soil conditions and plant growth.
Another possible use is storm water treatment. Just as charcoal filters clean impurities from fish tanks and swimming pools, Roussel said, biochar may find use as a cleaning agent for storm water runoff.
Commercial applications
Dink Getty, owner of Great Basin Organics and Genoa Trees in Douglas County's Carson Valley, has been following developments in biochar for about three years. But he's already a big believer, so much so that he began making his own biochar in the past year.
He has a permanent kiln that can produce 3 to 5 tons of biochar weekly. He uses slash piles left over from forest thinning projects near the Tahoe Basin and grindings from the nearby Bently Ranch, which accepts green waste from the community for its own composting operation.
"We're mixing it in our compost at about a 10 percent rate," Getty said as he rattled off several benefits of biochar-enriched soils. The compost is available locally in Northern Nevada, but Getty said he is looking for distributors in Southern Nevada to carry his product.
Compost without biochar normally lasts three to five years, he said. By contrast, he pointed to the rich soils of the Amazon.
"People did it in the 1500s … and that soil is still black and fertile," Getty said.
And adding biochar to compost saves irrigation water, he said, noting it can hold five to 10 times its weight in water.
"It's a great concept," Getty said. "Biochar is not anything really new to research. There's a lot of data. It just hasn't been used in the wood industry as far as trying to use all this wasted wood in Nevada."
Developing a commercial market for biochar is key to the success of the effort, Roussel said.
"That's really the benchmark for us, when private industry sees there's a marketable product here," he said.
"We have more pinyon and juniper acres than we ever had in Nevada," Roussel said. "This could be a way to keep the forest healthy and productive."
He's excited for another reason.
"For me the neatest thing is the tie to what we did historically," Roussel said. "What a cool way to use an old solution for a new problem."
Contact Sandra Chereb at schereb@reviewjournal.com or 775-687-3901. Find her on Twitter: @SandraChereb