Nevada lawmaker Hansen cleared of illegal trapping charges
November 27, 2014 - 1:14 pm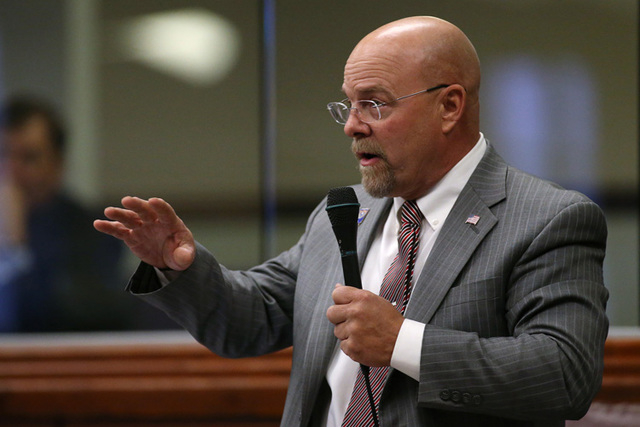 FALLON — Nevada Assemblyman Ira Hansen — who recently gave up his designation as speaker for the 2015 Legislature in an uproar over his comments about women, gays and minorities — has been cleared of charges accusing him of illegal wildlife trapping.
A justice of the peace in Fallon found the Sparks Republican not guilty on Wednesday of all four misdemeanor counts. Hansen was accused of setting steel snares too close to a public road in Churchill County last November, and he could have faced up to a $500 fine for each violation.
Hansen maintains the Nevada Department of Wildlife has a vendetta against him. He has been cited several times since 1980 for minor trapping violations. He paid small fines for some and was found not guilty of others.
Hansen told the Reno Gazette Journal after Judge Richard Glasson ruled in his favor that he was "feeling very good."
"See you next time," he told John Swisher, the state game warden who confronted him in the field and testified for the prosecution in New River Township Court.
Nevada Department of Wildlife spokesman Chris Healy said the agency has treated Hansen the same as anyone else they believe to be trapping illegally.
"We have no vendetta against Ira Hansen. We never have," Healy said.
Hansen was re-elected earlier this month to a third term in the Assembly. The Assembly's GOP Caucus elected him speaker-designate. But on Sunday he agreed to withdraw under pressure from Republican Gov. Brian Sandoval and others after the Reno-Sparks NAACP called for his ouster based what called his long history of racial insensitivity and bigotry.
Hansen, the owner of a plumbing business in Sparks and an avid hunter and trapper, argued the ban on trapping within 200 feet of a roadside only applies to steel traps, which clamp an animal's leg like a claw.
Hansen said he was within his rights because he was using snare traps, which are set at about the height of an animal's head. When an animal walks into the snare and begins struggling to free itself, the snare contracts and chokes the animal to death.
Hansen told the newspaper Wednesday that he won't pursue legislation on the issue in the upcoming session of the Nevada Legislature.
"Not now. I don't need to," he said.