Nevada man pleads guilty in Oregon occupation: 'Damned if I do, damned if I don't'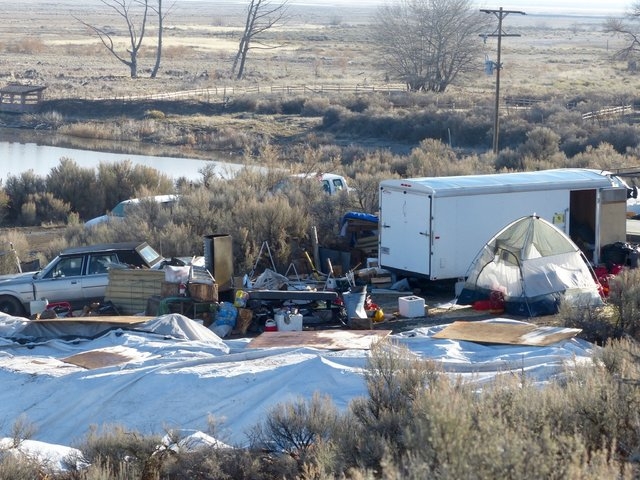 PORTLAND, Ore. — A Nevada man who participated in the armed occupation of an Oregon bird sanctuary pleaded guilty Thursday to a federal conspiracy charge, the first of Ammon Bundy's 25 co-defendants to admit criminal responsibility.
"Damned if I do, damned if I don't," Corey Lequieu, 46, said when telling a federal judge why he was giving up his right to a trial.
In exchange for the plea, prosecutors agreed to drop two weapons charges, one of which carries a penalty of five years to life.
Authorities in Nevada also had a hand in the settlement, agreeing not to pursue charges against Lequieu for his role in the April 2014 standoff with federal agents at Cliven Bundy's ranch. Lequieu also avoided a potential charge of being a felon in possession of a firearm.
U.S. District Court Judge Anna Brown scheduled sentencing for Aug. 25. Assistant U.S. Attorney Craig Gabriel said prosecutors will recommend 2 ½ years in prison.
The Ammon Bundy-led takeover of the Malheur National Wildlife Refuge began Jan. 2, lasted nearly six weeks and included the fatal shooting by police of rancher and occupation spokesman Robert "LaVoy" Finicum.
The occupiers wanted the federal government to relinquish public lands to locals and free two southeast Oregon ranchers imprisoned for setting fires.
Gabriel said the conspiracy thwarted Interior Department employees from doing their jobs for much of the winter. "They were scared and it was impossible to go to work," he said.
The judge spoke with Lequieu at length Thursday about his decision to plead guilty, making sure he was of sound mind and understood his options.
One of the charges prosecutors agreed to drop — the carrying of a firearm in relation to a crime of violence — has been contested by defense attorneys for all the men charged with it.
Lequieu pointedly took exception to the wording: "In this whole case, the only violence was the government murdering LaVoy Finicum."
The trial for the 25 others charged with conspiracy is set for Sept. 7. Lequieu's plea bargain doesn't require him to testify against fellow occupiers.
This is a developing story. Check back for updates.