New speed record set on highway between Las Vegas, Pahrump
November 5, 2017 - 10:09 am
Updated November 5, 2017 - 4:28 pm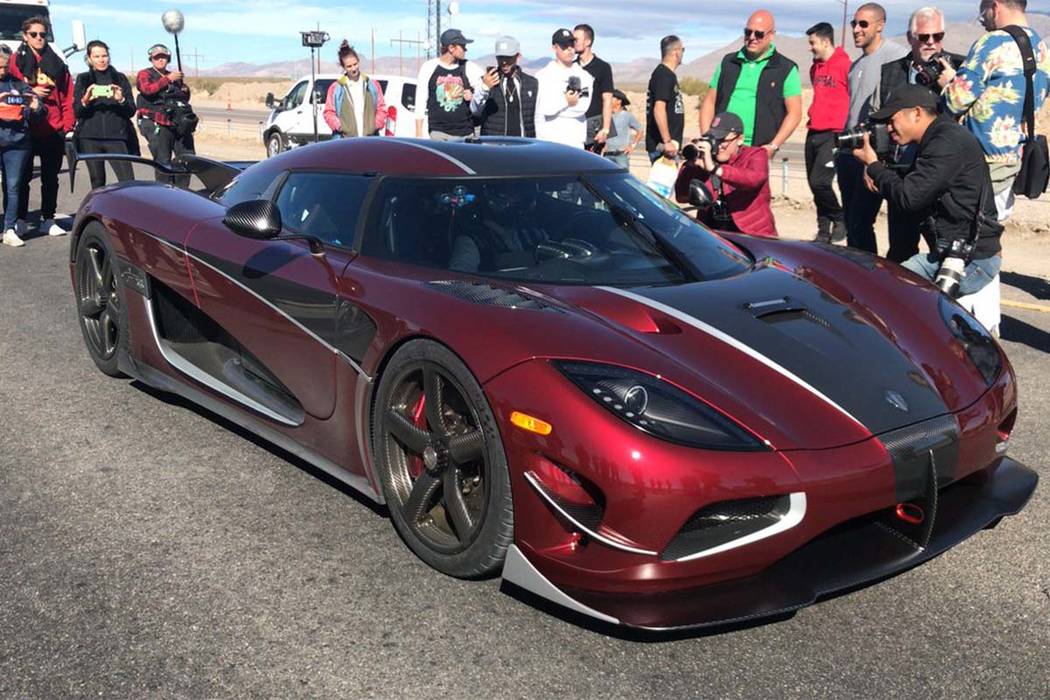 History was made on a Nevada highway Saturday when Swedish super-car maker Koenigsegg set a high-speed record for production cars.
The new two-way average record speed of 277.9 mph was set by a Koenigsegg Agera RS driven by factory driver Niklas Lilja on an 11-mile section of state Route 160 between Las Vegas and Pahrump.
Under a special permit from the Nevada Department of Transportation, the ultra-exclusive, 1,360-horsepower sports car topped the 268 mph mark set in 2010 by a Bugatti Veyron Super Sport.
A Koenigsegg Agera RS driven by factory driver Niklas Lilja has recorded a 2-way avg speed of 444.6 km/h (277.9 mph). A new world record! pic.twitter.com/FXUjKpTW1q

— Koenigsegg Official (@koenigsegg) November 4, 2017
In the attempt hosted by Spring Mountain Motor Resort and Country Club, the southbound lanes of Route 160 were scheduled to be closed between 7 a.m. and 3:30 p.m. Saturday and Sunday, but the highway reopened Saturday shortly after Koenigsegg's successful production car speed trial.
Highly anticipated by racing enthusiasts, the speed trial took about a year of planning, according to Joel Oscarson, strategic development coordinator for the motor resort.
"For this to happen in Nevada, there was tremendous support from all the way up to the governor's office and everyone in between. A lot of hands were involved," Oscarson said Sunday of the help from the Nevada Highway Patrol, NDOT and Nye County's planning department.
Guinness World Records, the arbiter of such things, defines a production car as a vehicle in its original condition, with no modifications or adjustments other than those offered as factory options by the manufacturer. There are no stipulations on how many of the cars must be produced, which is why only a handful of hyper-specialized and expensive sports cars are usually in competition for the record.
Machines like the Agera RS are custom-built for individual buyers, often selling for well over $1 million.
Contact Rio Lacanlale at rlacanlale@reviewjournal.com or 702-383-0381. Follow @riolacanlale on Twitter.
Review-Journal reporter Henry Brean contributed to this story.