State Sen. Debbie Smith dies after battling brain tumor
February 22, 2016 - 7:44 am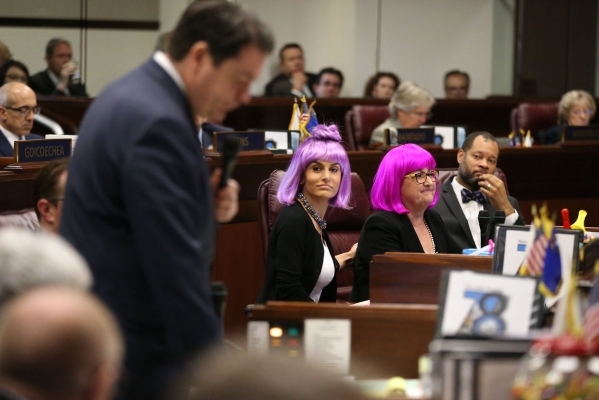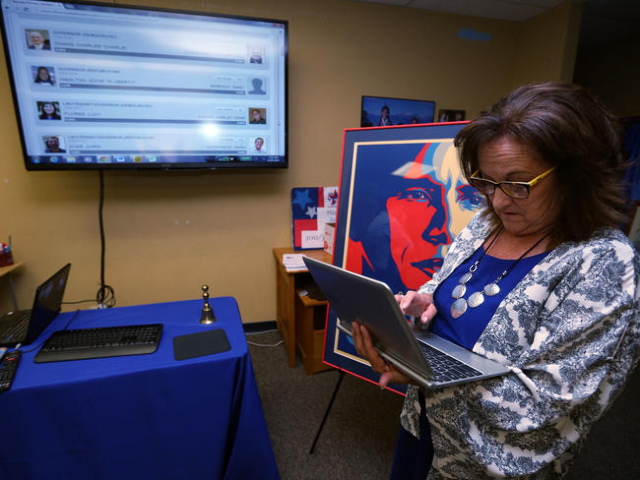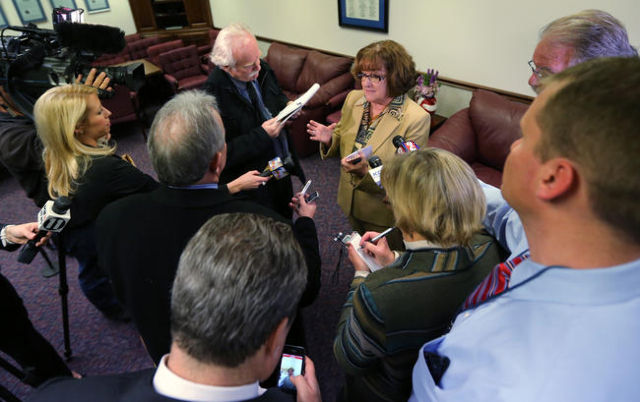 CARSON CITY — Nevada state Sen. Debbie Smith of Sparks, who fought back from a malignant brain tumor, has died, the Democratic Caucus announced Sunday.
"The thoughts and prayers of the Senate Democrats and caucus staff are with Senator Smith's family," the statement said.
Details for a public memorial service will be announced in the coming days.
"Debbie's commitment to Nevada was unparalleled," Senate Democratic Leader Aaron Ford said. "She was a tireless fighter for families and for children. Even while undergoing cancer treatment during the last legislative session, she passed legislation that will help build new schools and better protect children from bullying and abuse. Above all else, she was a loving wife, a devoted mother and grandmother, and a friend to thousands of people whose lives she touched. She will be sorely missed."
Tributes poured in for Smith on Twitter.
"My 'caucus mom' (ok sister!)" said Reno City Councilman David Bobzien, a former member of the Assembly. "You were my role model for service to others. Nevada is a better place because of you."
U.S. Sen. Harry Reid, D-Nev., in a statement, described Smith as "the epitome of an ideal neighbor, friend and public servant."
"A believer in the good of government, Debbie's advocacy for adequately funding our education system will be felt in Nevada for a long time," he said. "Northern Nevadans, no matter what party, had a fighter in the Legislature. Despite her difficult year, her positive outlook on life was admirable to all. She was my friend and I will miss her."
Gov. Brian Sandoval said flags will fly at half-staff on state buildings until Smith's funeral.
"Senator Debbie Smith was an extraordinary public servant whose record of accomplishments and presence in the Nevada Legislature will remain unmatched in the years ahead," Sandoval said in a statement. "Today we remember her legacy as a true Nevadan with a fierce devotion to her constituents and state, particularly to public education and the children of Nevada. I will personally miss her greatly, and Nevada will miss her leadership."
Assembly Democratic Leader Irene Bustamante Adams called Smith a cherished colleague and friend.
"She will be remembered fondly for her incredible spirit and for her tireless work to improve the lives of all Nevadans," Bustamante Adams said in a statement. "Her legacy in the Senate and the Assembly of improving our schools, protecting children and making our state government more effective will be felt by people in her district and across Nevada for years to come."
Smith underwent surgery at MD Anderson Cancer Center in Houston to remove a malignant brain tumor in early 2015. She had been diagnosed with the operable tumor in early February 2015, just before the legislative session began.
She returned to the Nevada Legislature in April to ovations and cheers.
Smith, who was 60, displayed scars on her scalp after the surgery. She had shaved her head because of her treatment. Her husband, Greg, and daughter, Erin Smith Marlon, sported closely cropped hair to show their support. She is survived by two other children, Ian and Olivia.
She was born in Tucson, Arizona in 1956. Her family moved to Nevada when she was in the fourth grade.
Smith served on the powerful Senate Finance Committee and was assistant minority leader in the Senate. She served five terms in the Assembly before being elected to the Senate in 2012.
Smith also recently served as president of the National Conference of State Legislatures and was a past president of the Nevada Parent Teacher Association.
One of her priorities during her legislative service was education funding. She was highly regarded by her colleagues on both sides of the aisle.
Contact Sean Whaley at swhaley@reviewjournal.com or 775-461-3820. Find him on Twitter: @seanw801