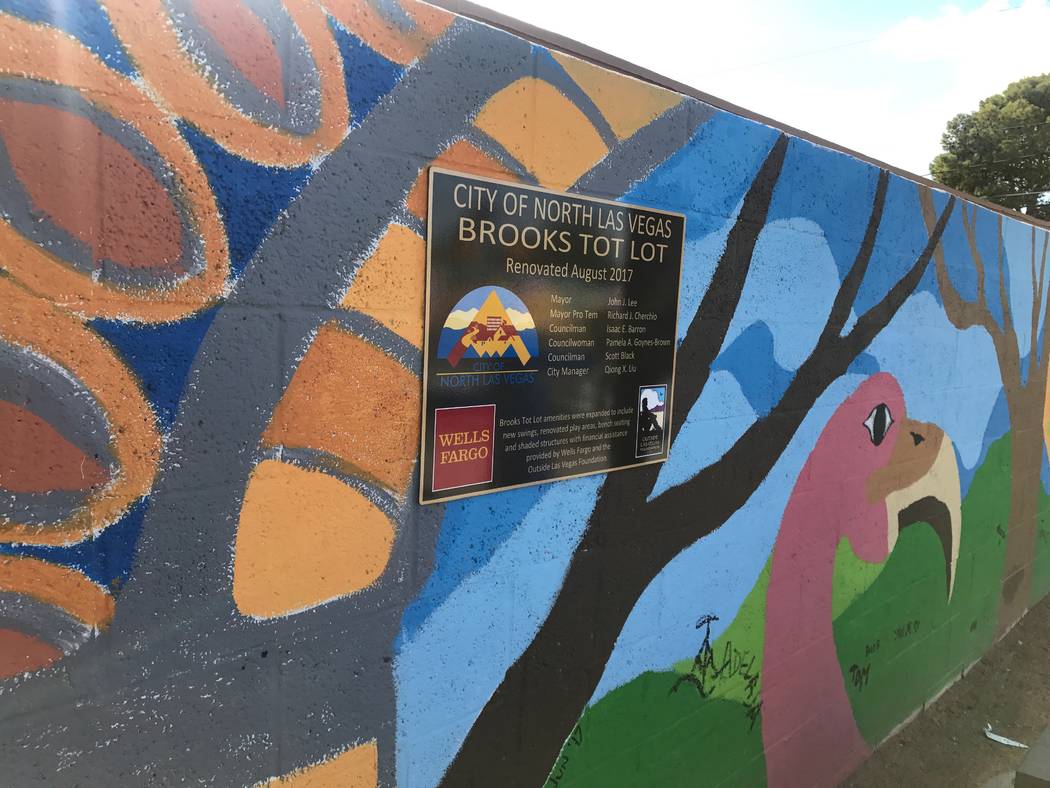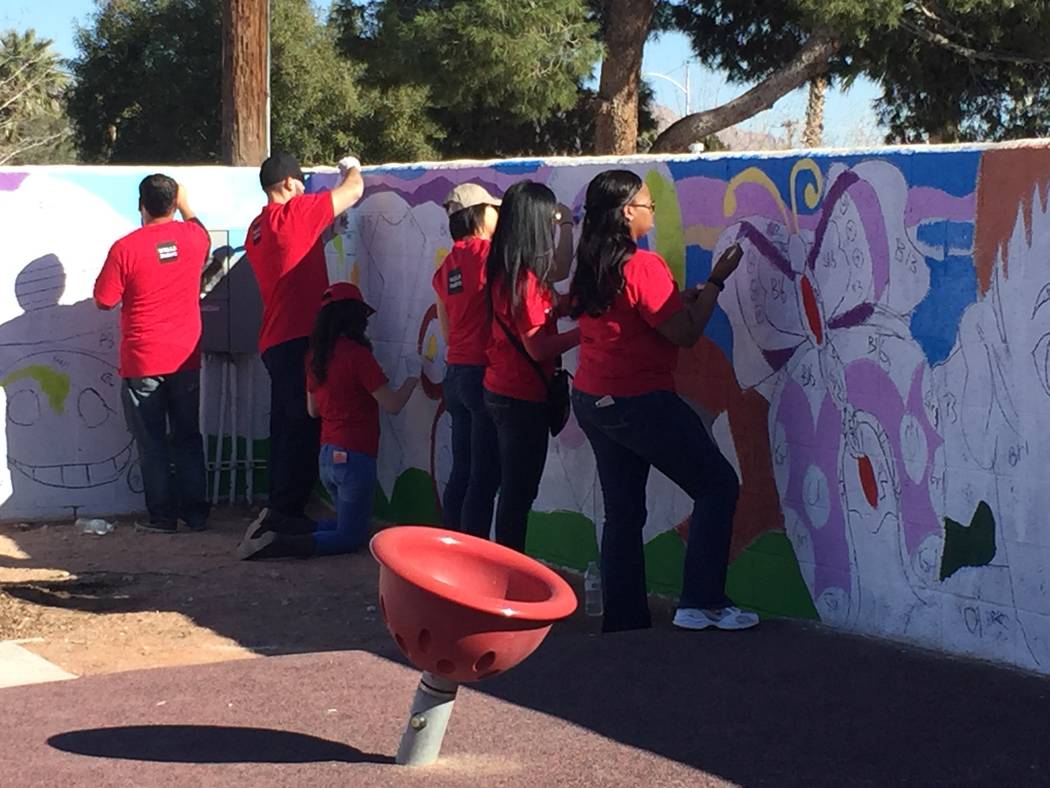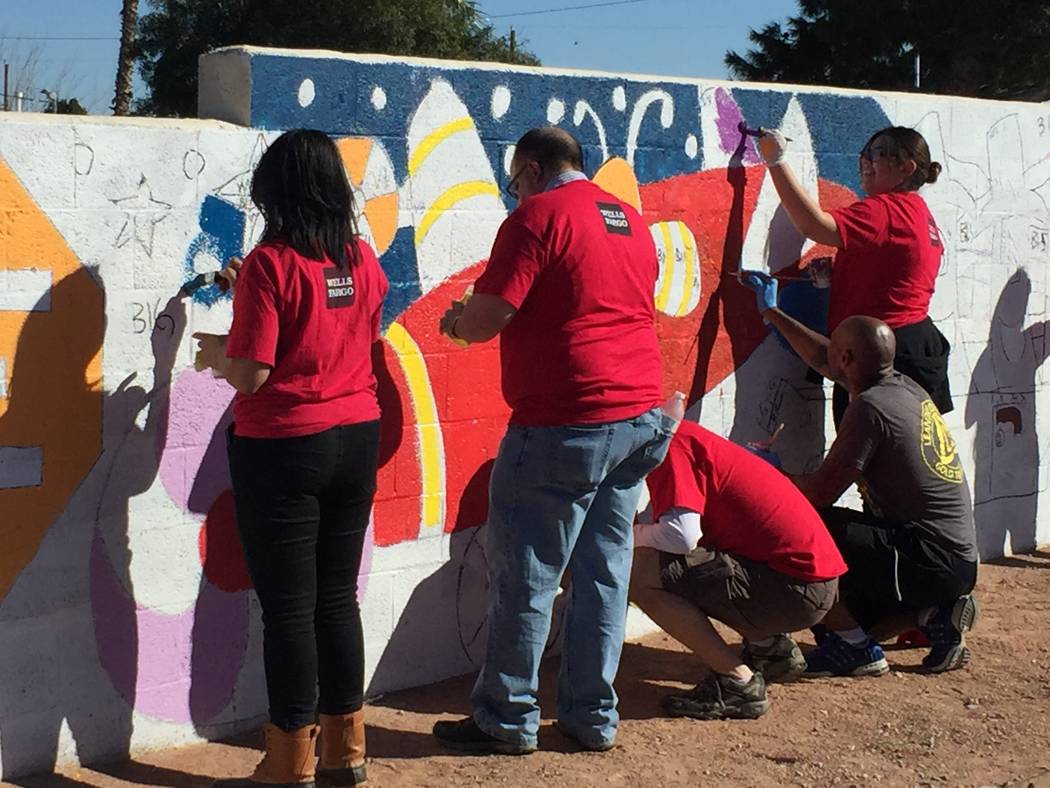 North Las Vegas Mayor John Lee recalls a home a few blocks away from his — near Cheyenne Avenue and Civic Center Drive — burning down about 40 years ago. The residents moved away, and soon it became a blighted property, he said.
About 20 years later, the city took over the property in a neighborhood on East Brooks Avenue and turned it into a mini-park known as the Brooks Tot Lot. The park received a makeover this year and reopened Aug. 23, following a few weeks of renovations.
The renovations, a joint effort by Wells Fargo Bank, the Outside Las Vegas Foundation and the city, began in March when about 50 volunteers helped plant a tree and add a mural painting. The main artist was Dayo Adelaja of Las Vegas, but volunteers left their signatures on the walls as well, Outside Las Vegas Foundation Executive Director Mauricia Baca said.
They also installed new safety pads under the playground and plan to install a shade structure this year, Baca said.
Wells Fargo contacted the Outside Las Vegas Foundation about getting involved in a community project for its Lift the Block program, which supports neighborhoods by recapturing foreclosed and abadoned homes, bank regional President Kirk Clausen said. Bank officials were most compelled by the Brooks Tot Lot, Clausen said.
Jessenia Zarate, 21, of North Las Vegas has lived across the street from the mini-park her whole life, she said. She said she went there when she was younger but stopped going when she was a teen.
"It was so different," she said about the park.
Zarate said students at her older brother's school, Jim Bridger Middle, painted a jungle mural about 20 years ago on the park walls as a project. However, when people began spray-painting on top of it, the city had to continue coming out to repaint it until it was just gray walls. Young people moved picnic tables often, she said, adding that a playset was broken for several years.
Now, she has noticed the city fixed the playground equipment and added lighting. There now are about four light poles at the park.
"It makes it safer for kids," she said. "They actually added life to it. I wish they had that when I was younger."
Brenda Badillo of North Las Vegas, who lives in the area and has a friend who lives a couple of doors down from the park, said she thinks the renovation can keep children productive.
"We don't have a lot of parks in the northern area," she said. "I think this is great. When they get out of school, they will have somewhere to go. It keeps them off the streets."
Contact Kailyn Brown at kbrown@viewnews.com or 702-387-5233. Follow @kailynhype on Twitter.
1421 E. Brooks Ave.