Construction starts on 12-mile pipeline to pump water to Apex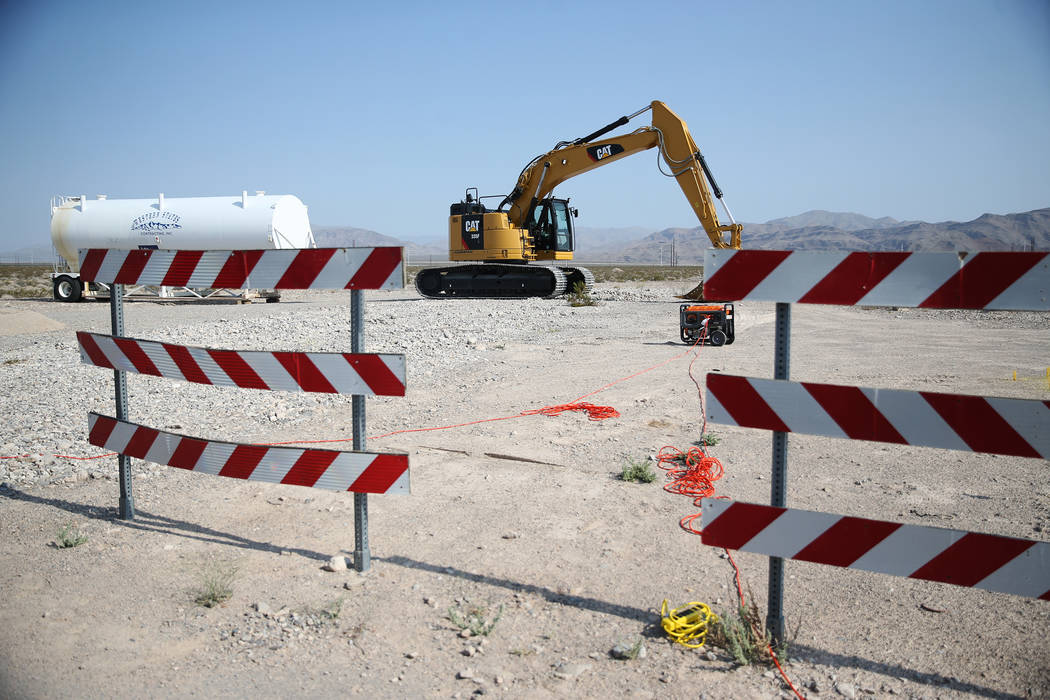 Water is expected to start flowing through part of Apex Industrial Park by late 2020 after more than two decades of efforts to jump-start development on this sprawling chunk of vacant land in North Las Vegas.
With the turn of several ceremonial shovels, construction started Tuesday on a 12-mile pipeline that will stretch from North Hollywood Boulevard near Interstate 15 to the southern section of Apex. The pipeline will be capable of delivering water to more than 3,000 acres of land.
"Apex will soon be the economic breadbasket of this region," Mayor John Lee said at a news conference near the construction site just west of the Las Vegas Motor Speedway. "We will change the gaming and hospitality economy into a completely different way of doing business."
The $42 million project was made possible through a deal struck between the city and a pair of Apex landowners, Solo Investments LLC and Mmesa319 LLC, which were planning to build an 8-inch-diameter water pipe to solely serve their properties.
City officials negotiated an agreement that calls for installing a mix of 24-inch and 36-inch pipes to deliver water to a wider area of Apex.
The developers agreed to pay $6.5 million toward the first of four phases of the project under a contract approved in April by the City Council. The North Las Vegas Utilities Enterprise Fund will cover the remainder and subsequent electrical costs.
Those funds are expected to be reimbursed through water connection fees that will be charged to developers that might build distribution warehouses and industrial businesses at Apex.
Separately, the city is installing a 150-foot-tall water storage tank near U.S. Highway 93 with a water line that links to an existing well to serve about 400 acres of land in the northern end of Apex.
The $4 million project is funded by the city's capital budget, with water service anticipated by 2020.
"There have been some successes and some defeats at Apex, but I still see the potential," said Weston Adams, whose family owns nearly 1,000 acres at Apex and serves as a principal for both Solo Investments and Mmesa319. "Thankfully I'm not the only one."
Construction of the pipeline comes as the state's chief water regulator clamps down on groundwater pumping in Apex and four neighboring valleys.
In May, Nevada State Engineer Jason King blocked development of the long-stalled Coyote Springs master-planned community because he said groundwater pumping threatens federally protected fish and senior water rights holders.
As part of that decision, he warned that "only a small portion" of the water rights already on the books in the Apex area and elsewhere might ever be allowed to be put to use.
King has already rejected applications for new water rights in that area, increasing the need for the pipeline from North Las Vegas.
A preliminary water project was scrapped when Faraday Future walked away last year from a promise to build a $1 billion manufacturing plant for electric vehicles at Apex.
Despite that, the state Legislature approved 16 changes in state law last year that will allow North Las Vegas to build water lines at the industrial park.
"This is a monumental achievement and event that's happening in North Las Vegas today," City Manager Ryann Juden told about 60 people gathered for the groundbreaking ceremony.
"It will go past with a lot of people not understanding. They're not recognizing it," Juden said. "But one day as they're traveling through here and they see all the enterprise and they see all the transformation that's happened down here — the true diversification of Southern Nevada — maybe they'll understand how important it was."
Contact Art Marroquin at amarroquin@reviewjournal.com or 702-383-0336. Follow @AMarroquin_LV on Twitter. Review-Journal staff writer Henry Brean contributed to this report.
Work potential
Apex Industrial Park could create 20,000 direct jobs and 56,000 indirect jobs for Southern Nevada, according to a 2016 report by the Urban Land Institute.