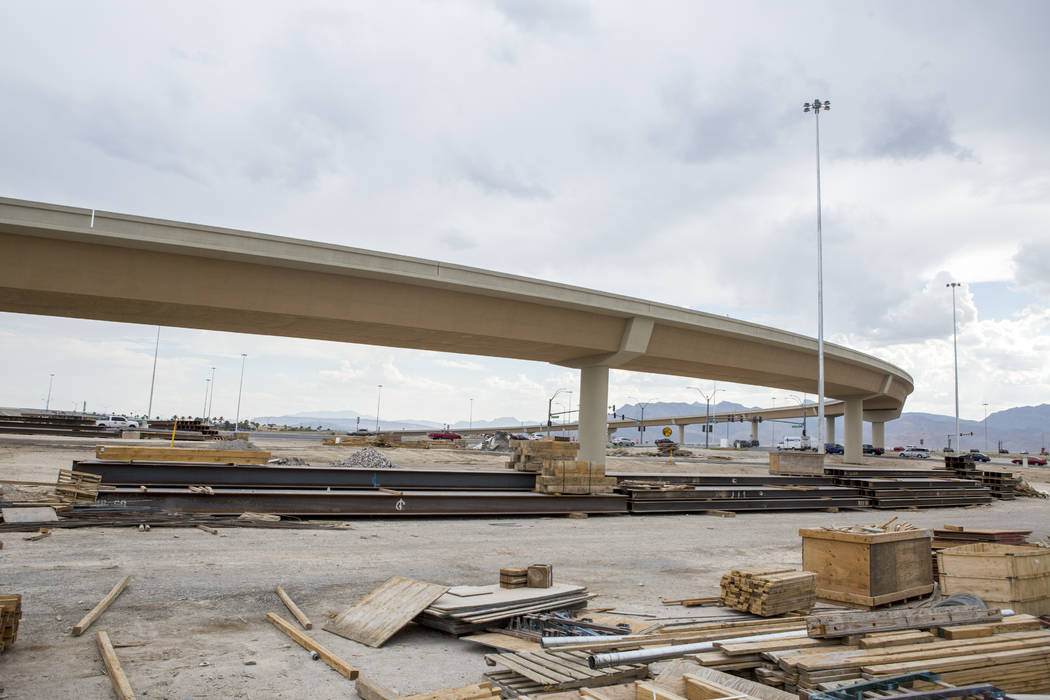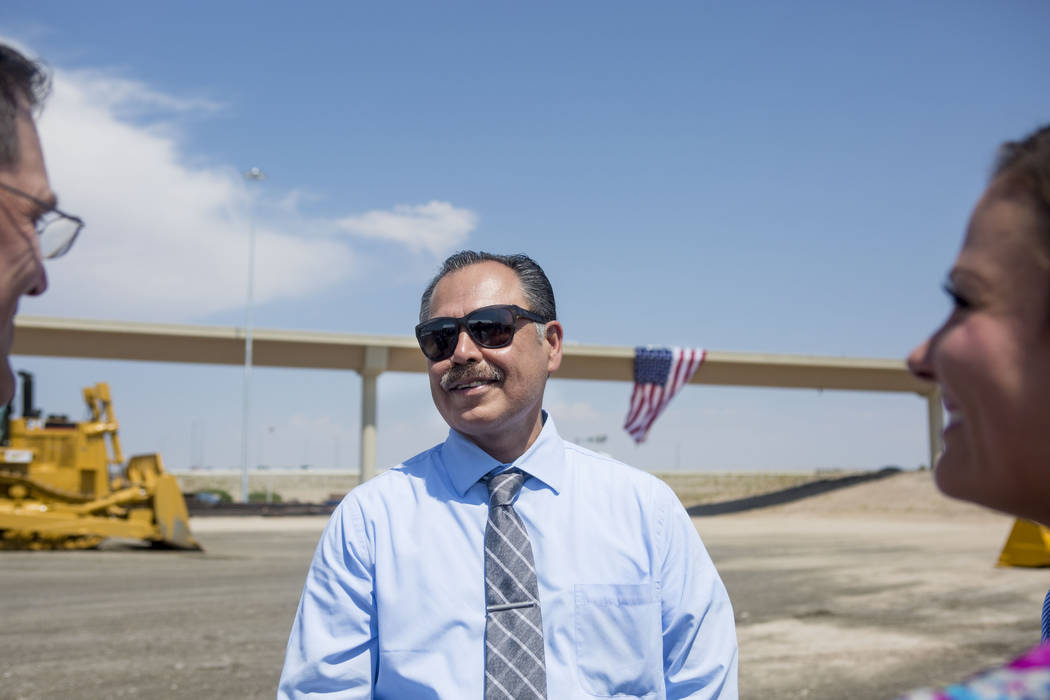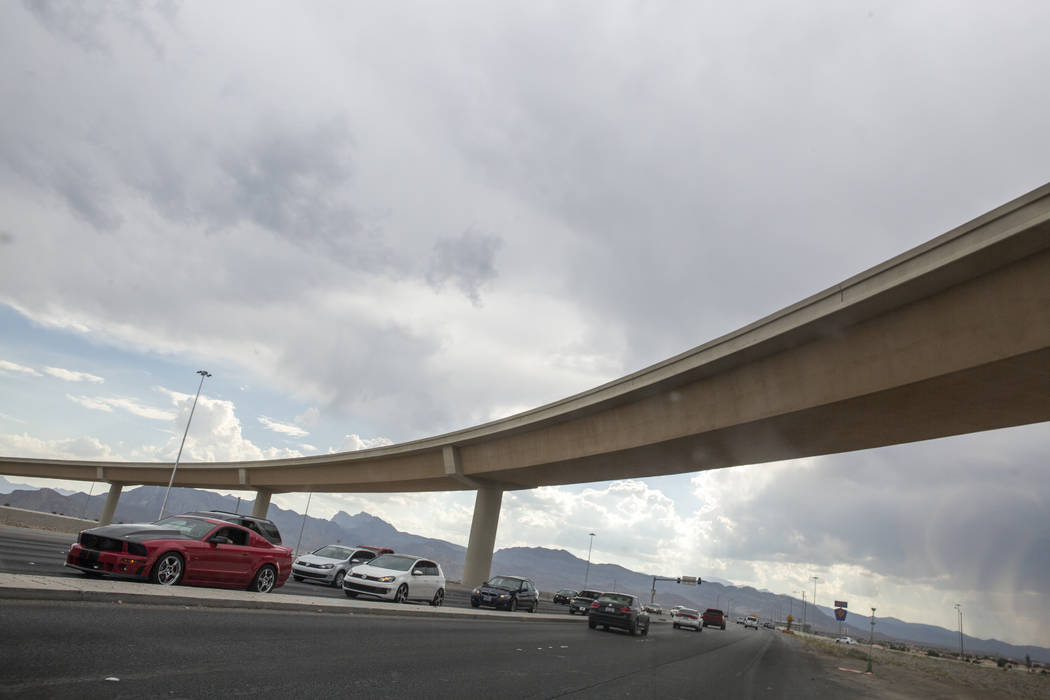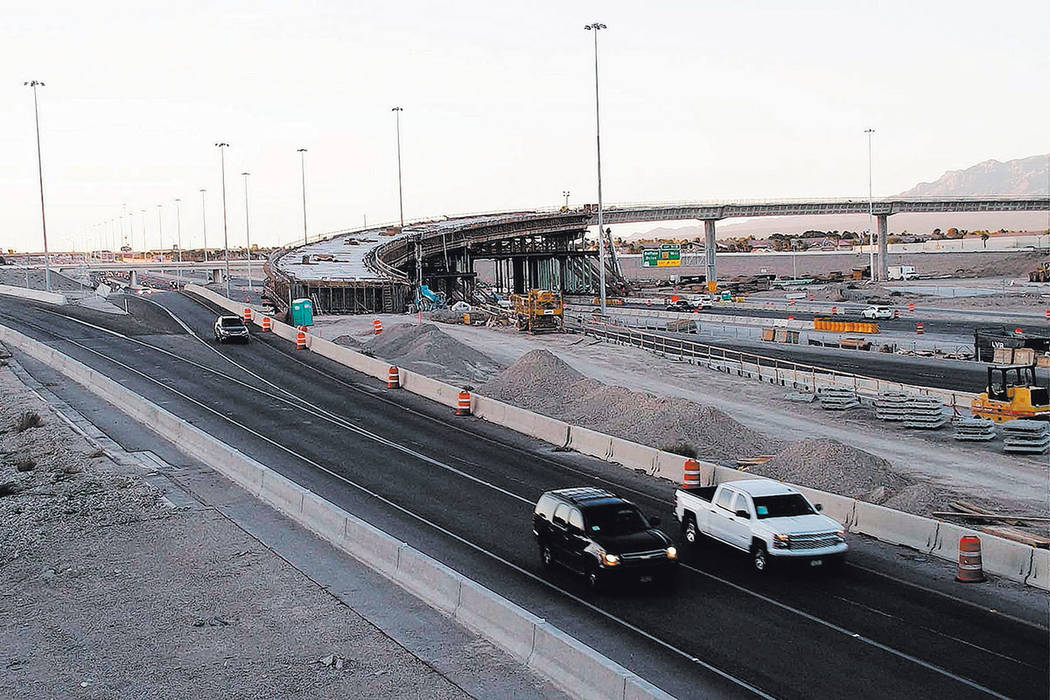 Now that a flyover bridge connecting the westbound 215 Beltway with southbound U.S. Highway 95 has opened, ending nearly two years of lane reductions and ramp closures, northwest valley residents say the headache was worth it.
Annie Holzworth, who has been living in the area for 11 years, recalled having to sit in traffic for long periods during her commute from work. Traffic would be backed up almost to Jones Boulevard, with most drivers attempting to get onto U.S. 95 southbound, she said. The interchange allows them to stay on the highway without having to exit.
"(Drivers won't) have to go through that light, so there will be less traffic," she said. "I'm actually really excited about it. It's going to benefit me."
April Price, a northwest valley resident for 20 years, called the project "huge."
"It took a while, but hopefully it will be a nice relief from traffic," she said.
More than 107,500 vehicles use the U.S. 95 and 215 Beltway interchange daily, making it the second-busiest in Southern Nevada, Nevada Department of Transportation Director Rudy Malfabon said. That figure is expected to grow to 160,000 vehicles daily by 2036, according to NDOT.
"I'd like to thank the residents because when you go through these cone zones or you own a business in this area, or you go shopping, you're the ones that are paying the price," Malfabon said during an opening ceremony July 12.
The Centennial Bowl is 60 feet high and 2,500 feet long, roughly the equivalent of seven football fields laid end to end, according to NDOT. Workers also widened U.S. 95 in both directions between Ann Road and the Beltway. Other upgrades included 8,200 feet of storm drainage, signs, lighting and landscaping.
Chelsea Davenport, who has been living in the area for two years, said she's excited the work is done, adding, "I know the outcome will be worth it."
Project manager Darren Keser of Las Vegas Paving Corp. said the project's 400-day deadline was tight, but his company completed it a month early. The project created 607 "direct, indirect, and induced jobs," according to NDOT.
Keser said that although the bridge is complete, workers are still finishing up painting and landscaping, which is set to be completed in the next few weeks.
Contact Kailyn Brown at kbrown@viewnews.com or 702-387-5233. Follow @kailynhype on Twitter.
About the project
Beginning in August 2015, drivers had to navigate around the construction of the Centennial Bowl, a $47 million project to connect the westbound 215 Beltway and southbound U.S. Highway 95. The lane reductions and ramp and shoulder closures came to an end July 12, when the Nevada Department of Transportation opened the flyover bridge.
Construction at the Centennial Bowl is set to resume in 2018 with a $55 million project involving construction of a flyover ramp carrying vehicles from northbound U.S. 95 to the westbound 215 Beltway, a ramp connecting southbound U.S. 95 to the eastbound Beltway and a third ramp linking the westbound Beltway to northbound U.S. 95, NDOT officials said. Those ramps are expected to be completed by 2020.
Shortly afterward, bids are set to be solicited for the final construction phase, expected to take an additional two years to complete. That last chunk, estimated at $110 million, calls for an upgrade of the 215 Beltway to a divided, six-lane freeway through the Centennial Bowl interchange.