Land transfer for 'job creation zone' OK'd in North Las Vegas
December 20, 2017 - 7:44 pm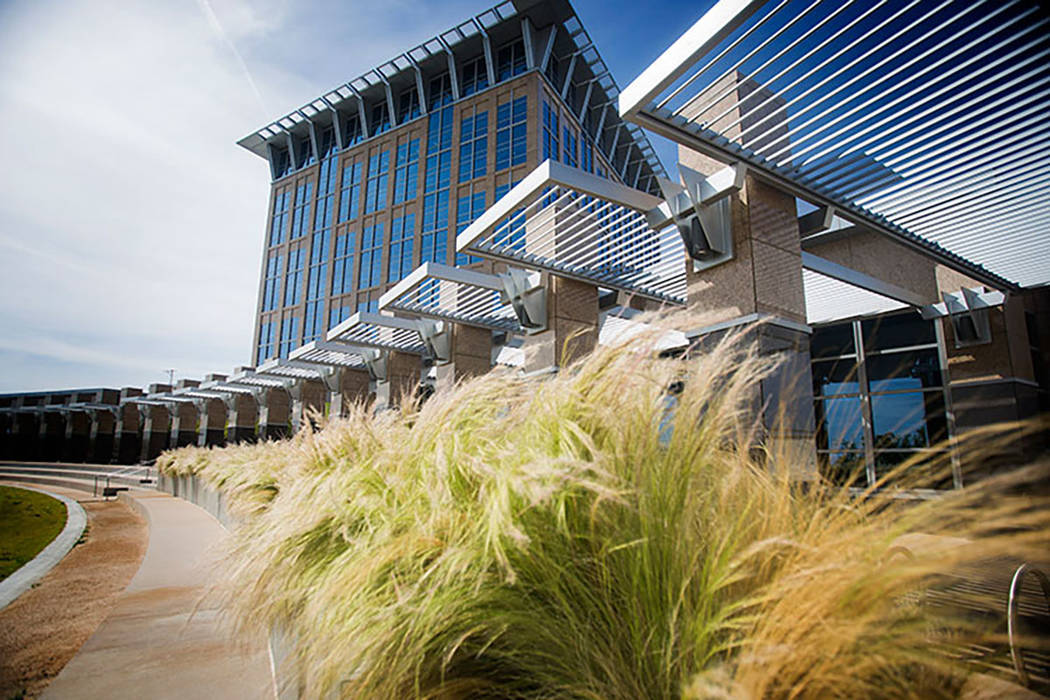 Facilities geared toward health care and medical research will be built on 206 acres of vacant land near the Veteran Affairs Center, under a land transfer agreement the North Las Vegas City Council approved Wednesday night.
The City Council voted 4-0 to formally accept the land from the Bureau of Land Management, which was granted to the city for free as part of the National Defense Authorization Act of 2015. City officials plan to use the property as a "job creation zone" that will specialize in medicine.
Councilman Isaac Barron was absent because of the death this week of his brother.
"The idea is to really elevate what we're bringing to North Las Vegas in the way of wages, jobs and being able to build a stronger, more vibrant and diversified city," Gina Gavin, North Las Vegas' economic and business development director, told the City Council.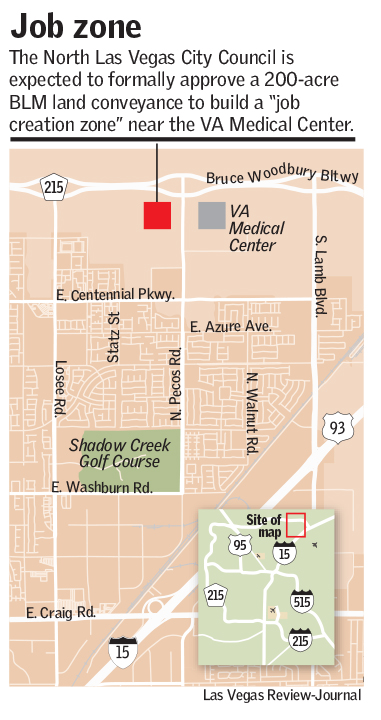 Mayor John Lee said he asked then-U.S. Sen. Harry Reid, D-Nev., three years ago to include the property grant as part of the National Defense Authorization Act, which also allowed for the creation of the Tule Springs Fossil Beds National Monument and conveyed several other federally owned parcels to cities and counties across Nevada.
At the time, Lee said he was seeking ways to pull North Las Vegas back from the brink of a financial collapse and reduce a long-term deficit that had skyrocketed to $152 million.
Councilman Richard Cherchio, whose Ward 4 includes the property, said he was "very excited" about the planned development.
The land, abutting the 215 Beltway's the northern side, cannot be used for residential development, BLM spokeswoman Kirsten Cannon said, adding that the agency is completing final paperwork on the deal.
North Las Vegas will have 30 years to develop the property, but city officials said plans will be sketched out sometime in 2018.
"The big joke is that if you're sick in Nevada, you go to McCarran International Airport," city spokeswoman Delen Goldberg said.
"It's terrible for our region, so we're trying to fill that health care gap with research and medical technologies that are lacking here," Goldberg said. "That, in turn, will create high-paying jobs for our residents."
Contact Art Marroquin at amarroquin@reviewjournal.com or 702-383-0336. Follow @AMarroquin_LV on Twitter.