'We have failed': Sinking NLV neighborhood concerns residents
Updated May 22, 2023 - 1:26 pm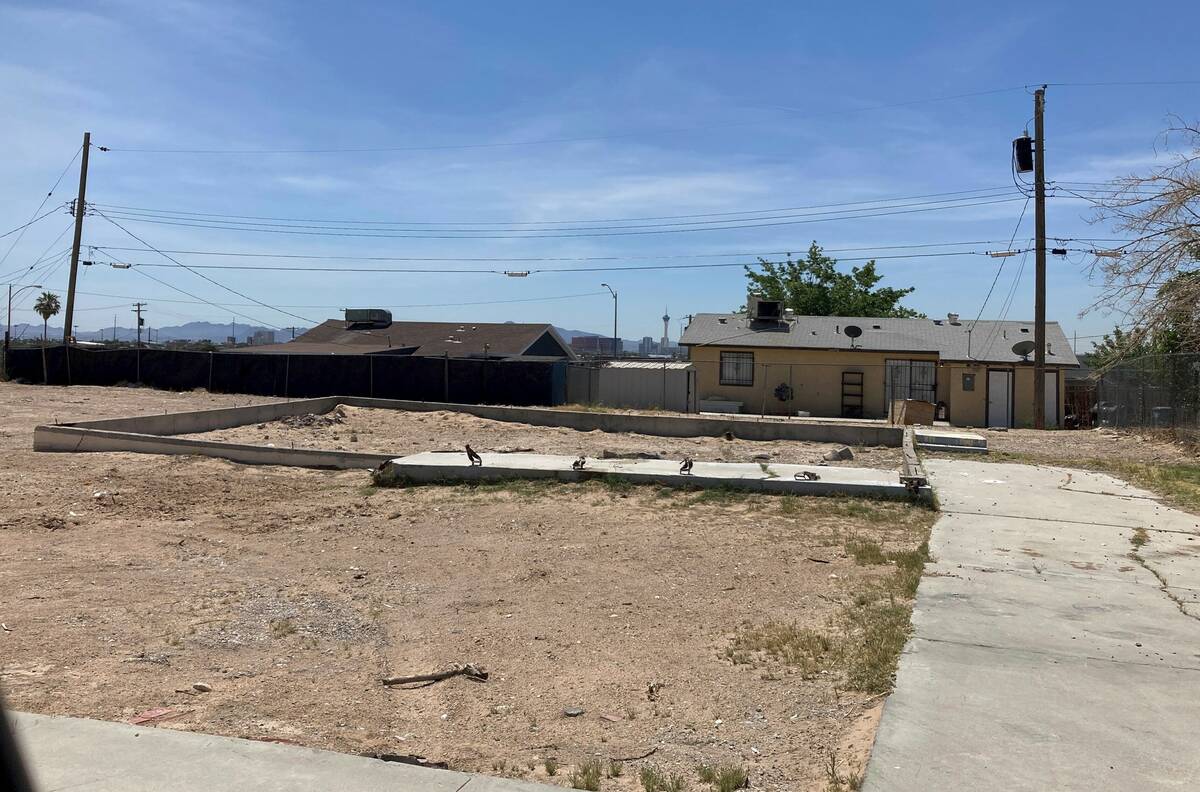 The North Las Vegas City Council heard its proposed 2023-2024 fiscal budget Wednesday, but that money didn't account for the residents of one of its sinking neighborhoods.
"We have failed the people of Windsor Park," Robert Bush, the President of the National Action Network, said during the meeting.
Dozens of people from Make the Road Nevada and the Las Vegas NAACP and other locals stood in support of the residents of Windsor Park who are unable to move out of their sinking homes.
The North Las Vegas neighborhood was built in the 1960s over an aquifer that is sinking little by little as water is pumped out.
The neighborhood was built in a time when Black people were unofficially segregated. The homes are no longer level and the roofs are slanted as the ground begins to sink.
"In respect to the budget, we deeply want to highlight what was void of the budget, which is the families in Windsor/Winslow park," Quentin Savwoir, president of the Las Vegas NAACP, said during the meeting. "What we really want more than anything is that the budget accounts for relocating the 90 families who remain in Winslow Park, whose walls are cracking and whose lives are being upended."
State Sen. Dina Neal sponsored Senate Bill 450 to create a program that would pay to relocate those who live in Windsor Park. The bill is asking for the state to allocate $10 million from the state's general fund and $20 million from the City of North Las Vegas.
The funding would go to acquiring the land to develop new homes for the families that qualify for relocation.
Those who own a home in Windsor Park on July 1 would be able to exchange their homes for a new house that is the same square footage as their single-family residence.
Homeowners are only able to exchange their homes if the home is fully paid off, according to the bill. Those who still have a mortgage will receive financial assistance to pay the remaining balance.
In the late 1980s and early 1990s, the federal government, the state and North Las Vegas used $14 million to help the residents of Windsor Park by building 45 homes and moving and rehabilitating four homes.
For other residents, the city offered either $50,000 or $100,000 to residents to move to another home in North Las Vegas, depending on the year they chose to move.
Roughly 90 families remain in Windsor Park, unable to move, but SB450 might give residents a shot at a suitable new home.
"We are focused on solutions for Windsor Park and this budget has separate items," North Las Vegas Mayor Pamela Goynes-Brown said. "We will work diligently to come up with the best solution and continue to have conversations and work closely with our federal delegation about Windsor Park."
Contact Jimmy Romo at jromo@reviewjournal.com or call 702-383-0350. Follow @jimi_writes on Twitter.