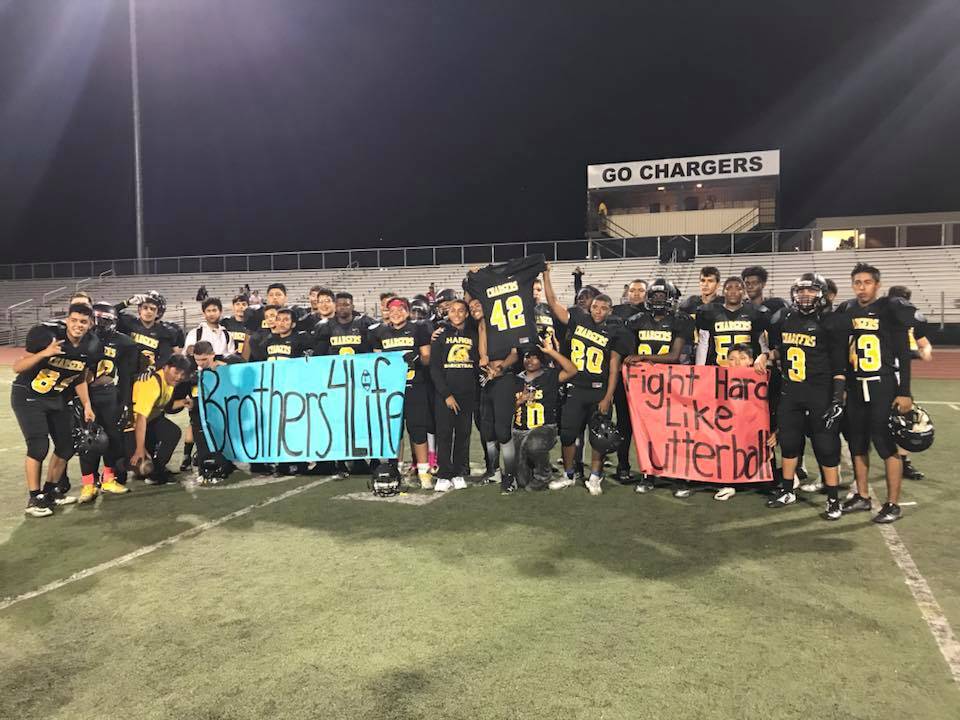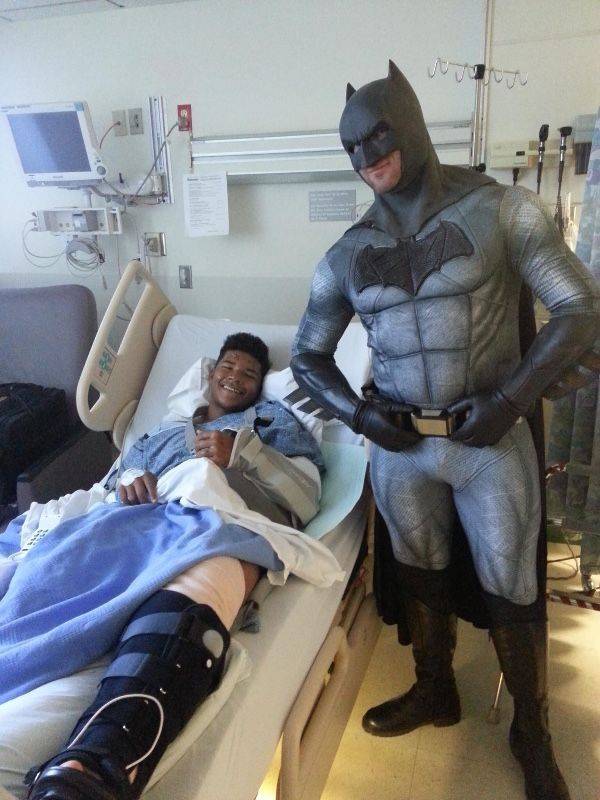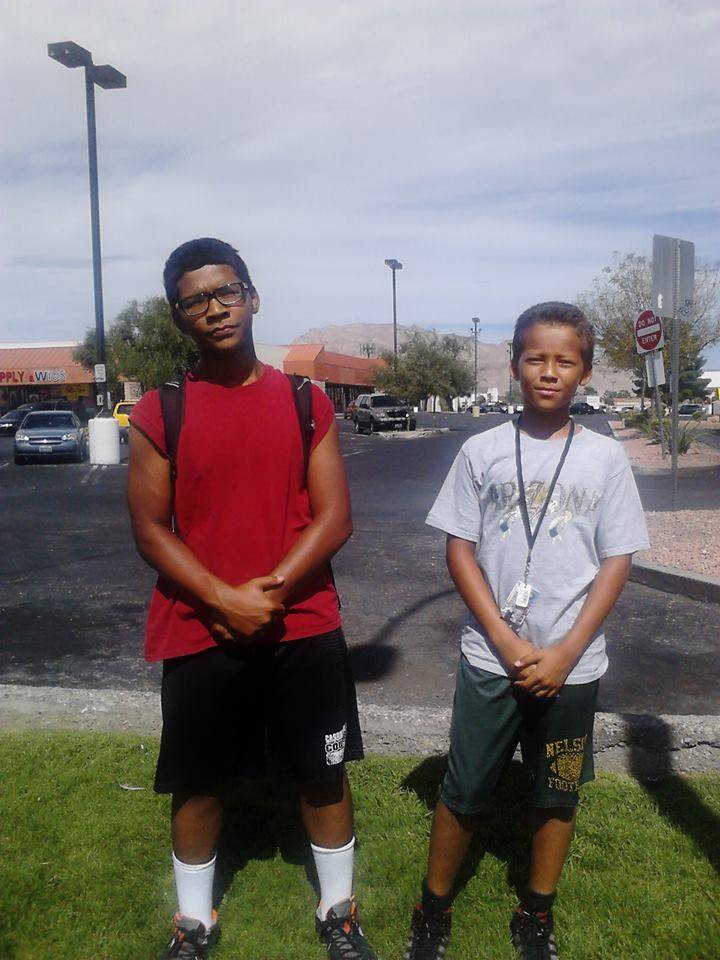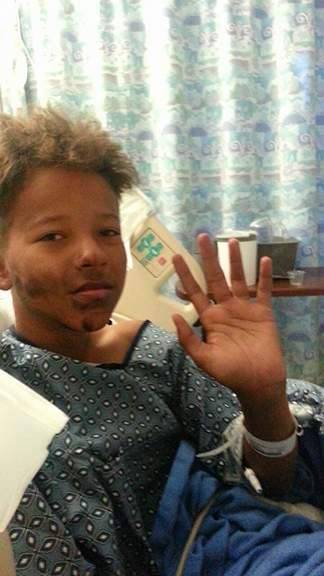 Just after 9 p.m. Oct. 4, Adam Scott got a call no parent ever wants to get.
His sons, Ronald and D'Artagnan, were hit by a car while crossing the street at West Sirius Avenue and South Arville Street. The driver fled the scene, leaving the two boys injured in the road.
Instead of panic, Scott said his first thought when he got the call from police was "Aw, (expletive)."
"You have to remain calm," Scott said, "because you don't serve no purpose being erratic and screaming and yelling and acting like a fool."
Ronald, 15, and D'Artagnan, 14, were walking home from Clark High School when they were hit. Ronald had finished football practice, and D'Artagnan had finished with marching band. He was still carrying his trumpet.
The boys survived, but they face weeks of rehabilitation before they can return to school. Both are covered in road rash. Ronald has a broken arm, broken leg and bruised lungs; his younger brother has a broken ankle and fractured tibia.
Scott, a single father, is just happy his boys weren't killed.
"They're alive; that's the main thing," Scott said. "… It could have gone the other way."
After the call, Scott initially felt anger, he said. But a couple of things helped him "get over" that feeling.
The first was finding out that three other boys, ages 12, 13 and 14, were killed in a hit-and-run in the east valley Sept. 30. They weren't "lucky" like Scott's sons. The driver, 28-year-old Joseph Eskandarian, is being held at the Clark County Detention Center on suspicion of not stopping at the scene of a crash involving death or personal injury.
Jose Salazar, 21, was arrested Oct. 5 on suspicion of the same offense in the case of Ronald and D'Artagnan.
Scott said he then thought about the 58 people killed in the shooting at the Route 91 Harvest Festival on Oct. 1.
"I just shed tears," Scott said. "… Those people don't get a chance to recover. They don't get a chance to go home. Shedding tears for them and their families, it helped relieve my pain."
The crash
"Me and my brother were coming from practice, so we walked up to the crosswalk and we waited for all the cars to stop," D'Artagnan said in a phone interview. "When they did, my brother said, 'Go.'"
But another vehicle swerved around the stopped cars, D'Artagnan said, and hit the boys as they reached the third "bar" in the pedestrian crossing zone.
"I tried to dodge the car, and my brother pushed me out of the way, but it was too fast. It got us both," he said. Ronald was thrown toward the sidewalk, while D'Artagnan ended up in the middle of the street. Both boys were unconscious.
Keiara Katz was picking up her 16-year-old sister from flag guard practice at Clark when she heard a loud noise. She turned around to see the boys lying in the street.
"I have never seen anything like this. I saw the two boys laying out there and screaming for help," said Katz, who called 911. No other cars pulled over to stop and help, she said.
"It looked like a movie," she said. "There was blood everywhere. Their bodies were mangled."
Katz and her sister stayed at the scene until ambulances arrived. Since that night, she has stayed in touch with the family to follow Ronald and D'Artagnan's progress and help in any way she can. She wants to help by trying to make the crosswalk safer.
At that intersection, there are stripes for pedestrians at all four points, but there are no traffic lights and three street lights. On Sirius , traffic traveling both ways has stop signs; on Arville, there are pedestrian signs but no stop signs.
"I would hate to hear or see that happen to another student," Katz said. Katz said she's in the process of contacting school administrators to get their support before she goes to Las Vegas and Clark County officials to ask them to install better lighting and signage.
County officials did not respond to an inquiry about whether there were any other complaints about that intersection or how Katz should move forward with her efforts.
'Life goes on'
Though he's in pain, D'Artagnan is starting to get back to normal. He's home from the hospital and has started playing his trumpet again.
Ronald's recovery will take longer. He still has weeks left of recovery in a pediatric rehabilitation facility and has received constant visits from friends and teammates.
"He's just a fun kid to be around," said Ronald's coach, Picky Pickens. Teammates refer to him affectionately as "Butterball."
Glad to see butterball is doing great thanks to everyone for all the prayers let's hope for a speedy recovery #ChargerStrong⚡️ pic.twitter.com/XRmfTHSaRj

— T_Boat⛵️ (@_Thomas02) October 8, 2017
"He laughs a lot and jokes a lot," Pickens said. "He's just a good kid. He's a player's player."
Ronald and D'Artagnan's injuries had a huge effect on kids at school and Ronald's teammates, Pickens said.
"They just couldn't mentally snap out of it," he said. "It happened the night before we had a game. … They were an emotional wreck. Nobody was any good. We inevitably ended up losing that game. They were just out of it."
#ChargerStrong We love you Ronald Scott #VegasStrong #Family pic.twitter.com/ZWGkBzmkMQ

— EW Clark HS Football (@ClarkHSFB) October 5, 2017
Keep JV football player Ronald Scott in prayer 🙏 #ChargerStrong

— EW Clark HS Football (@ClarkHSFB) October 5, 2017
Ronald is a sophomore, and it will be six to seven months before he's fully healed, Scott said. That's just months before the beginning of junior year.
"Your 11th-grade year is your pivotal year when you're talking about athletics in high school, when you're talking about going to the collegiate level," Scott said. "… I told him, 'You (will not have) been able to train, lift weights or workout. … You're going to make a full recovery, but you will be out of high school.'"
Scott told his son that he'll have to redirect his energy. Ronald had a 3.6 GPA before the crash, Scott said.
"Your main weapon still works: your brain," he said. "That's what you focus on now. (Become) an attorney, a doctor, something in the business or financial world. … I told him the (football) team still likes you, but life goes on. And that's the way you gotta look at it."
Contact Madelyn Reese at mreese@viewnews.com or 702-383-0497. Follow @MadelynGReese on Twitter.
Statistics
Pedestrian-involved collisions, reported by the Metropolitan Police Department:
2014: 635 (34 fatal)
2015: 722 (47 fatal)
2016: 742 (42 fatal)
4298-4398 W. Sirius Ave., Las Vegas, NV 89102