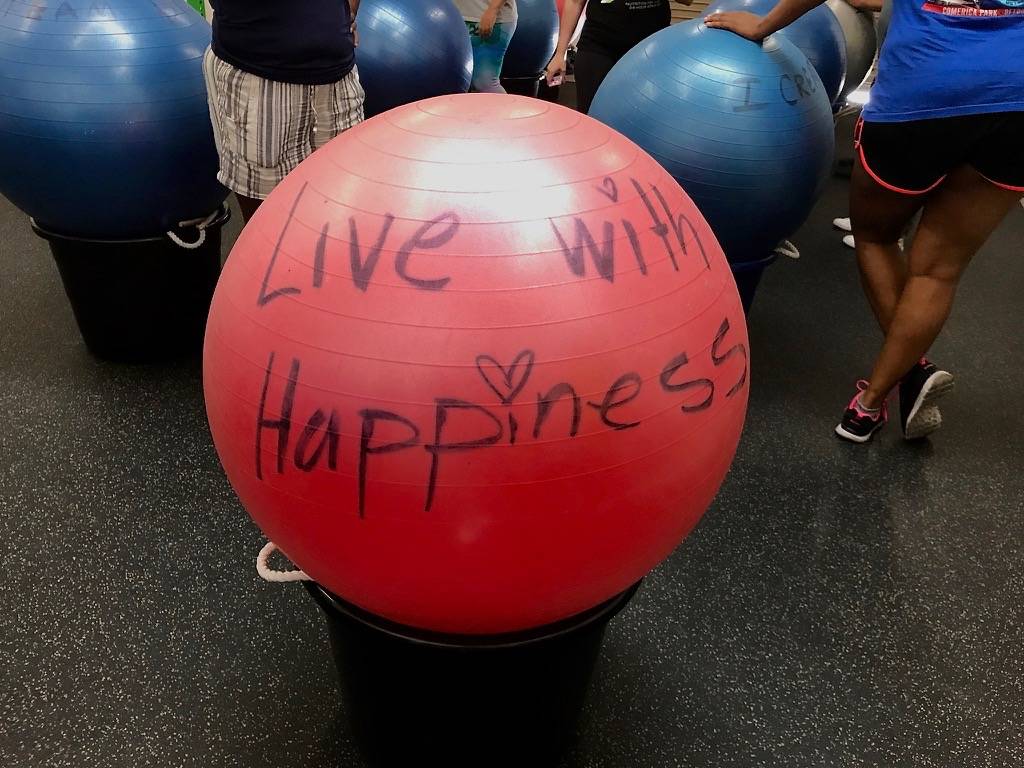 The building that houses Area 51 Fit in southwest Las Vegas might not look like much. In fact, it's hard to distinguish the workout center from the suites adjacent to it on Rogers Street.
But once one is inside, the loud music and cheering give it away. This isn't just another corporate office. It's not even another Crossfit gym.
On a hot Thursday night in the studio, nearly 20 men, women and children danced and sang as they beat on large exercise balls with drumsticks to the rhythm of P!nk's "Just Like Fire."
This was cardio drumming, a class at Area 51 Fit that provides a 45-minute "drumming" workout for people looking to mix up their workout routine.
When fitness trainer Paula Pecorella opened Area 51 Fit with fellow trainer Scott Morgan, they began with traditional kettlebell classes, yoga and dance fitness classes.
In early 2015, Pecorella saw a video on cardio drumming from a fitness instructor and friend in Minnesota. Shortly after, another friend, from Dallas, told her about a cardio drumming training session he was offering. Pecorella flew to Dallas the following weekend and was hooked.
"I called (Scott) an hour into training and said, 'Here's the shopping list,'" Pecorella said.
Cardio drumming requires three things: an inflatable exercise ball, a bucket to balance it on and a pair of drumsticks. Pecorella leads the drumming classes, providing a variety of moves and rhythms set to music. With music featuring Pitbull and Silentó's "Watch Me (Whip/Nae Nae)," Pecorella keeps things upbeat and fun.
Cardio drumming attendee Jaime Ward lives on the east side of Las Vegas and works in the southwest, closer to Area 51 Fit. Even if she worked farther away, she'd still be at class every Tuesday and Thursday night, she said.
"You leave sweating," Ward said. "I like that it's a different atmosphere than the gym. There's girls at the gym with a little top on and shorts. She's trying to get a date. I'm trying to get into my skinny jeans."
Ward joined the class about a month ago after a co-worker recommended it. Then she had another co-worker, Jackie Jameson, give it a try. Jameson, a single mother, said she wouldn't be able to attend class if she wasn't allowed to bring her 8-year-old son, Isaiah.
"Not only does he come, but he leads the class," Jameson said. "He looks forward to it sometimes more than I do."
On this Thursday night class, five children ages 4-10 wandered among the adults. Isaiah set up his ball at the front of the room, drumsticks in hand and ready to go. As long as the kids are willing to participate and follow along, they're allowed to do so, Pecorella said.
The group that regularly shows up for cardio drumming feels like a family, Ward said.
"If I'm going through something, maybe I've hit a plateau, she may have had that a month ago," Ward said, gesturing toward another classmate. "And she'll say, 'Girl, change this or try this.' … We love each other through our exercise."
Contact Madelyn Reese at mreese@viewnews.com or 702-383-0497. Follow @MadelynGReese on Twitter.
Area 51 Fit
What: Cardio drumming
Where: 5045 Rogers St., Suite 10
When: 6 p.m. Tuesdays, 6:15 p.m. Thursdays and 8:30 a.m. Saturdays
5045 Rogers St, #10, Las Vegas, NV, 89118