Golden Knights' popularity builds business for Las Vegas Ice Center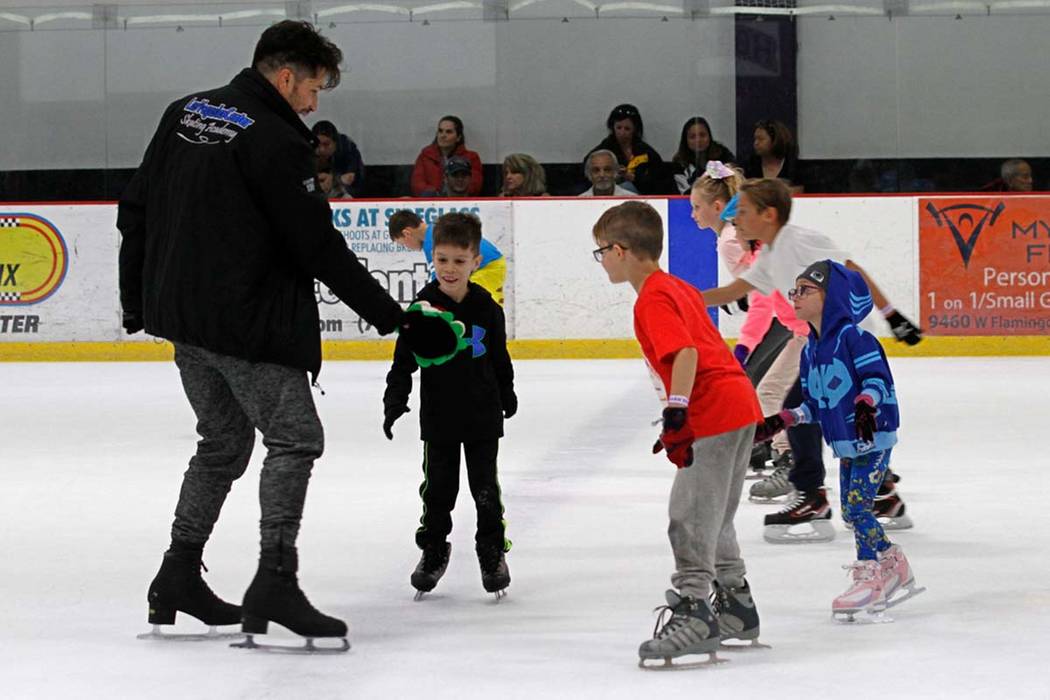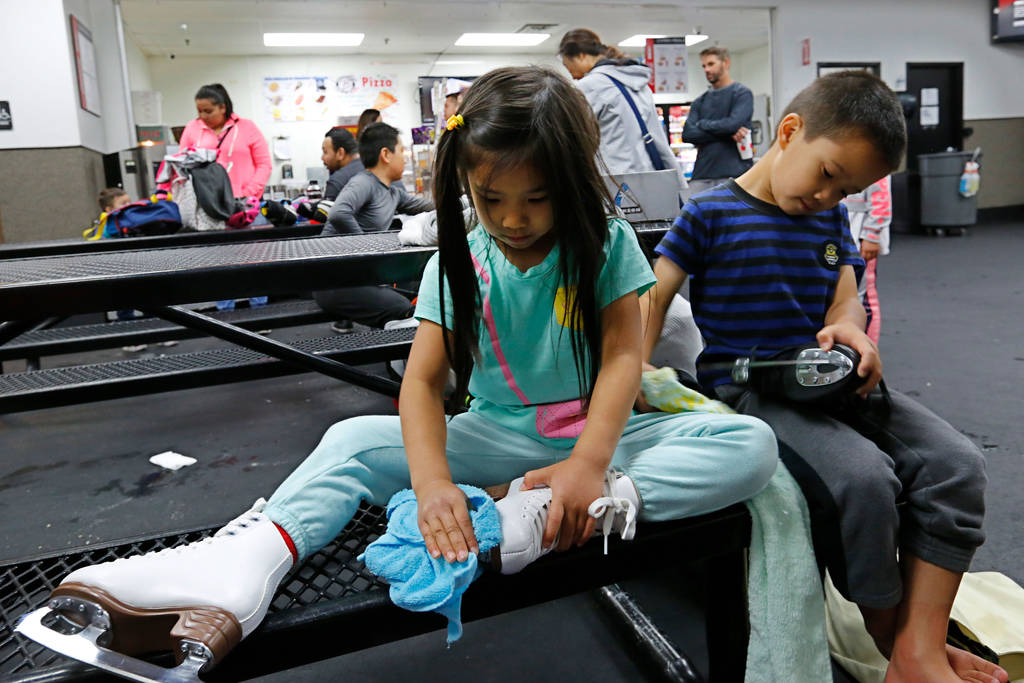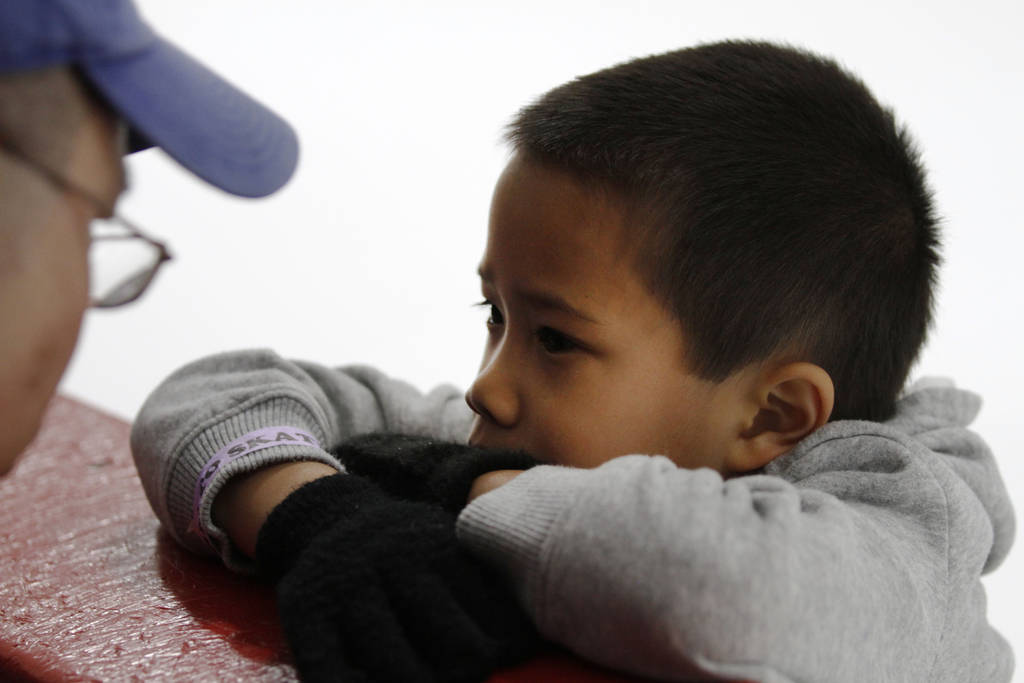 Drop by the Las Vegas Ice Center on any afternoon or evening, and there's no telling what you may encounter on its two "sheets" of ice.
You'll likely see people of all ages at one of 10 weekly public skate sessions, which offer two hours of freestyle skating, plus skate rentals, for $10 (or $6 for ages 5 and under).
A Learn to Skate class might be in session, or a Skate Camp, in which kids split their time among skating, watching movies and other activities.
Or this: On a recent Saturday afternoon, bartenders from a dozen taverns took turns strapping themselves into giant inflatable bubbles, battling it out in an on-ice version of a soccer-style game called "bubble ball."
Things people do on ice in our desert are extremely diverse.
"We have broom ball, which is a hockey-like event played in sneakers with a funky-shaped stick," said Ice Center general manager Bob Della Rocca, launching into a list of less-traditional activities the facility has hosted.
"We've (also) gone with ringette, which is a knockoff of hockey derived in Canada, where the women played it. It's a hockey stick with no blade and a ring. We have a curling club that participates once a week, (although) after the Olympics, they were up to three times a week."
The Ice Center's main draw is hockey, which accounts for about 70 percent of its business. And it was hockey that brought the place to the attention of its current owner, Kirk Brooks.
Brooks' son, Kenny, was just 5 when they discovered the facility about 20 years ago, he recalled, noting that at the time the building housed two roller rinks, and roller hockey was the biggest draw.
"He said, 'Dad, if you let me do this, I'll never ask for another thing for the rest of my life,'" Brooks said.
Like many hockey dads before him, Brooks watched his son (and later his daughter) fall in love with the sport. It began with roller hockey, but when one of the building's sheets (as the skating surfaces are called) was converted to ice, they became an ice hockey family.
In 2004, the rink was on the brink of closure. Brooks, a sponsor of the hockey program, stepped in with a $100,000 loan in an effort to save it, only to be asked for more money just a few weeks later. Instead, he made a strategic decision to let the business fold.
"He closed it on Dec. 29," Brooks recalls of the previous owner's finals days. "And Dec. 31, I walked in here and took it over before the ice melted."
His inspiration was to maintain a place for his kids to play hockey, because there was only one other sheet in town. But it wasn't just local kids who came to play. Leagues from across the country began scheduling tournaments at the facility, particularly after he converted the second sheet from roller to ice.
"Especially (from) the cold-weather cities that want to escape," says Della Rocca of the out-of-town business. "They'd look up Vegas, and for the longest time we were the only two-sheet facility in town."
That changed when the Vegas Golden Knights opened City National Arena last year. The arrival of an NHL team — particularly one that had such a high level of success in its inaugural season — has brought an increased demand for ice time that more than makes up for the increase in sheet supply.
"It's been nothing but a positive boom since the team was announced. … Going back three or four years, we had two Learn to Skate sessions a week, an hour each, and one Hockey 1, 2, 3 a week. We're up to five each now."
The popularity of the Golden Knights has also resulted in a shift in demographics for those classes.
"Our Learn to Skate classes were probably 90/10 girls. Now, in order to participate in hockey, we mandate that you start in the Learn to Skate classes. So you're starting to see a lot more boys participate there — I would say probably 70/30 girls to boys."
More girls are also playing house league hockey, which doesn't allow checking, rising to about 15 percent of participants amid Golden Knights fever. Many are moving on to the more physical traveling teams.
For Brooks, the center's greatest success stories are personal. Both of his children attended college on hockey scholarships, and his son went on to win a championship with the minor league Colorado Eagles.
"The first eight years I was in it I didn't make a penny," he said. "But I got a lot out of it and my kids got a lot out of it. What price do you put on that?"
Contact Al Mancini at amancini@reviewjournal.com. Follow @AlManciniVegas on Twitter.
If you go
What: Las Vegas Ice Center
Where: 9295 W. Flamingo Road, Las Vegas
Information: 702-320-7777, lasvegasice.com