Parents, principals still unclear on severity of budget cuts
September 24, 2017 - 2:30 pm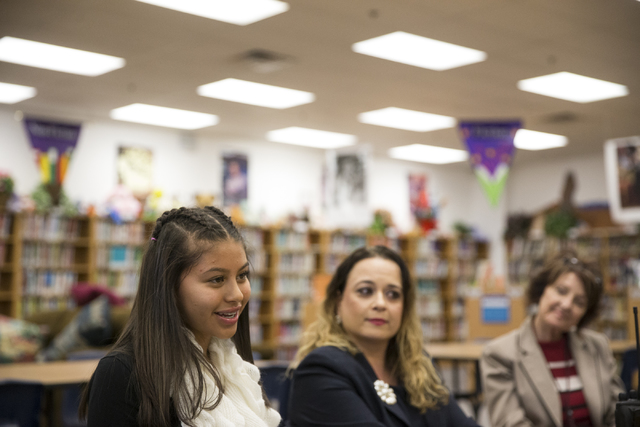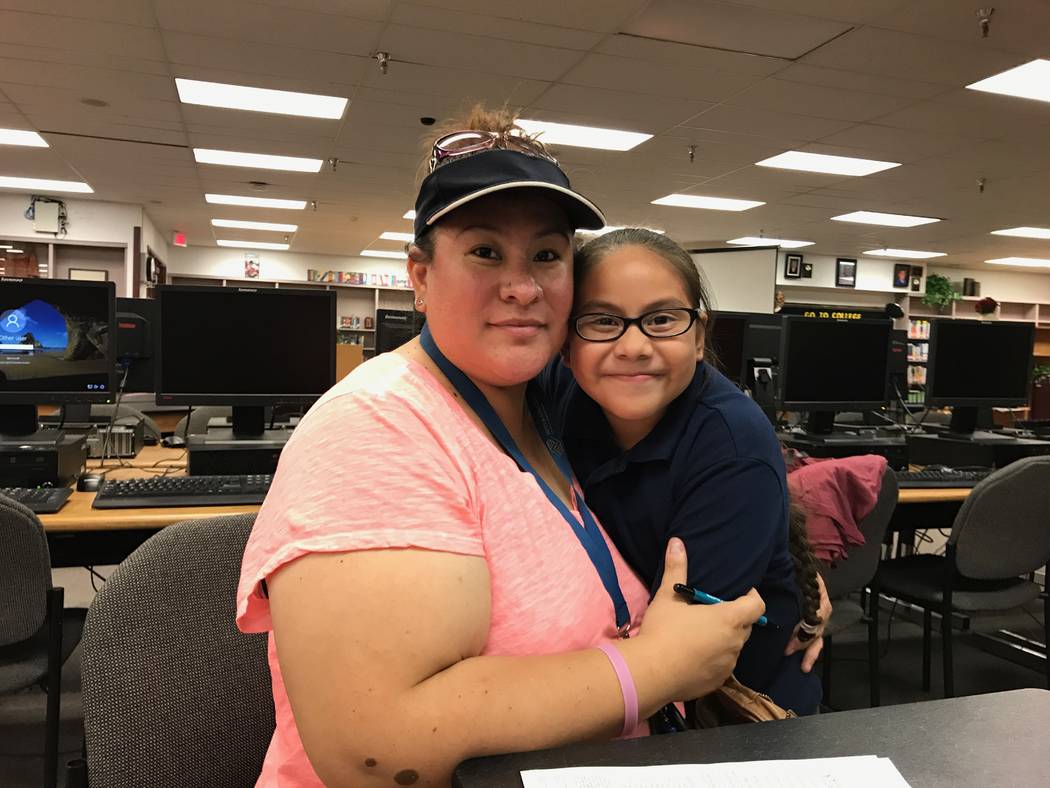 While Martha Arenas's daughter no longer attends Monaco Middle School, the concerned parent was at the school's organizational team meeting on a recent Tuesday to find out how the Clark County School District's anticipated $50 million to $60 million budget shortfall would affect the school.
Thirty minutes later, Arenas was at a parent meeting down the road at Eldorado High School, where her daughter Abigail attends.
The schools's answer: We don't really know, but it's likely going to hurt. A lot.
Eldorado principal David Wilson started the meeting talking about sports, extracurricular activities and graduation rates. But Arenas quickly cut to the chase and asked him about budget cuts.
"It's looking like I don't know what's going to happen," Wilson told parents. "They're looking at everything they can to keep teachers and support staff with jobs in the buildings. Anything they consider to be an extra is something they're looking to cut."
Cuts so far have hit school police, the English-language learner division, special education facilitator services, the district's central office and individual school budgets.
While schools are responsible, so far, for eliminating $17.4 million from their individual budgets to help cover the district's deficit, they'll be impacted by the cuts made across the district as well.
In a second round of cuts approved by trustees Sept. 14, positions eliminated included welders, plumbers, clock/fire alarm/intercom technicians and furniture repair technicians, as part of up to $14 million in savings.
That will cause schools to have to hire outside the district for some of these services, Wilson said, eating into schools's already-tight general supply budgets.
"When I have an instrument that breaks down right now, I send it into Clark County School District," Wilson said. "For free, they have two technicians that fix my band instruments … They just let them go."
The same thing goes if a table in the building breaks or if the building gets tagged with graffiti.
"When my walls get hit right now, (district staff) comes out with a sandblaster and blasts that," Wilson said. "Those people are gone."
Arenas said she was worried about the results of a recent survey from the district that asked participants to rank eleven items in the order of what they would be most willing to see cut.
Options on the survey included increasing the walk radius for bus service of high school students from 2 to 3 miles and eliminating late-activity buses. That's something that Eldorado probably couldn't afford to keep up on its own.
"It's not just my kid; it's a lot of kids that need that bus," Arenas said.
Wilson agreed. At his school, he said, there are fewer students whose families can afford to buy them vehicles. Often both parents work, making transportation a challenge. To a school with a more affluent population, a late bus might not mean as much, Wilson said.
"A school like Eldorado, we need a late bus, because that's what allows kids to stay late … and participate in clubs, activities, tutoring, free meals and those sorts of things," he said. "It impacts Eldorado differently than it impacts Coronado or Palo Verde or Foothill. The economic impact to us is huge compared to other schools."
Timeline confusion
School teams expected to receive their strategic budgets Sept. 18 and revise them before turning them back in Sept. 22. But the district asked schools to hold off on budget discussions after discovering an accounting error that would have had schools cutting too much from their budgets.
Monaco principal Lisa Medina told her school team that her plan would save $552,000 from the school budget by placing certain staff members under state or federal grant money, reducing teachers and not hiring for the second dean position.
"The due date is currently on hold," Medina told her group. "If we talk about who we're going to cut and what we're going to cut, we're going to have to do it with knowing we don't have a dollar amount of what to cut."
Most schools across the valley scrambled to reschedule budget meetings for the week of Sept. 25, hoping for some word on a new timeline.
Eldorado's school organizational team decided to meet despite the lack of clarity. Wilson told his team that one version of the budget he received from the district would have required cutting $343,000 from the school's overall $8.27 million.
"I was hoping I would have a budget tonight for us to be able to approve," Wilson said. "I don't. I wish I did, but it's just the timeline that was put out by the district."
Like many other schools, Eldorado likely will pay for as many staff salaries as possible using funds from state and federal sources, like Senate Bill 178 and Title I, which can't be touched by district-level cuts. But that's pretty much all the team had to go on.
"If I didn't have that money I would be in a world of hurt," Wilson said.
Contact Madelyn Reese at mreese@viewnews.com or 702-383-0497. Follow @MadelynGReese on Twitter.
By the numbers
$43.3 million in cuts (numbers rounded) were made to 2017-18 school district budget on Aug. 24:
$17.4 million: School budgets (to cover the unanticipated higher cost of a collective-bargaining agreement)
$14 million: Direct services to schools (including $1.6 million from special education instructional facilitator services, $831,000 from student services and $5 million in instructional design and professional services)
$11.8 million: Central services (including $7.7 million for collective-bargaining impacts, $975,000 from school police and$125,000 from the English-language learner division)
$7 million to $13.9 million in estimated savings in second round of cuts Sept. 14:
A total of 272.5 positions were eliminated and included landscaping and grounds, transportation, custodial operations, the English-language learner division, human resources, general maintenance and risk and environmental services.
Total cuts so far: Between $50.3 million and $57.2 million.
Source: Clark County School District