Spring Valley getting 7 of Clark County's 25 pot dispensaries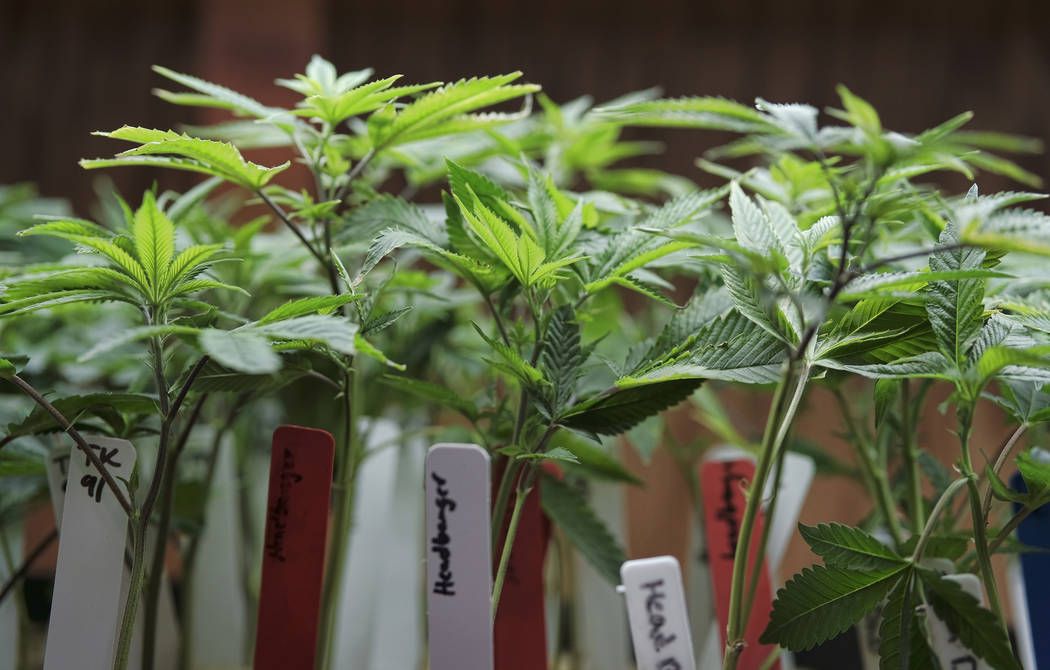 With the approval of the Clark County Commission on June 21, Las Vegas was positioned to gain 25 recreational marijuana dispensaries. Spring Valley was set to get seven, the most of any area in the city other than Paradise, which was set to gain 10. Enterprise is set to gain two.
The commissioners approved special-use permits that were forwarded to them by regions' advisory boards. Though all the advisory boards approved sending their applications to the county, it was not without some fierce debate — especially in Spring Valley.
Spring Valley advisory board members heard a pitch from each proposed retail operator June 6 at the Desert Breeze Community Center. The pitches detailed each dispensary's permit request and how retail sales would operate. They also discussed retail marijuana's effects on employment, parking and safety.
"I've heard mixed things," board member John Getter said. "I understand originally there was a discussion to separate the products available — some medicinal, some recreational."
Andrew Jolley, Nevada Dispensary Association president, clarified that when Gov. Brian Sandoval signed Assembly Bill 422 on June 5, it allowed for a "single stream of products, so that medicinal and recreational products are not differentiated until the point of sale."
"However," Jolley said, "there are some medical products that won't be available to recreational purchasers because of their potency."
Getter then took issue with county planning staffers. Instead of providing their own approval of the licenses to the board, the staff made no recommendation. On top of that, county planning staffers also recommended reviewing the licenses after six months, instead of the standard 12 months that the majority of businesses receive.
"It seems in this case that you're singling out a particular business that you just won't take a position on," Getter said.
County planning manager Sami Real clarified that staffers had not taken a position on any of the 25 medical marijuana establishments requesting retail licenses.
"We're … leaving it up to the board," Real said. "Sometimes staff do not make recommendations on projects. … Our position is just to leave it up to the board of county commissioners."
Getter said he thinks the six-month review also unfairly singles out one type of business and adds an unnecessary burden.
"The people have spoken, the Legislature has spoken, the governor has spoken, the county commissioners have spoken," Getter said. "Why are we making it more difficult for this industry to operate? Just because we don't like it?"
Real said the request for a shorter review period reflects the county's concern about what retail marijuana will look like for Southern Nevada.
"They just have a concern about how things are going to operate," Real said. "How are they going to function, what additional crime are they going to bring into the area, what's going to be the parking demand? What is this really going to look like?
"This is new to them. This is new to all of us."
Ultimately, all seven recreational marijuana permits in Spring Valley were approved for recommendation to the County Commission with a required review period of one year, after Getter made a motion to do so.
County commissioners eventually chose to ignore this recommendation and approve all of Clark County's marijuana establishments with a six-month review.
"I think that we should treat this business like other businesses," Getter said. Not all board members agreed.
Vice Chairwoman Dee Gatliff and board member Mike Hessler voted against Getter's motion — not because they opposed the license request, but because the six-month review seemed appropriate to them.
"I think this issue is a bit above and beyond town boards at this point because it's all new to us," Hessler said.
Dave Kallas, owner and operator of The Apothecarium on West Sahara Avenue, said a security guard will be posted at the store, which has doubled its staffing.
The Apothecarium will have a separate bar for retail sales and a private area for medical consultation, said manager Foster Boone.
Essence Cannabis Dispensary, 5765 W. Tropicana Ave., has also increased staffing, said CEO Armen Yemenidjian. But like the Spring Valley board members, he said he doesn't know exactly what to expect from recreational sales.
"I make a joke to some of our folks and say that 'Our crystal ball has blown a fuse,'" Yemenidjian said. "It's hard to know what our growth is going to be."
Over the next few weeks, owners and operators will tinker with operating hours, security and marketing.
Yemenidjian compared the uncertainty felt by lawmakers and the public to that felt when medical marijuana was legalized in Nevada.
"It was a common sentiment that the sky was going to fall," Yemenidjian said. "(Since then) we've been fortunate enough to have minimal issues on the medical side, and we hope that carries on."
Contact Madelyn Reese at mreese@viewnews.com or 702-477-0497. Follow @MadelynGReese on Twitter.
Where they are
Here are the locations where recreational marijuana is permitted for sale in Spring Valley and Enterprise:
The Dispensary, 5347 S. Decatur Blvd.
CannaCopia, 6332 S. Rainbow Blvd.
Essence, 5765 W. Tropicana Ave.
The Apothecarium, 7885 W. Sahara Ave., suites 111 and 112
The Source, 2550 S. Rainbow Blvd., Suite No. 809
Zen Leaf, 9120 W. Post Road
ShowGrow, 4850 S. Fort Apache Road
Euphoria Wellness, 7780 S. Jones Blvd.
CANOPI, 6540 Blue Diamond Road