Spring Valley Library becoming central resource hub
December 8, 2016 - 9:13 am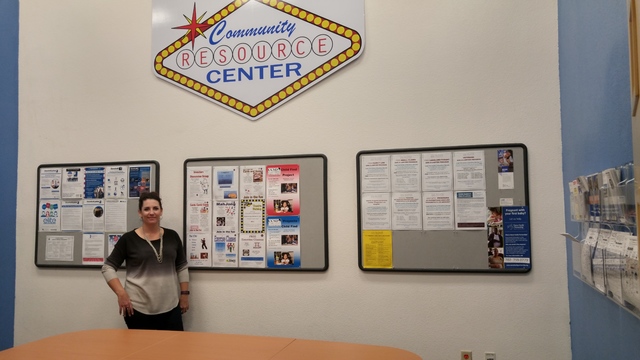 Scattered information is now centralized and accessible inside the new Community Resource Center at Spring Valley Library.
Instead of library visitors traveling outside their neighborhood to find community resources, branch manager Nikki Winslow said, Spring Valley Library, 4280 S. Jones Blvd., is bringing the resources to them.
This year, the library repurposed a small room that it used for storage and occasional meetings into something that Winslow felt would be more useful to the library's 40,000 monthly visitors.
The Community Resource Center is part of the Las Vegas-Clark County Library District's Vision 2020 Plan, which focuses its libraries' resources on learning, business and career success, government and social services, community and culture. It's the first center of its kind in the library district.
"Ultimately, the goal is that you always think of the library as the place you go for anything that you need … because people will know that we'll connect them to anything that they need help with," Winslow said.
People looking for information on the resources, such as free dental care and parenting assistance, can walk into the small office space on the left side of the building and grab a brochure.
Marilyn Provost, Spring Valley resident and social enterprise manager for United Way of Southern Nevada, said the need for information is great in the area. She has seen many homeless youth visit the library, as well as adults and seniors who could benefit from the center's resources.
"They don't always know where to turn," she said. "Sometimes, there's pride that will keep from just asking. Having that information for them regularly, I think, is an asset."
The center, open since October, will also provide one-on-one help or workshops by partner organizations such as United Way of Southern Nevada, Boyd Law School at UNLV, State Health Insurance Assistance Program and Consumer and Resource Enterprise.
Christine Smith, an associate dean for Boyd Law School, said its professors and UNLV law students will host quarterly free legal education classes on topics such as bankruptcy, record sealing, divorce and immigration.
Winslow hopes that the center will be the first of many available inside local libraries.
"It is a good example that you don't need a lot of space; you don't need a lot of money to be able to make this really big impact on your patrons and help connect them to services and resources they need," she said.
Visit lvccld.org or call 702-507-3821.
To reach View intern reporter Rocio Hernandez email rhernandez@viewnews.com or call 702-387-5233. Find her on Twitter: @rociohzz.