Downtown Summerlin bustles on National Night Out
Updated October 4, 2018 - 10:04 am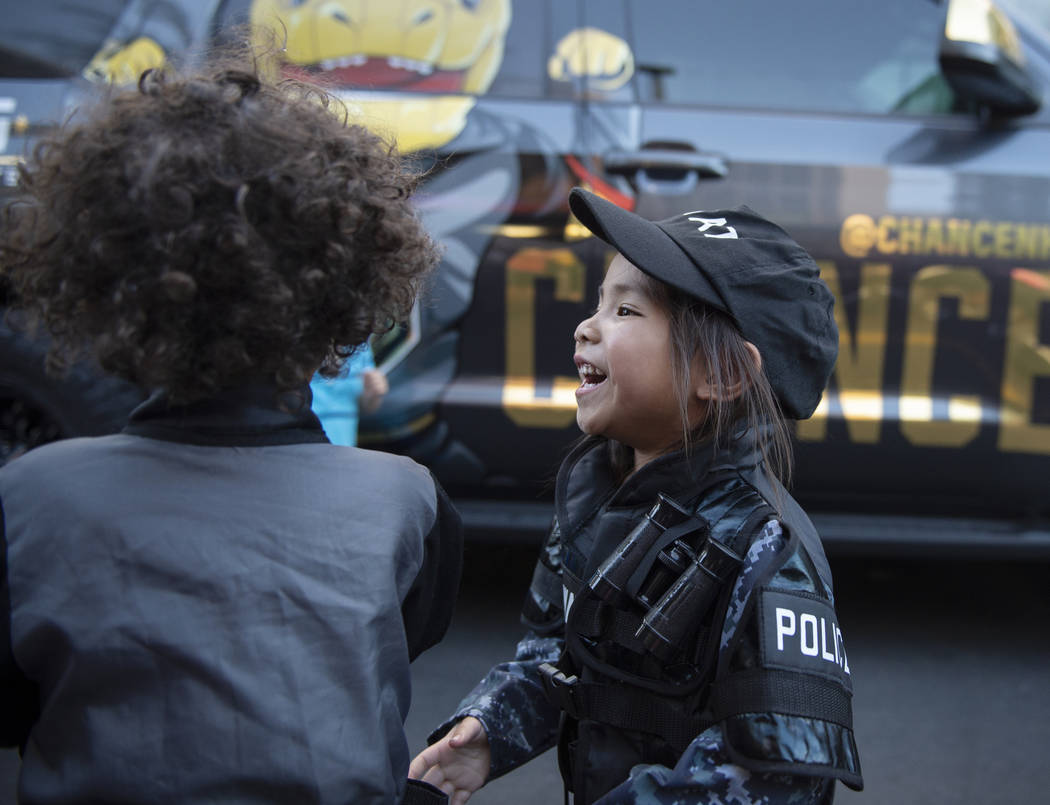 National Night Out is aimed at getting residents out of their houses and law enforcement out of their routines so they can engage in a positive way.
That mission appeared successful Tuesday night in Summerlin, as about 100 residents — many of them children — converged on Park Centre Drive to meet the men and women behind the uniforms. The annual block party-style event also included firetruck tours, balloons and face painting.
"You trust more when you see the presence of law enforcement," said Lashun Parker, 55, of Summerlin. "Just the feeling of security."
Hannah McCready, a crime-prevention specialist with the Metropolitan Police Department, said most people see law enforcement in a negative way.
"This … really humanizes police," she said Tuesday. "I think this event is especially important for kids. There's no longer the D.A.R.E. program in schools, so kids are given limited opportunities to interact with these officials."
Metro Lt. Joshua Bitsko joked and played with 3-year-old David, who was dressed as a police officer. Bitsko, too, stressed the importance of humanizing law enforcement and having real conversations with residents.
"Fighting crime is most effective when the entire community is involved," he said.
In addition to Metro Police, the event featured representatives of the Harbor Juvenile Assessment Center, the Rape Crisis Center, UMC, Nevada Child Seekers and the Nevada Highway Patrol, as well as other first responders.
Daniele Dreitzer, executive director of the Rape Crisis Center, said community events are an important part of her organization's outreach.
"It's amazing how many disclosures of abuse we get when we're out at community events," she said. "People who don't feel comfortable calling or have limited access can take the opportunity to ask questions one-on-one in person."
Summerlin's National Night Out event was one of several across the Las Vegas Valley. The nationwide event began in 1984 and takes place the first Tuesday in August in most places. Nevada and Texas are two exceptions, holding it instead on the first Tuesday in October.
Contact Mia Sims at msims@reviewjouranal.com. Follow @miasims___ on Twitter.