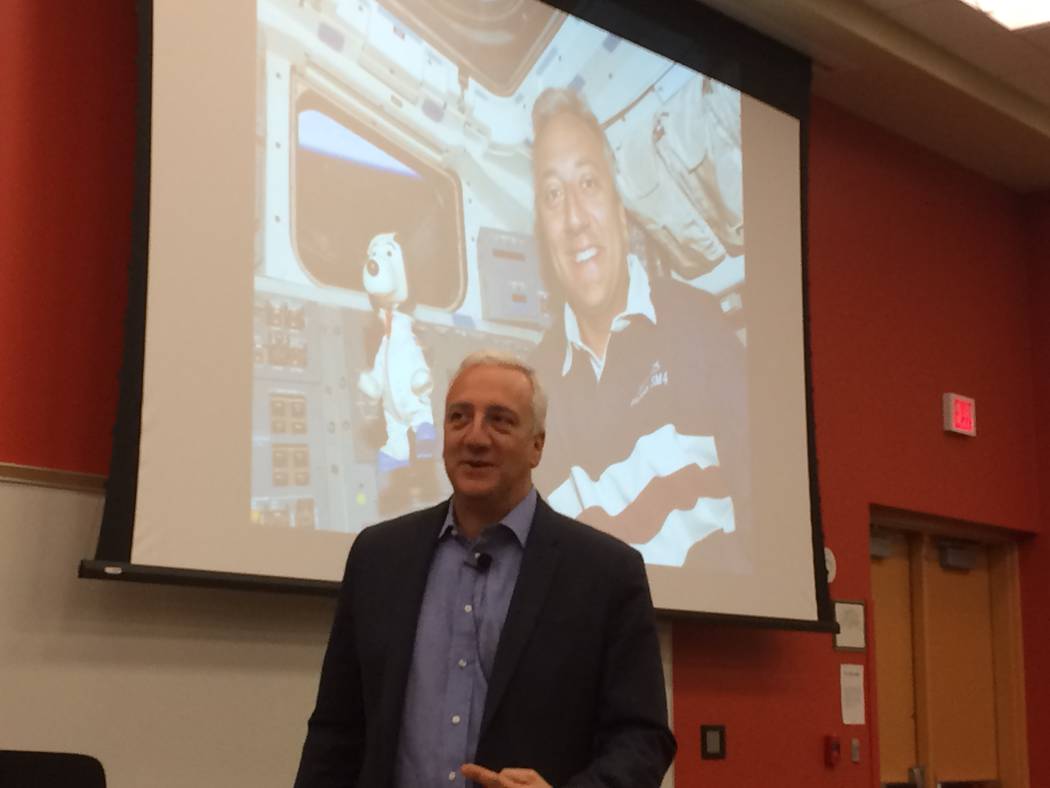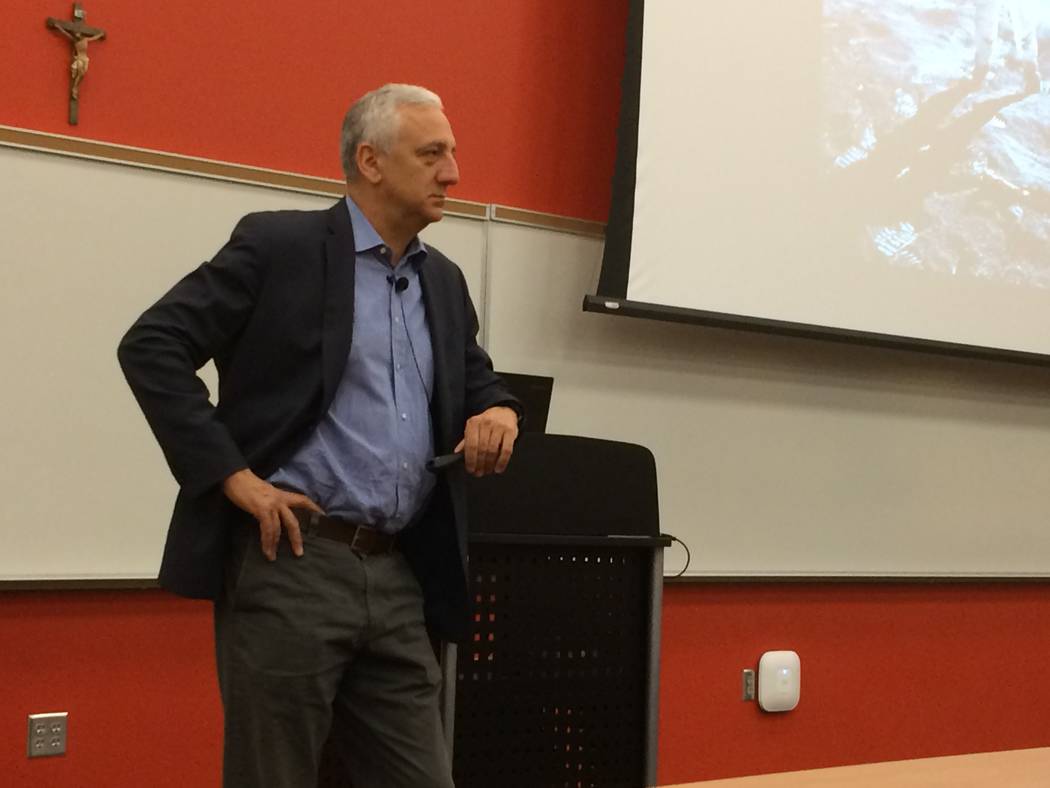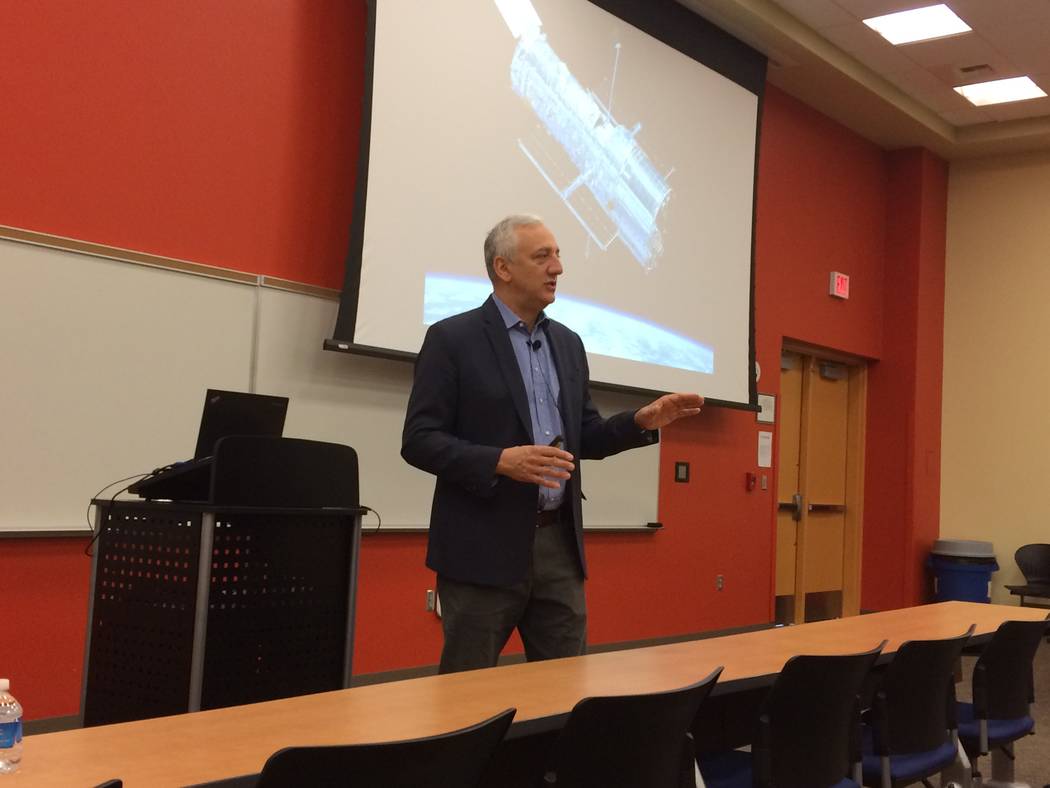 The sky is not the limit when it comes to one's career path. That was the message former NASA astronaut Mike Massimino had for science, technology, engineering and math students Oct. 18 at Bishop Gorman High.
Massimino is a professor of mechanical engineering at Columbia University, wrote bestseller "Spaceman," appears on TV's "The Big Bang Theory" and hosts Science Channel's "The Planets."
Physics student Lainey Hizon, 16 and a junior, said she was excited to have an astronaut visit the school, which sees about two high-profile speakers every year.
"I don't study about space, but it should be interesting to hear about what it's like from an astronaut. It's a different environment, so it might be scary," she said before the talk.
Presley Howard, 17 and a senior, said her mother watches "The Big Bang Theory" a lot.
"I didn't know he was a real astronaut," she said. "I thought it was just his role on the show."
Massimino began his talk by showing an image of Neil Armstrong in a tethered space suit, floating in space.
"I was only 6 when we sent a man into space, but it really made an impression on me," he said.
The next image showed him in first grade. He was wearing a plastic helmet and a gray jumpsuit — a reworked elephant costume from a play — and clutching a Snoopy doll.
He told of his schooling and how, with each degree he earned, he kept applying with NASA.
Finally, he was accepted. In his NASA class were Mark and Scott Kelly, the identical twins being studied after the latter returned from living for a year in space.
Massimino went into space twice, in 2002 and 2009, both times to work on the Hubble telescope. After the nonstop shaking of liftoff, he said, everything was smooth and quiet.
The stars are perfect points of light, he said. They only appear to twinkle when seen from Earth because of the atmosphere.
Hubble floats 100 miles higher than the International Space Station. It takes about 90 minutes for it to circle Earth, traveling at 17,500 mph. It can lock onto a target light years away and take a photo with no distortion from movement.
"The existence of other solar systems was verified by Hubble," Massimino said. "But there are other things (it found) that we could not even imagine that existed in the universe, things like dark energy and dark matter."
He showed a video of what it's like to eat in space, the food floating, the container needing to be affixed to the wall. He also showed himself inside the spaceship, posing with a stuffed animal.
"Recognize it?" he asked. "That's the same Snoopy I showed you in the beginning, when I was standing in my backyard."
He said his spacesuit was made of seven layers, one of which was Kevlar to prevent a micrometeorite from compromising its pressure. It was safe, but cumbersome. Repairing Hubble in it was akin to "working on a car while wearing boxing gloves," he said.
Speaking of working on the Hubble, astronauts had to ensure that no screw, no washer floated away to become a potential projectile.
When a stubborn handrail was in the way of the computerized unit he needed to replace and time was running out, he finally used his might and yanked it out. He showed the video of that moment, prompting laughter.
"We'd gone back and forth on (how best) to remove it," he said. "Sometimes you have to think outside of the box."
Massimino credited his education with making it possible for him to become an astronaut.
Massimino ensured the students knew his was not an easy road to joining the space program. He was rejected numerous times. He ended by telling students to follow their dream, even if the odds were stacked against them.
"An extraordinary life is possible … The thing I'd like you to remember is if you try to do something that's difficult, just because it's difficult doesn't mean that it's impossible," he said.
Contact Jan Hogan at jhogan@reviewjournal.com or 702-387-2949.
Class of 2017
The latest NASA astronaut class includes Zena Cardman, Frank Rubio, Jasmin Moghbeli, Loral O' Hara Jonny Kim, Matthew Dominick, Robb Kulin, Warren Hoburg, Bob Hines, Raja Chari, Jessica Watkins and Kayla Barron.
For information about how astronatuts are selected, visit astronauts.nasa.gov.