Miles from the Strip, revelers ring in 2017 the natural way
Updated March 31, 2019 - 12:45 am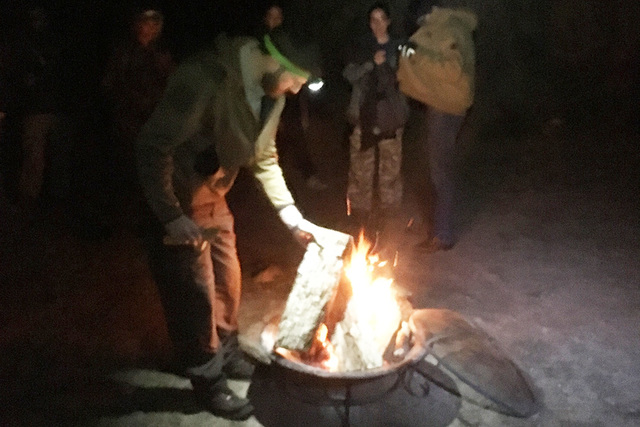 When a large group bellows "Happy New Year!" in unison on a bluff at Spring Mountain Ranch State Park, the nearby canyon shouts a jubilant reply.
Thirty-three people learned about the canyon's powerful nighttime echo the hard way on New Year's Eve — by hiking 2 miles in near-midnight darkness through sometimes-steep, sometimes-muddy terrain to a secluded spot where ranger Randy Denter fielded questions and briefly discussed the park's history and biology.
It was partly a stall tactic, as a crowd seemingly giddy about the coming new year waited patiently for 11:49 p.m. to become 11:59, then give way to 2017. Trish Mittelstadt of Las Vegas led the group in counting down the final 10 seconds of 2016.
The echo wasn't the loudest or most distinctive noise hikers encountered. That would be the sudden howls of seemingly dozens of coyotes about a mile or two away. Surprisingly lacking: any sign of fireworks, which couldn't be seen or heard over the ridge that separates the park from the Strip, 20 miles to the east.
The minimal presence of light — about half the hikers carried flashlights — forced participants to rely more on the other four senses. In the dark, the coyotes sounded closer and more menacing, while the smells of rotting leaves, standing water and small warming fires at the beginning, middle and end of the hike were more discernible.
Denter led the proceedings and, during the break near midnight, shared that he had to be up early Jan. 1 for another hike. That elicited groans of sympathy from many in the crowd — some of whom were bar-bound after the hike ended at 1 a.m.
"It makes me happy that so many people are interested in going outdoors instead of down to the Strip," Denter said.
Some hikers echoed those sentiments.
"It's a nice switch-up from getting as drunk as you can and waking up feeling like crap in the new year," said Nicole Della Piazza of Summerlin, adding that she stayed home on New Year's Eve in 2015.
Liz Wilson, also of Summerlin, said she often hikes at Spring Mountain and has participated in one other night hike there. She came on New Year's Eve to force herself out of her comfort zone. After the hike, she was pleased the crowd was smaller than during her previous night hike because "you can move along the trail a lot faster" with fewer people.
Gianfranco Seminario of Las Vegas said his New Year's Eve game plan is "always go out, get drunk." And while he did plan to hit a bar after the hike, he was enjoying what he called the biggest difference between the park and the city: fresh, clean air.
As the crowd scattered after the hike ended shortly before 1 a.m., Della Piazza said she'd like to make it a New Year's Eve tradition.
"It was just something that I needed," she said. "It was really rejuvenating doing that."
To reach View assistant editor Brian Sandford, call 702-380-4531 or email bsandford@viewnews.com. Follow him on Twitter: @nweditor.
IF YOU GO
What: Twice-monthly hikes, including one during a full moon. Day hikes also are offered.
Where: Spring Mountain Ranch State Park, 6375 state Route 159, Blue Diamond
When: The next night hike is at 4:30 p.m. Jan. 14
More information: David Low, park interpreter, at 702-875-4141 or SMR-Interp@parks.nv.gov, or go to the park's website.
Social media: Facebook or Twitter.
REPORTER'S NOTEBOOK
At 5 p.m. on New Year's Eve, I did not want to go on this hike.
I'd assigned it to myself because it sounded like a fascinating way to ring in the new year, but holiday torpor had set in. It'd be so much easier to continue binge-watching Netflix shows until about 10, then fall asleep. The less interaction with an increasingly drunken population, the better, right?
One of the hikers mentioned her desire to get out of her comfort zone. This hike invigorated me and was a reminder that the most rewarding experiences generally lie at the outer edges of our comfort zones.
One of a reporter's biggest fears when covering an event like this is that no one will want to talk to him/her. When I told a few people before the hike why I was there, they were welcoming and happy to chat. Indeed, the crowd was festive throughout this hike, suggesting that it's the holiday, perhaps more than the booze, that keeps spirits high on New Year's Eve.
— Brian Sandford