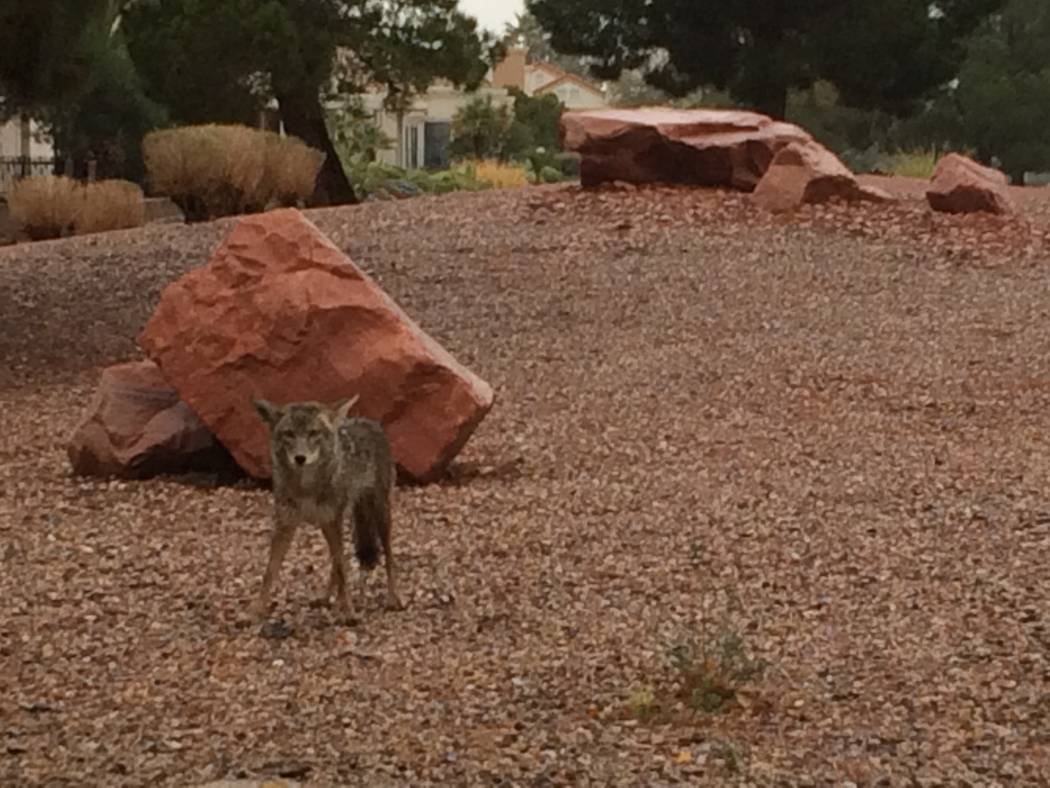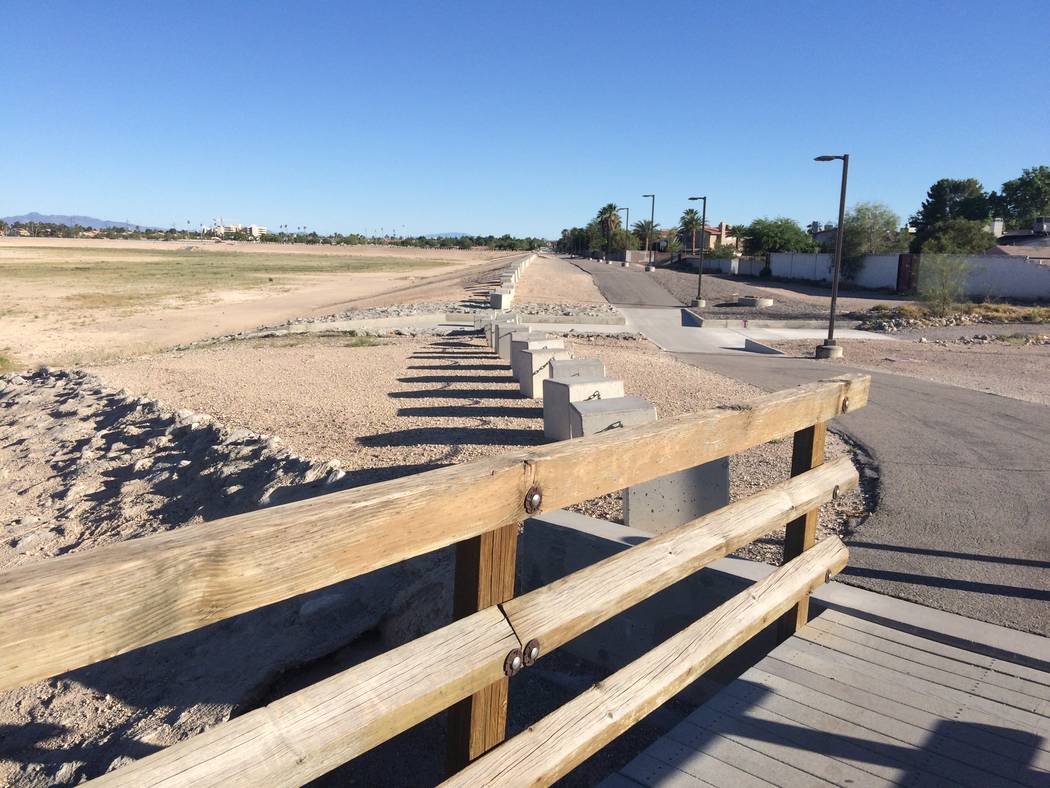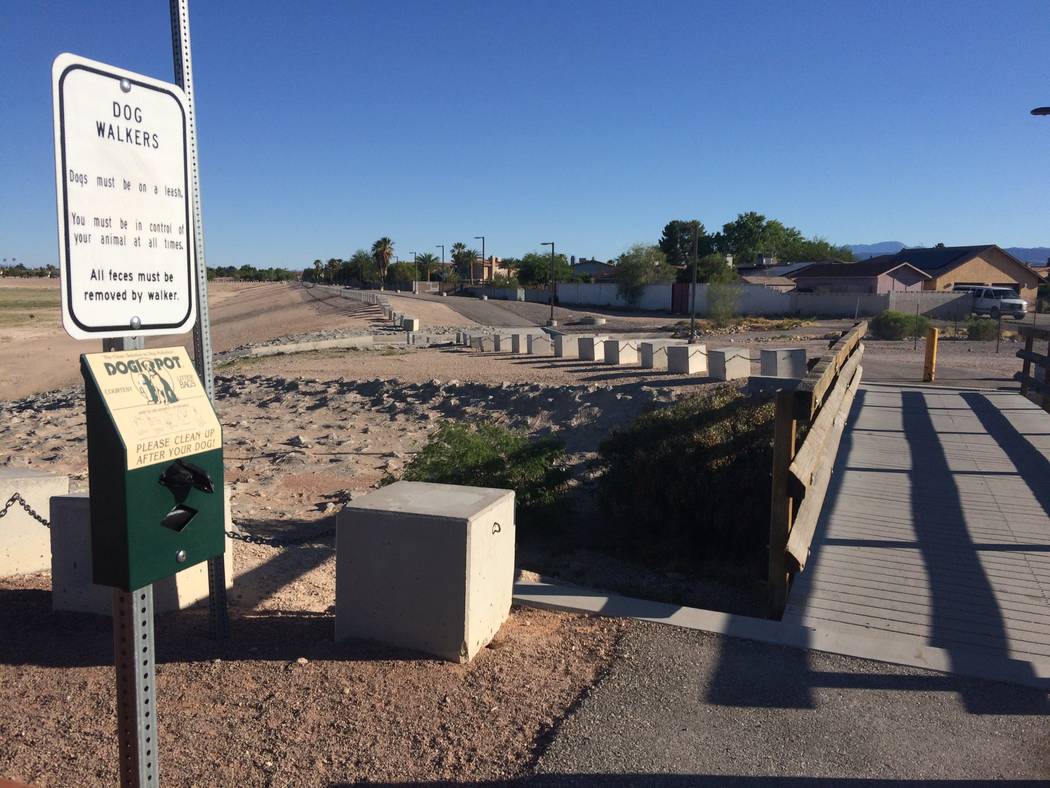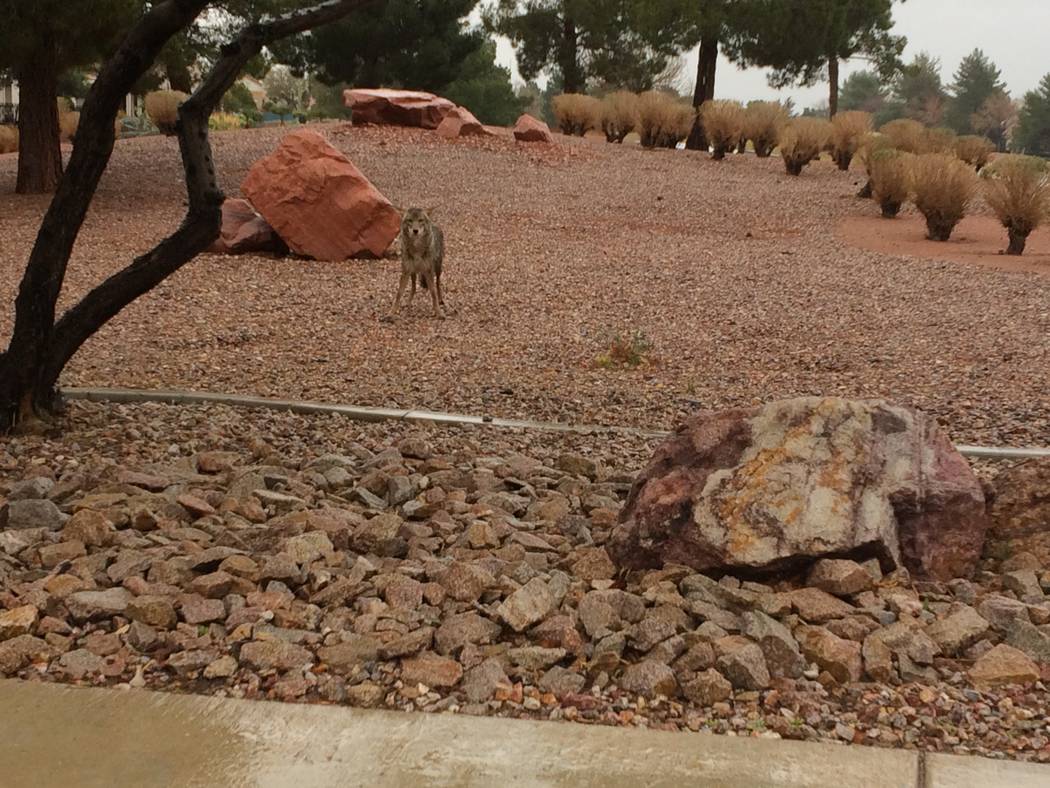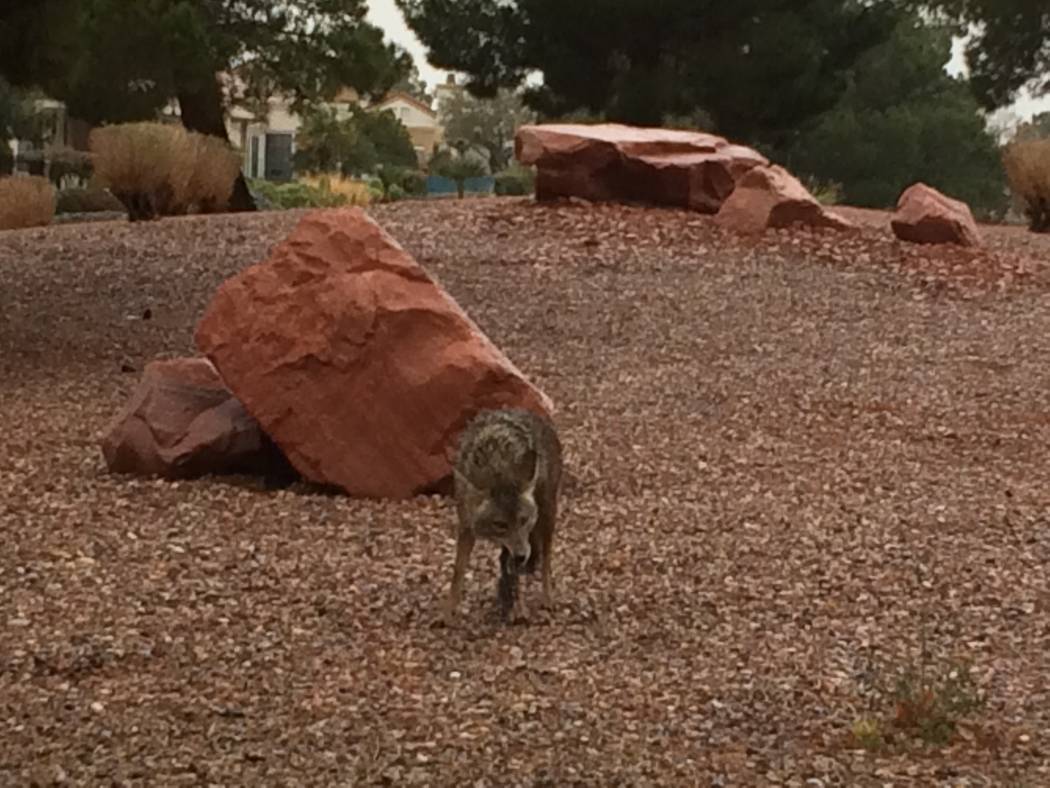 Cherie Argano jogs in the water basin just south of W. Wayne Bunker Family Park, 7351 W. Alexander Road, on a near-daily basis. On June 8, she spotted what she thought was a German shepherd on the path in front of her.
"But I as I got closer, I said to myself, 'That's no German Shepherd,'" Argano said.
Argano stopped when she was about 35 feet away, realizing it was a coyote.
"He kept looking at me; I kept looking at him," she said.
The encounter ended when the animal wandered off. Argano knew Molasky Junior High School was letting out and hurried to warn two crossing guards nearby. The crossing guards said they already knew about it and told her that the coyote had pups.
Argano encountered a coyote again June 10 when she was exercising with her husband, Danny. This time, the animal was 20 feet from them when they spotted it and stopped.
"I said, 'Oh, my gosh, what do we do?'" Cherie Argano said. "And he said, 'Just keep walking and get out of here.'"
She now refuses to go to the retention basin without her husband. She said her fear wasn't just for herself or other joggers but for children walking home from school.
"And there's a dog park there. … The only thing separating this coyote from those dogs is a (chain-link) fence," she said. "He (the coyote) was just strolling the perimeter of the wash, looking, looking."
Douglas Nielsen, conservation education supervisor for the Nevada Department of Wildlife, said the number of coyote sighting was holding steady at about five a week. Sometimes that number will uptick, but he suspects multiple people call in about seeing the same animal.
"There no way for us to say, 'This call was about Coyote A and that was about Coyote B, unless they're in separate parts of the valley," he said.
Between April 1 and June 12, NDOW received 69 reports of coyote sightings in the Las Vegas Valley. Prior to 2016, NDOW did not keep formal records of such calls. But from Jan. 1, 2016, to June 19, 2017, it received 180 coyote-related calls at the Las Vegas office. That does not translate to an accurate count of coyotes, as NDOW may receive multiple calls about the same animal.
Spring is breeding season and leads to increased coyote activity, Nielsen said, including young adults on the move as they look for a territory of their own.
"As a rule, coyotes want nothing to do with humans and will generally move off if properly hazed," he said. "Something else to consider is this: From 1997-2010, there were nearly 14,000 dog bites reported in Clark County and 2,212 cat bites. On the other hand, from 1993 until now, I am aware of just 2 reported but unconfirmed coyote bites on humans. Both involved a pet owner trying to separate a pet and coyote, and there was no way to verify which animal did the biting during that struggle.
"That is not to say we shouldn't be aware when we are out and about."
Coyotes are hunters as well as scavengers. They eat small animals such as gophers, rats, mice, rabbits and squirrels. They are known to jump fences to get into backyards if they are targeting household pets, NDOW said.
Why are coyotes being sighted in urban neighborhoods?
"We have more people coming to Southern Nevada again," Nielsen said. "So as we increase the human population we also increase the amount of contacts we have with coyotes."
A coyote living in a water retention basin near a residential development is not surprising, Nielsen said, since it is fed by washes or drainage systems. The basins provide a travel corridor for the animals to come down from the mountains.
Nielsen said Summerlin and the area between it and Southern Highlands are hot spots for spotting coyotes.
NDOW's Las Vegas office can be reached at 702-486-5127. Residents are asked not call if they merely see an animal passing by. But if you feel your safety is at risk, or if an attack has occurred, call the Department of Wildlife dispatch at 775-688-1331 or 775-688-1332. If you are unable to reach dispatch, call the Metropolitan Police Department at 311, the sheriff's office at 702-828-3231 or the Nevada Highway Patrol at 702-486-4100, and request to be put in touch with a game warden.
Contact Jan Hogan at jhogan@reviewjournal.com or 702-387-2949.
If encountered
Coyotes are, by nature, wary of humans. If your presence isn't enough to drive off the animal, then maintain eye contact with it. Stand tall so as to appear assertive. Do not turn your back on the animal. (You may have to walk backward to maintain eye contact.) Do not run, as this might trigger a coyote's natural prey instinct and cause it to chase you.
Source: Urban Coyote Initiative