Summerlin-area dance class helps Parkinson's sufferers maintain mind-body link
Updated May 26, 2017 - 6:37 am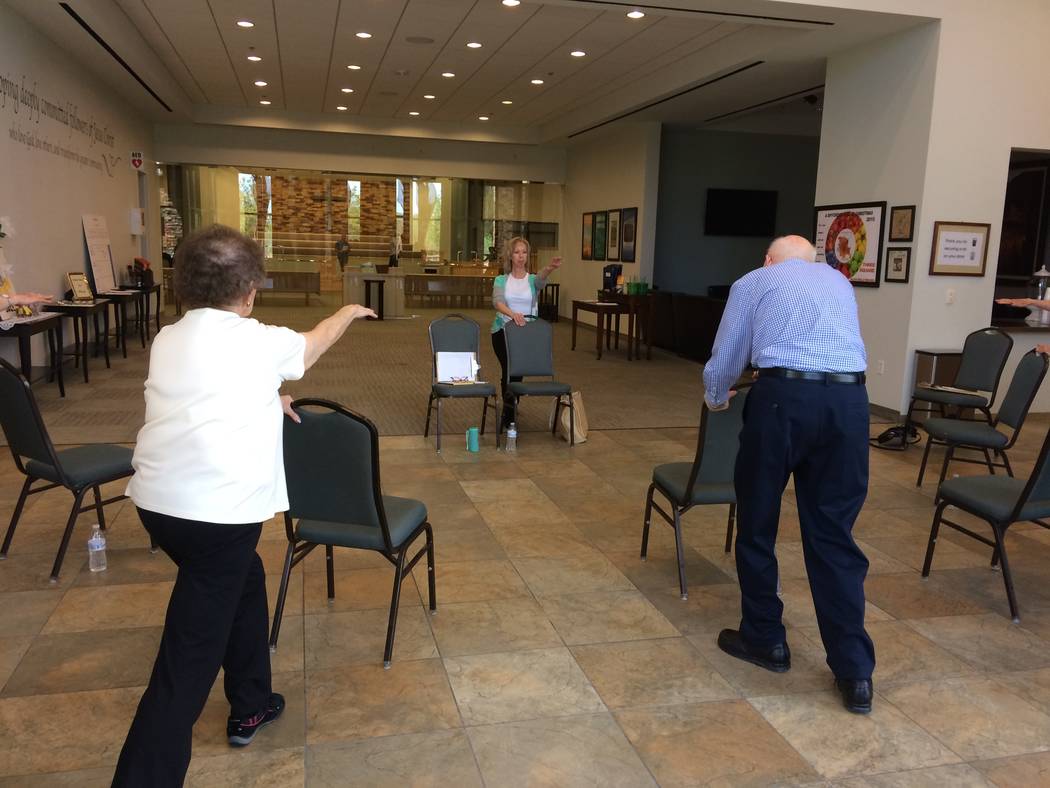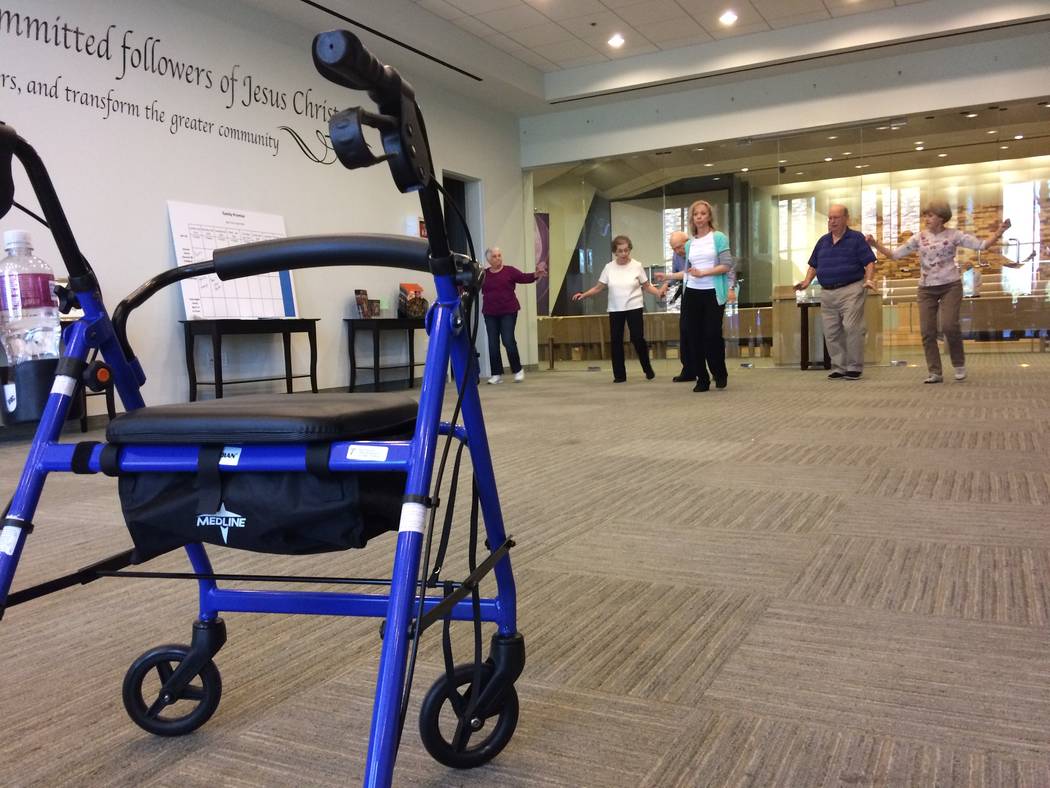 For people with Parkinson's disease, simply moving their foot forward can be a challenge.
To help those afflicted with the disease, which affects one's motor system, Pamela Lappen offers free classes at Desert Spring United Methodist Church. Her class is part of the Dancing With Parkinson's offerings listed at dancewithparkinsons.com.
"You think of dance as being physical (exercise), but it's also mental. You're always have to think a step ahead," said Lappen, who has been a professional dancer for 20 years.
Lappen began the class in spring 2016 at Desert Spring church, 120 N. Pavilion Center Drive. No one close to her has been afflicted with the disease; she said she just wanted to help by volunteering. She studied under program director David Leventhal in California.
Dancing With Parkinson's classes are aimed at making brain-muscle connections through music and movement. They began about 15 years ago and have spread across the country. Lappen's class is weekly and usually has four to eight participants, she said.
When View visited, there were five attendees. Two had Parkinson's. Two were caregivers. One had lost her husband to the disease but still liked coming to the class.
Bob Taris of Sun City Summerlin was diagnosed with Parkinson's about two years ago. He said he liked dancing and participated in community theater, but he had to give up both, just like he had to give up driving. He lost his ability to walk "almost overnight. … Balance is the biggie these days," he said.
He now uses a walker.
Walter Henry was there with his wife of 52 years, Jane. They live at The Lakes.
Jane said after class that her husband "stands a little taller. He was diagnosed three years ago, but it was apparent that it was progressing. We have not missed a class."
Her husband said he's a little tired after what he called a workout, but he wasn't about to stop.
Resa Arovas' husband, Jack, was a member of the group. It was good for his socialization and he loved music, his wife said. He died August at 82, but she still comes because "It's a nice class and I love Pam."
"The challenging thing with people with Parkinson's is that there are all different types of symptoms. So, I have a general awareness, but I'm not here to be a doctor," Lappen said.
One of her students told her how his body would freeze. To combat that, he learned from Lappen's classes how music can bypass that lapse of brain/muscle connection.
"So, now, every time his body freezes, he sings his favorite song in his head: 'Hello, Dolly!'" she said. "It has to be something with rhythm."
The majority of the class was done while participants were seated. Lappen used her iPhone to bring up music, starting with a soothing piano piece.
The class began with simple stretching: gentle slaps to the muscles, rolling the shoulders back, straightening the spine and stretching one arm toward the sky. After that, there was a tapping the feet on the floor to warm up, followed by seated "waltzing" — moving the feet in the dance pattern. The music changed.
"This is my version of the cha cha," Lappen told attendees as she brought up a saucy tune.
At one point, she told them they were making a pizza and went through the motions of pounding the dough, throwing it up in the air, catching it and sliding it into the oven with a board-like peel. All of the motions were aimed at helping people keep their mobility, strengthen their muscles and test their balance.
When Dean Martin's "Ain't That a Kick in the Head?" came on, Taris couldn't resist singing along. He attends a similar class at the Lou Ruvo Center for Brain Health.
Lappen said some people aren't so lucky, that "their insurance will only cover so much rehab, and then they're told, 'Go home and do the exercises.' But doing these (exercises) alone, it's not the same as with a group."
Visit dancewithparkinsons.org.
Contact Jan Hogan at jhogan@reviewjournal.com or 702-387-2949.
Dancing with Parkinson's Las Vegas
When: 1-2 p.m. Thursdays
Where: Desert Spring United Methodist Church, 120 N. Pavilion Center Drive
Admission: Free for those with Parkinson's and their caregivers
Information: dancingwithparkinsons.com