Dan + Shay to kick off Neon Cowboy series at SLS Las Vegas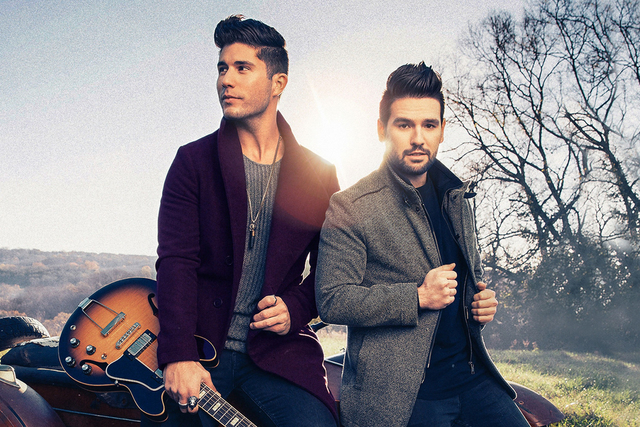 In a "terrible" house they found on Nashville's Craigslist, Dan Smyers and Shay Mooney collaborated for the first time and became Dan + Shay.
Like a scene out of "Nashville," the two started singing together at first sight on Pearl Harbor Day 2012, then decided to record their melody with a phone.
The next day, that song was picked up by Rascal Flatts.
"You spend your whole life trying to figure it out, and then boom," Smyers said three weeks before the release of the country duo's sophomore album, "Obsessed."
With their latest offering, they step up their writing, he said, calling the sounds "Dan and Shay 2.0."
"Our first record was a bunch of demos … we didn't know what we were doing," Smyers admitted of making 2014's "Where It All Began."
The growing that the men have done since walking onto the scene two years ago has given them the freedom to think outside the country music box.
"We cut a horn section on it," he said of "Obsessed."
Smyers says he draws inspiration from the likes of Kenny Chesney, Rascal Flatts and Keith Urban but also looks to other genres.
"It's a cool time for country," he said. "There are no boundaries."
The proof is in their set, where they cover R. Kelly, Smyers said.
Making it far enough to be included on award shows as their influences is "incredible," Smyers said. But not everything has changed.
"I'm working on the same laptop right now," he said with a laugh.
He and Mooney still get starstruck.
"We stay fans," Smyers said, because "there's always something to learn."
While in town to perform, the two had a run-in with one local celebrity who got them excited.
"We got to take a picture with Wayne Newton," Smyers exclaimed, adding that he's not afraid to ask for a selfie.
Dan + Shay return to Las Vegas on Sunday to debut their latest music. Hear them at The Foundry inside SLS Las Vegas, where they kick off the Neon Cowboy Country Series.
Contact Kimberly De La Cruz at kdelacruz@reviewjournal.com or 702-387-5244. Find her on Twitter: @KimberlyinLV.