Extension of Las Vegas monorail to Mandalay Bay delayed again
Updated July 12, 2018 - 10:33 pm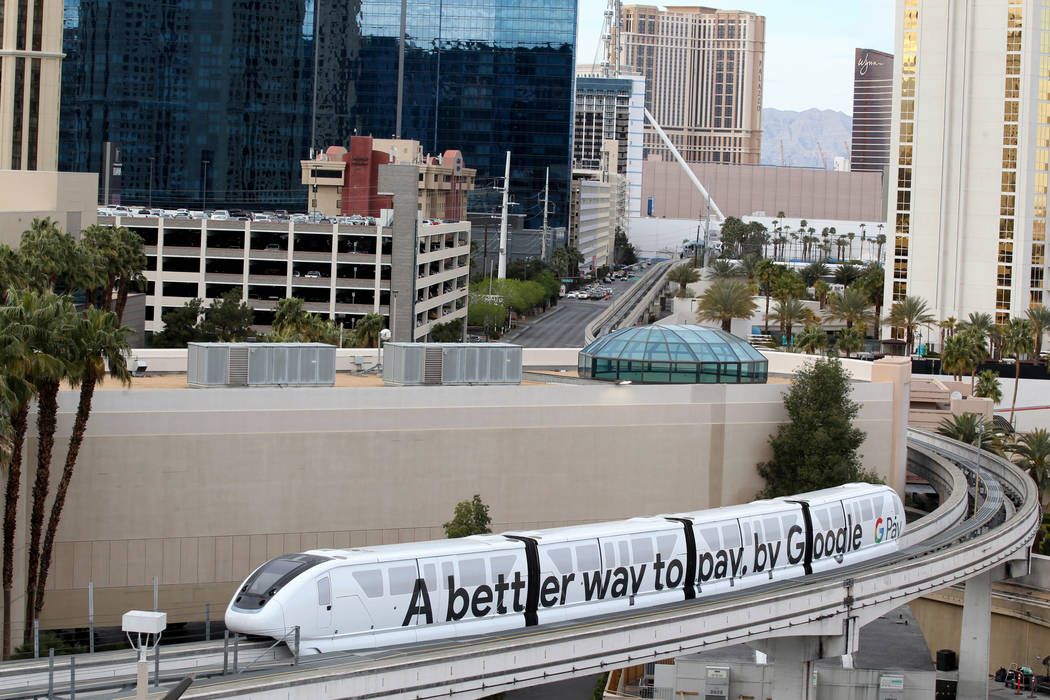 Construction of a Las Vegas Monorail extension to Mandalay Bay has been delayed, jeopardizing the chances of the project being completed in time for the opening of the nearby Raiders stadium.
Monorail lobbyist Jennifer Lazovich told the Clark County Commission this year that construction on the 1-mile extension would begin in June, giving the Las Vegas Monorail Co. more than the two years it needs to finish a new station at the Shoppes at Mandalay Place before September 2020, when the NFL's Raiders are expected to play their first game in Las Vegas.
The monorail extension is seen by some as essential transit infrastructure to serve convention attendees and stadium crowds.
But construction permits for the project remain under review by county employees. The Monorail Co. also has not obtained the $110 million in bonds it needs to pay for the extension, according to county spokesman Erik Pappa.
Meanwhile, the Monorail Co. is keeping mum on the project's status.
"Any information on construction or financing of the project will be released in due course," spokeswoman Ingrid Reisman wrote in an email Thursday.
CEO Curtis Myles has previously acknowledged that obtaining financing will be difficult.
Last year, he told commissioners he couldn't get funding for the project unless the county committed to giving the Monorail Co. as much as $4.5 million a year for the next 30 years.
Commissioners rejected the idea but agreed in November to set aside $4.5 million each year that the company could request to borrow, but would not be guaranteed to receive.
With no financing in place, the county has required the Monorail Co. to continue repaying a loan of nearly $2.1 million used to pay for the extension's design and engineering costs.
The Monorail Co. made a payment of $16,667 last week, Pappa said. After combining that with a series of payments made last year, nearly $2 million is owed.
County Commissioner Chris Giunchigliani said she has serious doubts that the Monorail Co. will get its desired funding, but she expects the county will be paid in full and on time.
"I don't think anybody disagrees they have an obligation to pay us back," she said.
Contact Michael Scott Davidson at sdavidson@reviewjournal.com or 702-477-3861. Follow @davidsonlvrj on Twitter.