Much-anticipated T-Mobile Arena opens with a bang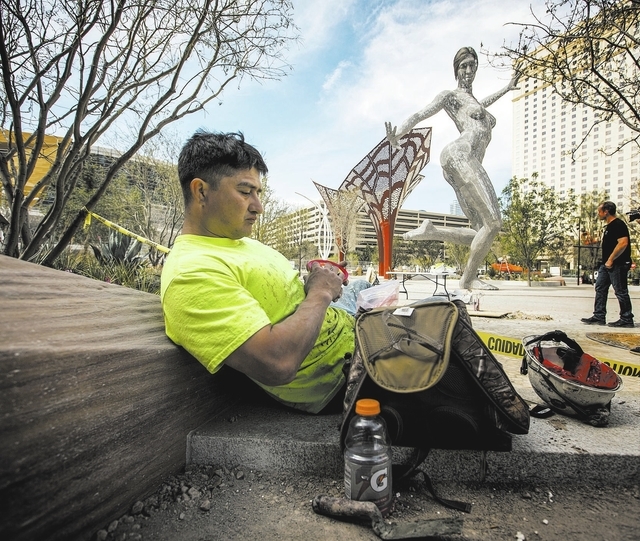 The wait is over.
Grand opening week has arrived for the much-anticipated unveiling of the 20,000-seat T-Mobile Arena.
Related events begin unfolding at about 4 p.m. today with the opening of The Park, a dining and entertainment district near the Monte Carlo.
The lighting of "Bliss Dance," a 40-foot-high sculpture of a naked dancing woman, is set for 8 p.m. Monday at The Park.
The statue made its debut as the centerpiece at Burning Man in 2010 at the annual arts and culture event in Nevada's Black Rock Desert.
Created by San Francisco artist Marco Cochrane, the 7,500-pound stainless steel sculpture will be illuminated at night by 3,000 colored LED lights. It depicts San Francisco Bay-area singer and dancer Deja Solis.
At 8 p.m. Wednesday, the $375 million arena comes alive with a sold-out concert featuring Las Vegas icon Wayne Newton as a special guest, rising R&B and soul singer-songwriter Shamir of North Las Vegas and the hometown Killers, who are reportedly collaborating with Elton John this year.
The arena's grand opening week continues Thursday with Nicki Minaj and Ariana Grande.
Friday and Saturday features the reunion of Guns N' Roses, playing together for the first time in 23 years.
LANSKY HEIRS AT ODDS
Relatives of legendary mob boss Meyer Lansky disagree on whether to pursue reparations for Cuba's seizure of the Hotel Habana Riviera.
The hotel was inspired by the Riviera in Las Vegas and built by Lansky.
Former Las Vegan Meyer Lansky II wants nothing to do with the restitution attempt by his aunt and cousin in wake of the restoration of relations between Cuba and the U.S.
"If my grandfather were alive today, he would donate it to the Cuban people," said Lansky II. "He loved the Cubans. He employed many of them."
His aunt Sandy Lombardo and cousin, Gary Rapoport, of Tampa, Florida, want compensation. "I don't agree with them," said Lansky, who now lives in Lake Tahoe. He had represented his grandfather's artifacts in the short-lived Mob Experience at The Tropicana.
His grandfather built the hotel-casino in Havana in 1957, shortly after he visited the newly opened Riviera in Las Vegas. Other investors included friends and mob associates Moe Dalitz, Morris Kleinman, Sam Tucker, Wilbur Clark of the Desert Inn (and Lansky's Hotel Nacional casino); Ed Levinson of the Fremont Hotel, Charles "Babe" Baron, who was representing Sam Giancana, Hyman Abrams and Morris Rosen of the Flamingo.
With the rise of Fidel Castro after the 1959 Cuban revolution, American properties were nationalized when the U.S. and Cuba broke off diplomatic relations. Mob-run casinos were closed.
Lansky, who influenced many decisions involving Las Vegas, died Jan. 15, 1983, at the age of 80.
THE SCENE AND HEARD
Chef Bobby Flay is stepping away from the grill and cookbooks to take on a new challenge: editor in chief of Bon Appetit magazine. He replaces Adam Rapoport.
"I'm stoked for this," said Flay. The move comes about three weeks before Bon Appetit's 10th annual Vegas Uncork'd. "I look forward to taking the helm and encouraging our readers to cook, eat, and live the best way they can. With one hundred percent more chile peppers." …
SIGHTINGS
Academy of Country Music awards nominees Little Big Town, with a group at Giada (Cromwell) on Friday.
THE PUNCH LINE
"Bernie Sanders today held a campaign rally in the South Bronx. Sanders said it was great to be in a neighborhood where he wasn't the loudest person." – Seth Meyers.
Norm Clarke's column appears Sunday, Monday, Wednesday and Friday. He can be reached at 702-383-0244 or norm@reviewjournal.com. Find more online at www.normclarke.com. On Twitter: @Norm_Clarke