Power partially restored at Paris Las Vegas
November 3, 2016 - 9:57 pm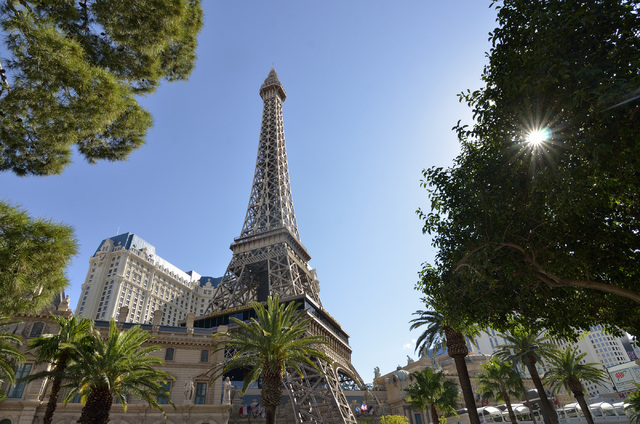 Jay Sarno had just won $1,000 on his Keno machine in the Paris Las Vegas early Thursday — his adrenaline pumping as he clicked to cash out — when the entire resort's power suddenly shut off.
The screen on Sarno's machine went black. The constant chiming of the nearby slots went silent. And even at 9:45 a.m., when the outage happened, "everything went dark."
"Even the emergency flood lights weren't on," said Sarno, of Santa Fe Springs, California, who said he has no known relationship to the Caesars Palace founder by the same name.
Dealers didn't know what was going on. Neither did other employees on the casino floor. So Sarno sat in the quiet, next to his machine, waiting for his money and waiting for someone to explain what happened.
The massive outage, which lasted through about 10:30 p.m., was caused by a construction error. A crew deep in the resort's boiler room had drilled through the property's main power line, including that of the back-up generator. The crew had been in the room to repair flooring, said Rich Broome, executive vice president of Caesars Entertainment Corp., which owns the Paris.
"We're hopeful the power will be on tonight," Broome said about 6 p.m., "but I don't have any guarantee." That's one of the reasons executives decided to close the resort through early Friday, he said.
Power was partially restored about 10:30 p.m., according to a statement, and guests were expected to be allowed back into the resort by 1 a.m. Friday after the Clark County Fire Department finished testing the fire alarm system.
"Once that test has been successfully completed, guests who have already checked into the hotel will be allowed to reenter the property," the statement read. "Additionally, guests can use their existing room keys to access their rooms, new keys should not be necessary. Guests who were not able to check in today are asked to remain at their reassigned locations until tomorrow morning."
When power first went out at the 3655 Las Vegas Blvd. South resort, 11 people were trapped in various elevators. The Clark County Fire Department rescued them and confirmed no injuries other than anxiety issues among hotel guests.
In the stairwells, as guests tried to make their way to the casino floor, it was "pitch black," Sarno said. Some people used flashlights on their phones to light the way.
Tim Deceuster, of Amarillo, Texas, said he lost his right leg to cancer when he was 10, and none of the resort's staff helped him climb down 28 flights of stairs with his luggage.
"I couldn't hang on to the rail because I was holding on to my crutches," he said. "They don't care."
Deceuster said he also saw elderly guests also struggling to make their way down through the dark without assistance.
"The power was down, we had no communication, so we had no way of figuring out who was where in the building," Broome said. "Obviously if we had a way to communicate with customers who needed help, we would have given them all the help we could give them. But that became an unmanageable situation."
It took about two hours for an employee to get on the resort's intercom system and ask guests to gather their belongings and exit the hotel, Sarno said. At that time, the announcement insisted power would be restored in the next 15 to 30 minutes.
By about 2 p.m., the fire department restricted guests from returning to their rooms and instead evacuated about 3,000 guests and employees after determining the hotel's fire alarm system was on low battery. Only guests who left medications locked in their rooms were allowed to return with a security escort, Broome said.
The long delay coupled with little information — and the resort's insistence that power would be back on shortly — left many questioning whether the resort had planned properly for such an extensive outage.
"The emergency plan was put in place," Broome said late Thursday, though he added that "we never anticipated somebody drilling through the concrete floor in our boiler room and severing the main (power) line."
Earlier Thursday, evacuated guests were sent to conference rooms at both Bally's Las Vegas and Planet Hollywood Resort, and guests who needed to check in for their Thursday stays were sent to Bally's. Officials had not determined whether the rooms of Wednesday night guests would be comped, but Broome said on a case-by-case basis, the resort was willing to pay for flight changes for those stuck in Las Vegas because of the outage.
Guests who booked a room for Thursday night and had checked in before power was restored were housed at neighboring Strip properties and would be compensated for the inconvenience, Broome added.
He could not confirm Thursday night if employees who missed shifts due to the outage would still be compensated, adding that executives had not begun to determine the financial impact of the outage.
"This has all been about figuring out how to manage our customers, how to get them as comfortable as we possibly can in a pretty bad situation," he said.
Sarno, who had to catch a flight Thursday afternoon, was told his winnings would be mailed to him once power was restored and the resort could confirm he won. Broome said several people were in the same predicament.
"We want to make sure that they are treated fairly," Broome said.
The crew who made the error in the boiler room had been hired by the hotel, but Broome would not name the contractor Thursday. "We're going to have to dig in a lot deeper to investigate what exactly happened and what went wrong here," he said.
As the sun set Thursday, the resort's valet stand was lit by lantern. Staff used small flashlights to check receipts and retrieve cars.
The iconic Eiffel Tower replica outside the resort remained illuminated Thursday, its power source separate from the resort's main line. But streetlights on the property and the resort's 2,916 rooms remained dark.
"We deeply regret the inconvenience that this unexpected outage has caused our guests and are doing everything we can to remedy this unfortunate situation," a statement from the Paris Las Vegas later read.
Officials planned to update the public about 6 a.m. Friday.
Contact Rachel Crosby at rcrosby@reviewjournal.com or 702-387-5290. Follow @rachelacrosby on Twitter. Contact Lawren Linehan at llinehan@reviewjournal.com or at 702-383-0381. Follow @lawrenlinehan on Twitter.
2004 Bellagio power outage
Another major power outage struck the Strip on Easter Sunday in 2004, when about 3,000 guests at the Bellagio awoke to muggy rooms, no air conditioning and cold showers.
Hotel officials hoped to have power restored that evening, but soon the 1,500 remaining guests were shuffled off to other properties.
Over the next three days, workers scurried to restore power. Meanwhile, everything Bellagio shut down, including the popular Cirque du Soleil "O" show and the famed dancing water fountains. The resort lost millions.
When the hotel reopened about 5 p.m. that Wednesday, large crowds packed the lobby and lined up 20-deep to check in.
"The power outage in 2004 was due to electrical system failures," an MGM Resorts International spokeswoman said Thursday. "It lasted four days because it was a complicated repair and in a complicated area. It was a failure of the system, not a construction accident."