Several arrested during protest on Las Vegas Strip
Updated May 29, 2017 - 6:09 am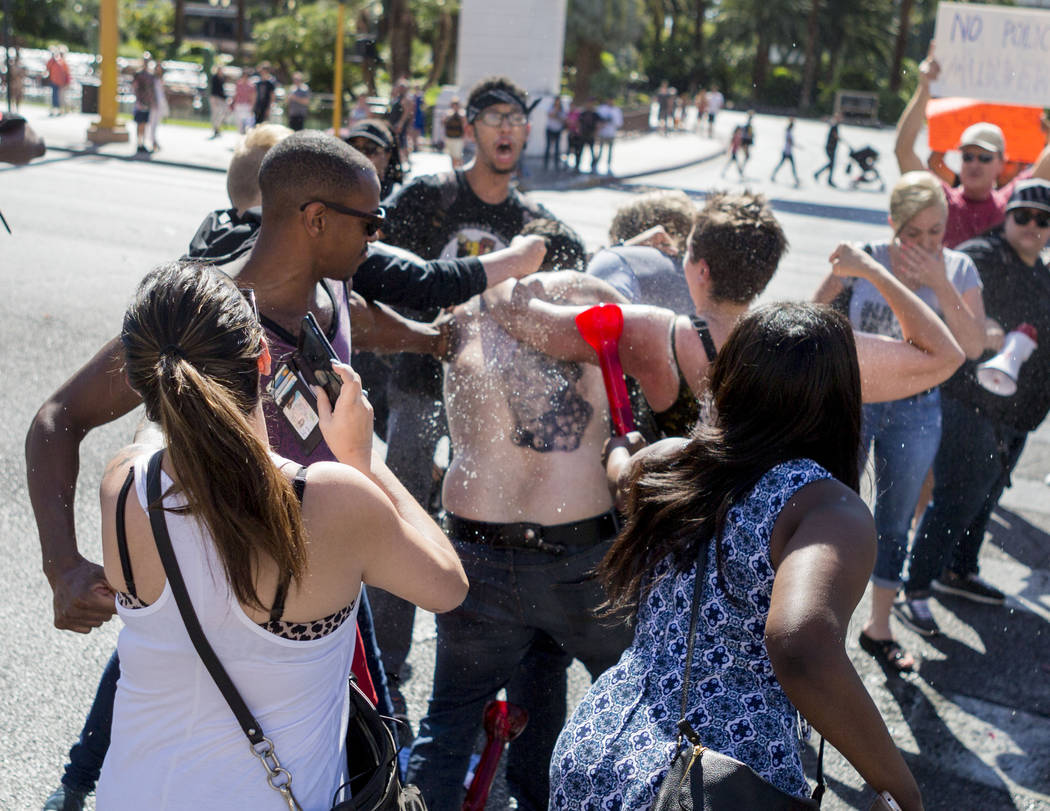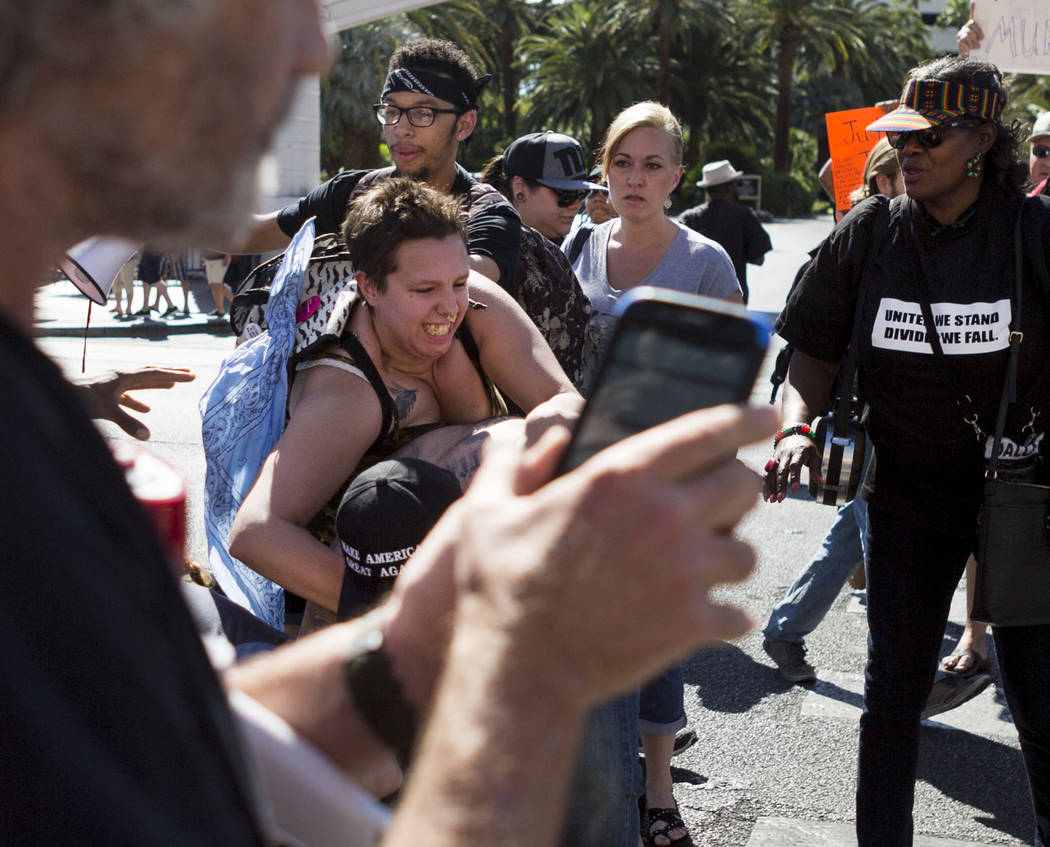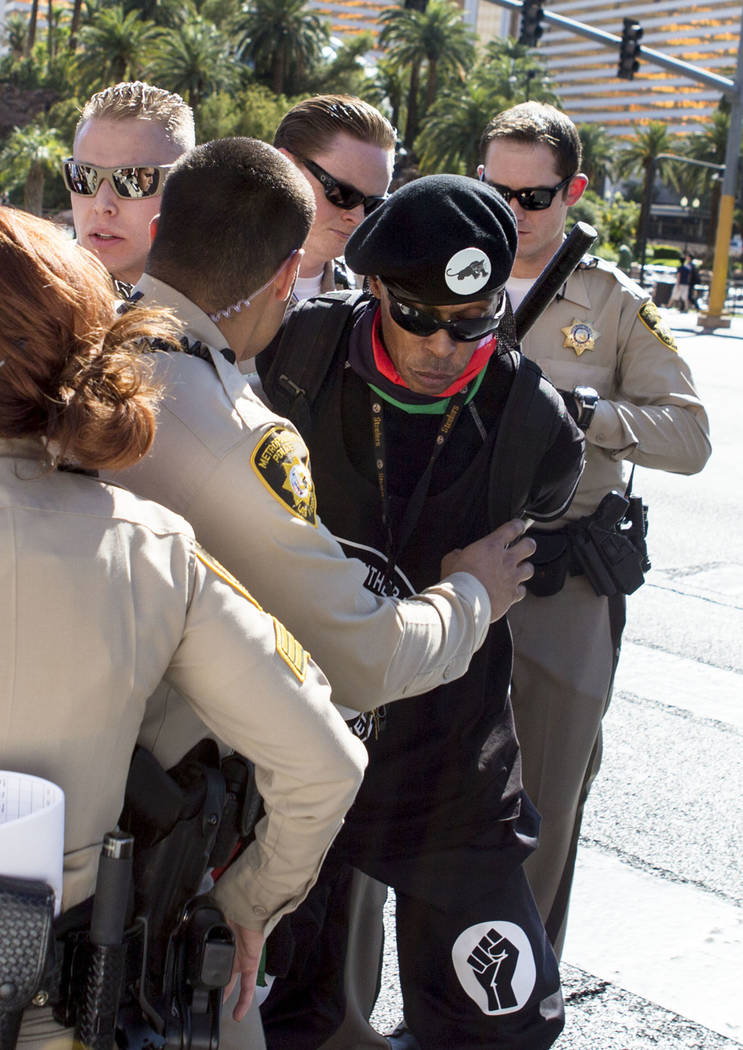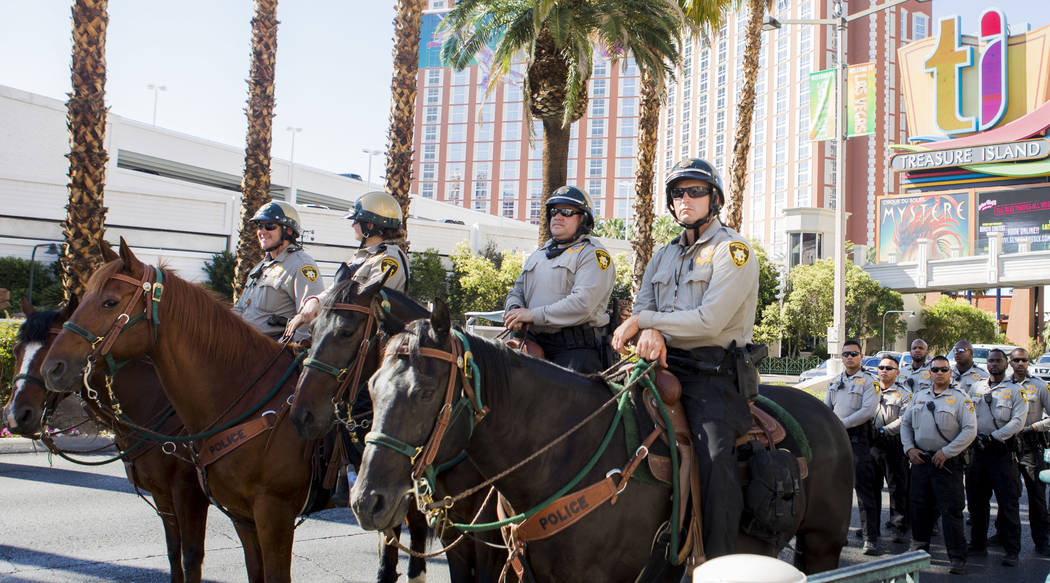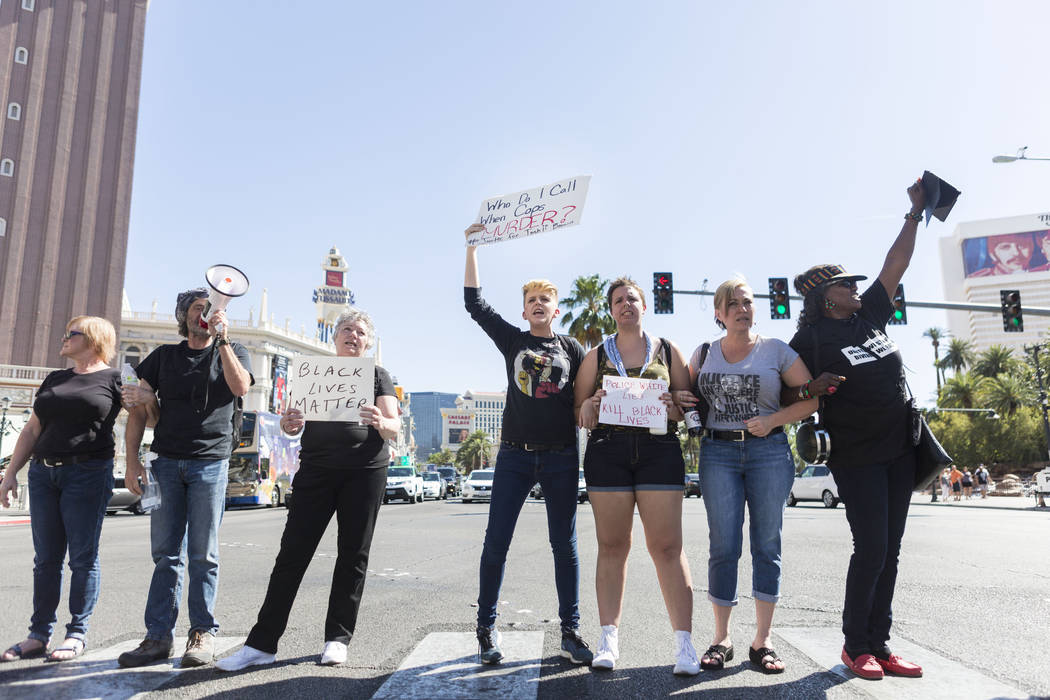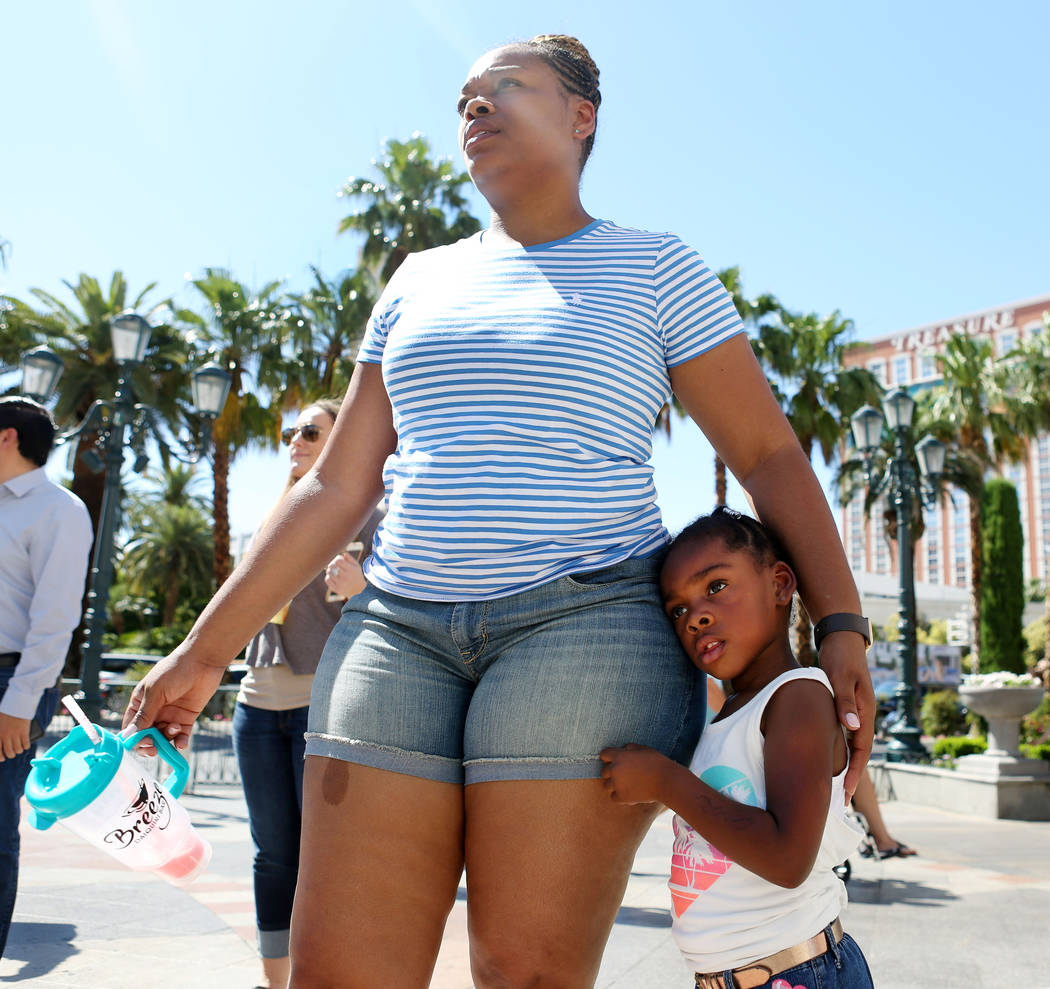 What started as a peaceful protest Sunday turned bloody after a brawl broke out in a crosswalk on the Strip.
Several people were arrested or cited after protesters briefly blocked traffic on the Strip near The Venetian during a demonstration that protesters dubbed "Black Lives Still Don't Matter."
The group, which Las Vegas police numbered at 75, was protesting the case of Tashii Brown, who died after police stunned him with a Taser seven times and placed him in an unauthorized chokehold for more than a minute earlier this month after a struggle behind The Venetian.
On Sunday, a fight broke out in the intersection in front of the hotel-casino when a passer-by appeared to wrap his arm around protester Rachel Siota's neck and take her to the ground.
The passer-by, a shirtless man wearing a "Make America Great Again" baseball cap, walked into the street and tried to wave cars through the protest line. Siota said she was taken down when protesters refused to move.
The man started attacking other protesters when they tried to get him away, she said. Several protesters then started punching the man.
Police, who were stationed near the hotel-casino away from the protest, did not start removing people from the street until after the fight. Strip traffic was blocked for about 10 minutes.
Police detained 15 people. Eight were arrested and issued citations, police said. Two people were booked into the Clark County Detention Center, one on suspicion of possession of a deadly weapon and another on suspicion of involvement in the fight.
A peaceful start
Dozens gathered about 3 p.m. around a fountain in front of The Venetian for the protest, which was organized partly on Facebook. Organizer Stretch Sanders, founder and president of All Shades United, said before the event that the protest was supposed to bring awareness to Brown's death.
Publicly released police body-camera video appears to show Metro officer Kenneth Lopera using a stun gun on Brown before punching him in the head and choking him. Lopera is on paid leave while Brown's death is being investigated.
Sanders and others took to megaphones to share their anger and disappointment. About an hour into the protest, they moved to the crosswalk.
Metro response
Metro Capt. Sasha Larkin, who oversees the department's community engagement office, said her team was on the scene to keep protesters safe. To ensure the safety of pedestrians and drivers, the department does not allow the takeover of lanes on any road, Larkin said.
"Look, at the end of the day, we support people's right to protest," Larkin said. "We want them to come out here, have a voice, carry signs. You can absolutely come out here and share your viewpoint. The only thing that we ask is that you don't block the travel lanes, and, of course, we will not tolerate any acts of violence on our streets or on the Strip."
Several people who moved to the sidewalks after police cleared the road were also handcuffed, including Sanders.
Larkin said people were arrested only if they were blocking traffic or physically harming someone else. Many of the people in the crosswalk during the fight were not detained.
Review-Journal staff writer Max Michor contributed to this report. Contact Blake Apgar at bapgar@reviewjournal.com or 702-387-5298. Follow @blakeapgar on Twitter.
Here's video of the fight between protesters and a man not involved with the protest in the middle of the Las Vegas Strip. Strong language. pic.twitter.com/zB6lJz0SWR

— Blake Apgar (@blakeapgar) May 29, 2017
#rjnow protest for Tashii pic.twitter.com/PRoJ31lRr6

— Elizabeth P. Brumley (@EliPagePhoto) May 28, 2017
A punch thrown by a man wearing a"make America great again" Tshirt during a peaceful protest that stopped strip traffic #rj #allshadesmatter pic.twitter.com/P9DsVh3BAe

— Elizabeth P. Brumley (@EliPagePhoto) May 29, 2017
Fight breaks out and arrests happen during a initial peaceful protest #RJnow pic.twitter.com/OGqFPwHKrn

— Elizabeth P. Brumley (@EliPagePhoto) May 28, 2017
You can just start to see him trying to wave cars through at the end of this clip. pic.twitter.com/pOUTZ3kwtF

— Blake Apgar (@blakeapgar) May 29, 2017