The Cosmopolitan of Las Vegas on Tuesday became the 23rd Strip property to charge customers to park during visits.
And resort officials say you can thank the other 22 for that.
In an emailed statement, Cosmopolitan officials indicated that, because customers at other resorts were being charged to park, they sought out free parking elsewhere.
"Convenience and overall resort guest experience are top priorities at The Cosmopolitan of Las Vegas," the statement said. "Due to the current policy change to paid parking amongst our neighboring resorts, our parking facility has been impacted by non-resort guests' increased use. These factors have necessitated that we adopt the same policy to ensure access to our actual resort guests."
The property announced last year that it would implement a paid-parking plan, but when it would begin was unclear. In late March and early April, crews began installing gates and pay stations at the property with a plan of having the system operational by late April.
On Tuesday, customers using valet began paying $13 to $18 a day, while self-parking customers paid $7 to $10 a day. The first hour of self-parking is free. Top-tier members of Cosmopolitan's Identity membership and rewards club get free parking.
Nevada residents, representatives of the military, the disabled and AAA members won't get a break from fees.
Paid parking begins today at @Cosmopolitan_LV – Will you continue to visit the hotel-casino? Read more → https://t.co/30H71pMMyS

— Las Vegas RJ (@reviewjournal) May 16, 2017
The property's website said parking rates could go up for concerts, special events and some holidays.
Resort officials said that, unlike other Strip resorts using third-party vendors, the Cosmopolitan is using its own employees to manage parking.
"The Cosmopolitan has invested into managing and operating all parking and valet operations in-house by our own 'CoStars,' which has resulted in the creation of new employment opportunities as well as the ability to provide a seamless guest service experience from point of arrival to departure," the resort's statement said.
The Cosmopolitan joined 12 MGM Resorts International, eight Caesars Entertainment and two Wynn Las Vegas Strip resorts in beginning some form of paid parking. Wynn only charges for valet parking, and Caesars properties are the only ones that enable local residents to park for free by scanning the barcode on the back of a Nevada driver's license.
The Cosmopolitan has four levels of parking beneath the two 603-foot towers containing 2,995 rooms, a 110,000-square-foot casino, a 3,200-seat theater and 150,000 square feet of convention and meeting space. The self-parking lot is accessible off Harmon Avenue on the south side of the building.
The parking garage at the Cosmopolitan was the first in Las Vegas to feature red and green way-finding lights marking open spaces. The company did not provide an estimate of revenue generated by parking or whether it would be used for additional parking improvements.
The resort denied a request from the Las Vegas Review-Journal to produce a video demonstrating how the system works.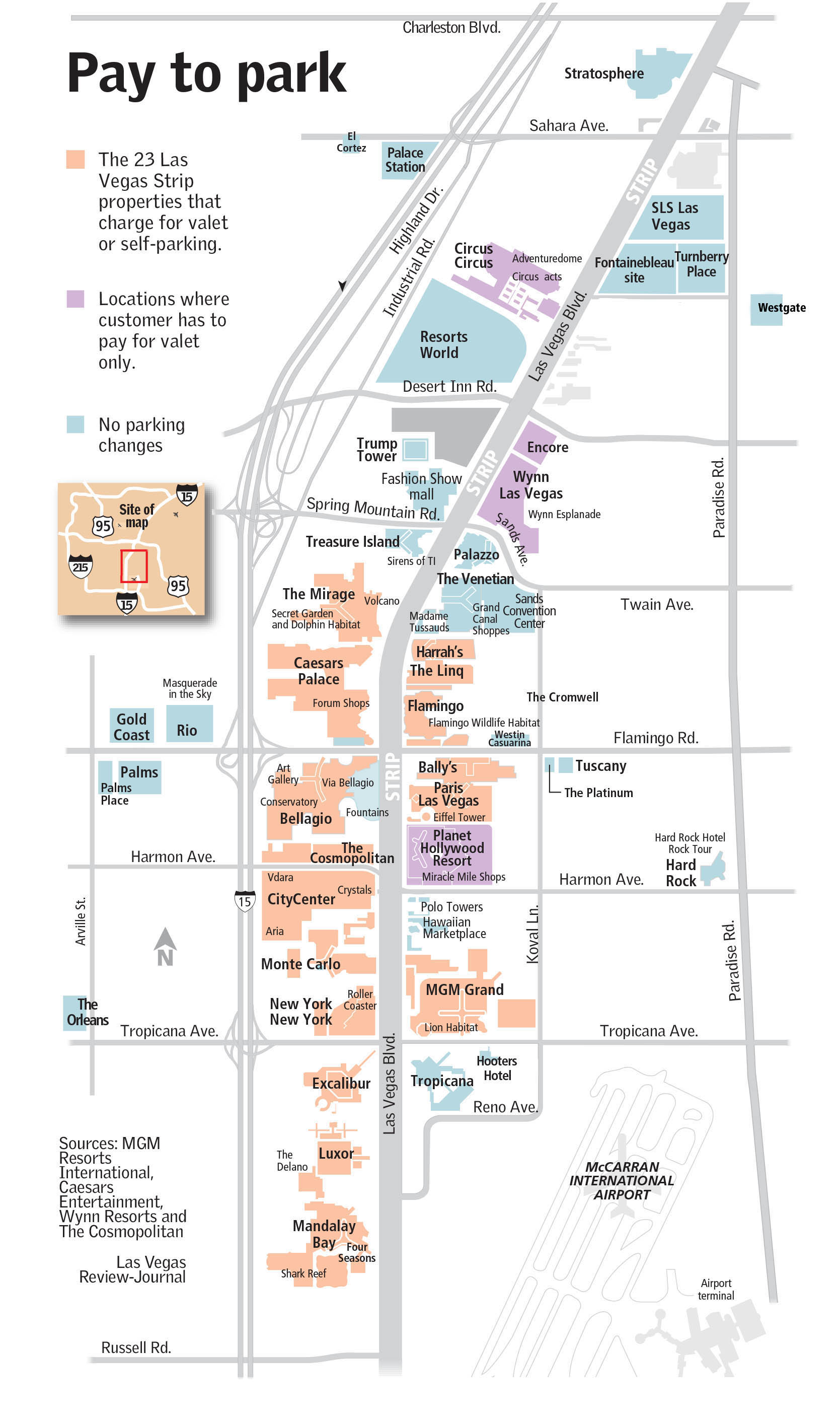 Contact Richard N. Velotta at rvelotta@reviewjournal.com or 702-477-3893. Follow @RickVelotta on Twitter.
Cosmopolitan parking
The Cosmopolitan began charging customers to park Tuesday. The details:
-Valet rates: 0-4 hours, $14; 4-24 hours, $18; valet is $18 a day for any portion of day after 24 hours.
-Self-parking rates: 0-1 hour, free; 1-4 hours, $7; 4-24 hours, $10; self-parking is $10 a day for any portion of day after 24 hours.
-Motorcycles and two-wheeled vehicle are exempt from parking fees.
-No free parking for Nevada residents, members of the military or AAA members.
-Identity loyalty card members get free valet parking at the gold and platinum levels and free self-parking at the sterling, gold and platinum levels.
-Payment kiosks are located on each floor near banks of elevators. Cash and credit cards are accepted at levels B2 and B3 and credit cards are accepted at levels B4 and B5.
-Lost ticket fees are $30.
-During concerts, special events and peak periods, parking rates may go up.
3708 S Las Vegas Blvd, Las Vegas, NV