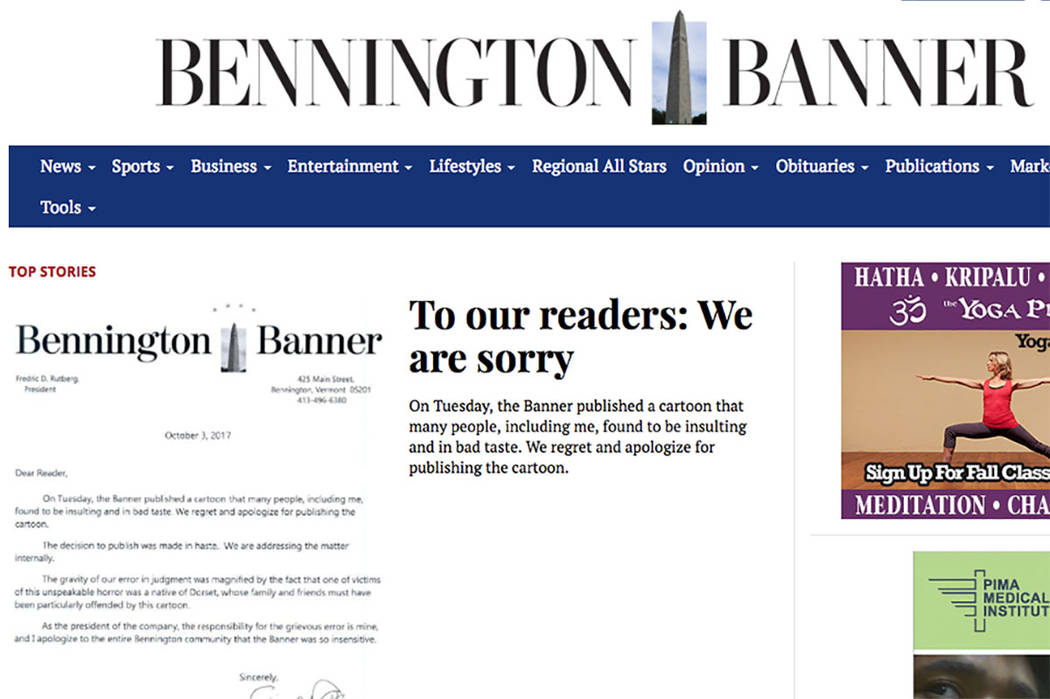 A Vermont newspaper is apologizing to readers after publishing an offensive cartoon related to the Las Vegas shooting in its Tuesday print edition.
Under the heading, "Whatever happens in Vegas…," the cartoon depicts dozens of bodies strewn across the ground. The cartoon appeared in the print edition of the Bennington Banner on Tuesday and was quickly criticized as depicting those who were killed Sunday night in Las Vegas while attending the Route 91 Harvest festival.
Among those killed in the incident include Sandra Casey, who is originally from Vermont.
An apology online identified Randall Enos as the artist behind the cartoon. Enos' work is distributed by Cagle Cartoons, a California-based cartoon distribution company.
The cartoon was removed from the online site by 2 p.m. local time and an apology note appeared online instead.
"We regret and apologize for publishing the cartoon. The decision to publish was made in haste. We are addressing the matter internally," wrote Fredric Rutberg, president of of New England Newspapers, Inc, which publishes the paper.
The apology note said Rutberg would be at the Banner's office Wednesday morning at 8:30 a.m. local time to talk with readers.
An editorial published online Monday, asked what it would take to stop similar massacres from happening again.
"We hate to say it, but if the 2012 massacre of 20 children and six school staffers at the Sandy Hook Elementary School in Newtown, Conn. didn't shake anything loose in this country then neither will what just happened in Las Vegas," the editorial says.
The editorial ends by saying there will be another mass shooting in the future and the same situation would likely play out again.
"We hope we're wrong and that this will be the shooting that finally sets in motion real, positive change, but we doubt it. "Insanity" has been described as doing the same thing over and over again, each time expecting a different result, and it does appear that we are, as a nation, insane."
Contact Meghin Delaney at 702-383-0281 or mdelaney@reviewjournal.com. Follow @MeghinDelaney on Twitter.