What others are saying about T-Mobile Arena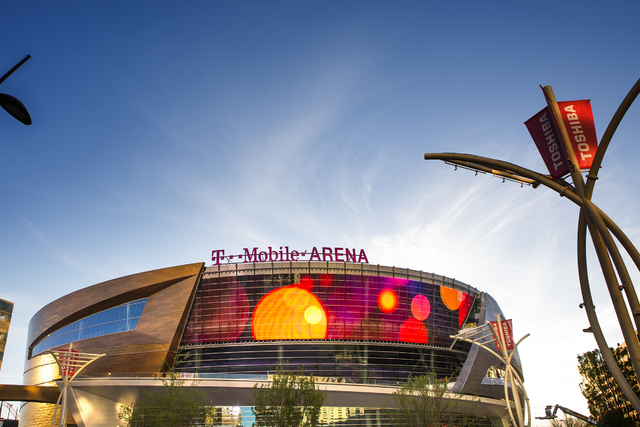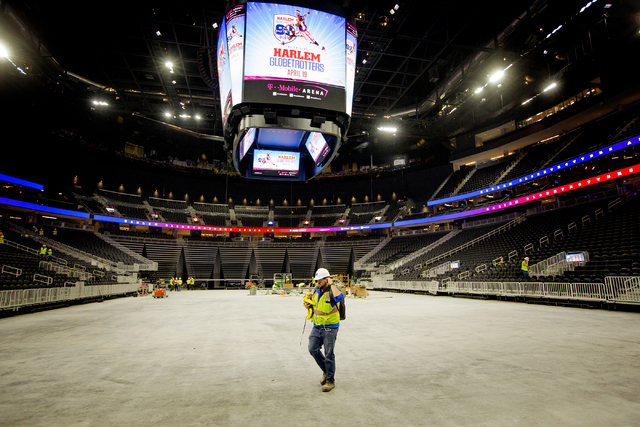 T-Mobile Arena officially opens its doors April 6 and tourists, artists, locals and Las Vegas resorts are weighing in on the Strip's new squeeze via social media.
Almost two years after breaking ground and $375 million later, golden shovels and confetti have been replaced with giant pink letters and 20,000 seats waiting to be filled. Between Pac-12 men's basketball making the move to the "big boy arena" and hometown heroes The Killers christening the joint on night one, filling those seats won't take long.
Wireless operator T-Mobile scooped up the naming rights to the former AEG-MGM arena in early January and the countdown to opening has only been ticking louder.
But what's everyone actually saying about this massive copper structure that's slowly been creeping up the Las Vegas skyline?
Check out the social feedback so far:
What's trending? #TMobileArena
Though many are welcoming the new venue, some aren't too thrilled about the project just west of the Strip. Whether it's fear of losing a signal inside a place named after a major carrier or disinterest in the development itself, there's been no shortage of concerned posts.
I can't be be only one worried about the wifi for T-Mobile arena, right? Because you know T-Mobile even if it's only just a name and all

— Karen (@LovelyCorrin) March 12, 2016
Just 3 weeks until we live tweet #GunsNRoses return in #Vegas. Hope the T-Mobile Arena has good wifi.

— Rockline Press (@RocklineNovels) March 19, 2016
I like Las Vegas' new T-Mobile arena but we have so many indoor concert venues, I don't understand should've been at NFL stadium #LasVegas

— Colleen (@vegascowboysfan) March 31, 2016
I wonder if T Mobile Arena will steal a lot of eventa from the MGM Grand Garden #Vegas #UFC

— W.P. (@wornporther) March 13, 2016
But other social users are a little more excited for its opening.
The new stadium that was built in Las Vegas is called @TMobile Arena. How cool is that? Can't wait for it to open!

— Daniel Klein (@OfficialDKlein) March 10, 2016
@TMobileArena @MGMResortsIntl super excited for the upcoming opening of the #TMobileArena pic.twitter.com/oeFxwwSrpq

— John (JJ) Pavlock Jr (@JJPavlock) March 29, 2016
The new @TMobileArena in Las Vegas. Must be seen to be believed. Opens April 6th w The Killers! #VegasBaby #iconic pic.twitter.com/COTMDiyyWW

— Brad Garrett (@RealBradGarrett) March 31, 2016
Hey #Arianators we'll be live snapping during #TMobileArena show in #LasVegas on April 7 #NickiMinaj #ArianaGrandehttps://t.co/k7oTxT9L3F

— Ariana Grande (@ArianasUpdated) March 27, 2016
How the city feels about it
.@DjRookieBear we are kinda excited about it too@TMobileArena @thekillers #TMobileArena pic.twitter.com/AZNVcPsM6m

— Life is Beautiful (@lifeisbeautiful) March 31, 2016
@TMobileArena @Tmobile has the best family plan (unlimited data) and now the tourney is in the new arena!!?!? YES!!! I'm excited for this!

— Ted Stryker (@TedStryker) March 12, 2016
Cheers! We're celebrating the final countdown to the grand opening of the T-Mobile Arena with a special 'Top Shelf' cocktail. Raise a glass with us as we welcome our new neighbors, officially arriving April 6, 2016!

Posted by Mandarin Oriental, Las Vegas on Wednesday, 30 March 2016
Welcome to T-Mobile Arena in Las Vegas. Where our customers always get lucky.

Posted by T-Mobile on Thursday, 7 January 2016
Local companies are also piggybacking and offering deals related to the opening.
The Killers w/ Wayne Newton -1st show @ #TmobileArena -get FREE ride credits @ https://t.co/jqR8hNdhRI #TheKillers Promo code "TmobileArena"

— Las Vegas Lyft (@LasVegasLyft) March 28, 2016
Only a month left until our newest neighbor T-Mobile Arena opens their doors for some world class entertainment! Tickets for their first shows are up for sale! Get yours now!#Vegas

Posted by Las Vegas Monorail on Monday, 7 March 2016
T-Mobile Arena will be opening soon! Book your round trip limo service to kickoff opening week! https://t.co/JRM0fEcHg2 #TmobileArena #Vegas

— Las Vegas Limousines (@LVLimo) March 24, 2016
Entertainment
While many have snapped up pictures of the arena's facade, a good portion of the hype on social media is a direct result of the entertainment lineup.
Here's the current list of acts headed to T-Mobile in 2016:
4/6 — The Killers with Wayne Newton
4/8-4/9 — Guns N Roses with Alice in Chains
4/19 — Harlem Globetrotters
4/22-4/23 — George Strait with Kacey Musgraves
4/30 — Billy Joel
5/7 — Kanelo vs. Khan
5/14 — Janet Jackson
6/24-6/25 — Garth Brooks with Trisha Yearwood
7/2-7/4 — Garth Brooks with Trisha Yearwood
7/9 — UFC 200
7/16 — Dixie Chicks
9/9-9/10 — George Strait with Kacey Musgraves
10/21 — Keith Urban
11/2-11/6 — Professional Bull Riders World Finals
12/2-12/3 — George Strait with Kacey Musgraves
I will be seeing @NICKIMINAJ in a few weeks#TMobileArena

— Andrew (@AndrewParsen) March 24, 2016
Almost a week away!! @gunsnroses @AliceInChains #vegas @TMobileArena !!! Going to be sick!!!!see you there !!!! #GnFnR

— Dawn (@dawnvegas) March 30, 2016
the tickets for the killers concert when they perform for the grand opening of the t-mobile arena are soo expensive !!

— Alexia (@lexiaaolivass) February 28, 2016
Gonna have to pass on seeing @ArianaGrande and @NICKIMINAJ next week at #TMobileArena since all the good tickets are gone

— (@xharajukubunnyx) March 28, 2016
@thekillers Looking forward to your concert at the new T-Mobile arena in #Vegas soon!

— Sue Campbell (@suectravel) March 18, 2016
Vegas wants hockey
The newest addition to the glittering Las Vegas Strip will debut without a slot machine or a blackjack table in sight.
No NHL team, either, but that doesn't stop MGM officials from believing they will hit the jackpot with a new $375 million arena that sits in the middle of all the best action this gambling town has to offer.
"We're ready for an NHL team," said Rick Arpin, senior vice president of entertainment for MGM Resorts International. "But our primary motivation was not for a pro sports team. We built this building to get events we couldn't do otherwise, and pro sports certainly fits in that."
@LVWantsHockey driving past new @TMobileArena and can't wait for @NHL hockey in Vegas! pic.twitter.com/PlWvbnTW3D

— Kyle Canfield (@hinsightprophet) March 11, 2016
Can't wait to watch some @lakings hockey when they come to town! @ Hyde T-Mobile Arena https://t.co/GJniQEfOJC

— Kozmoe Alonzo (@Kozmoe) January 21, 2016
AP Sports writer Tim Dahlberg contributed to this report.
Contact Ashley Casper at acasper@reviewjournal.com. Follow her on Twitter: @TheCasperA