After solid snow, steady rain, storm clears out of Las Vegas
Updated January 5, 2023 - 10:07 pm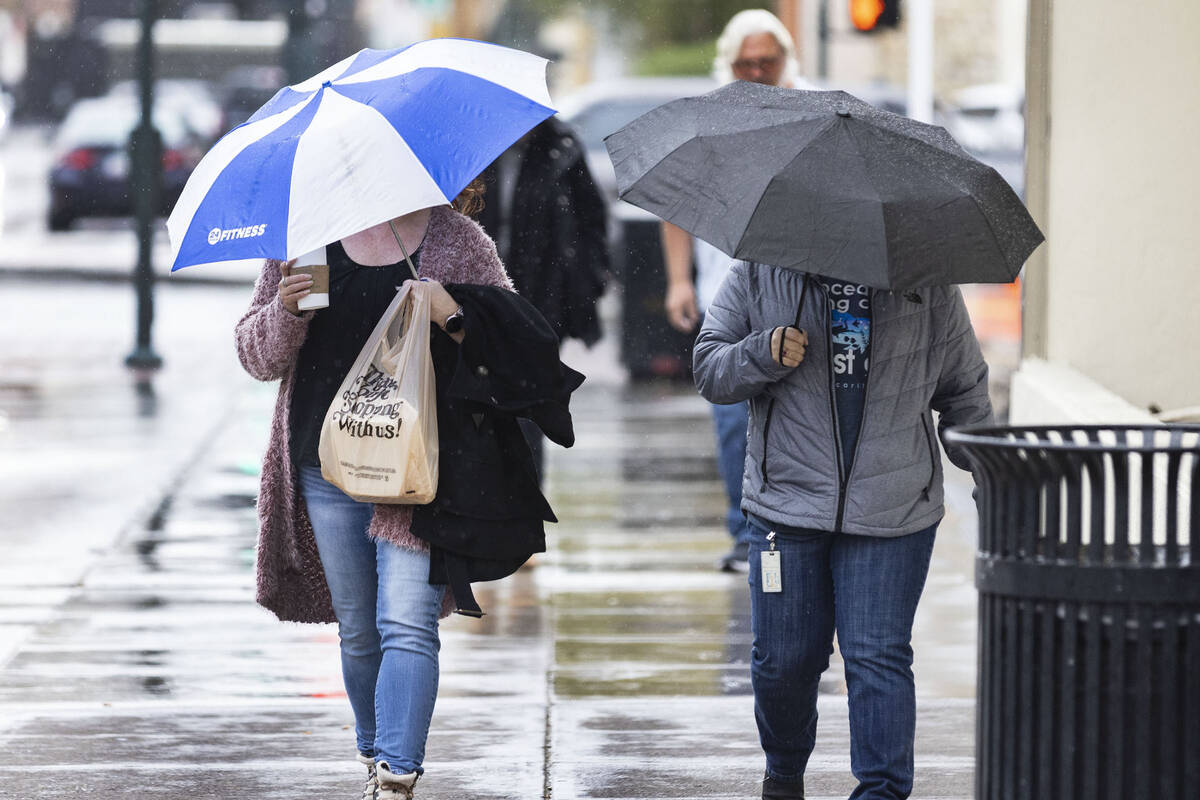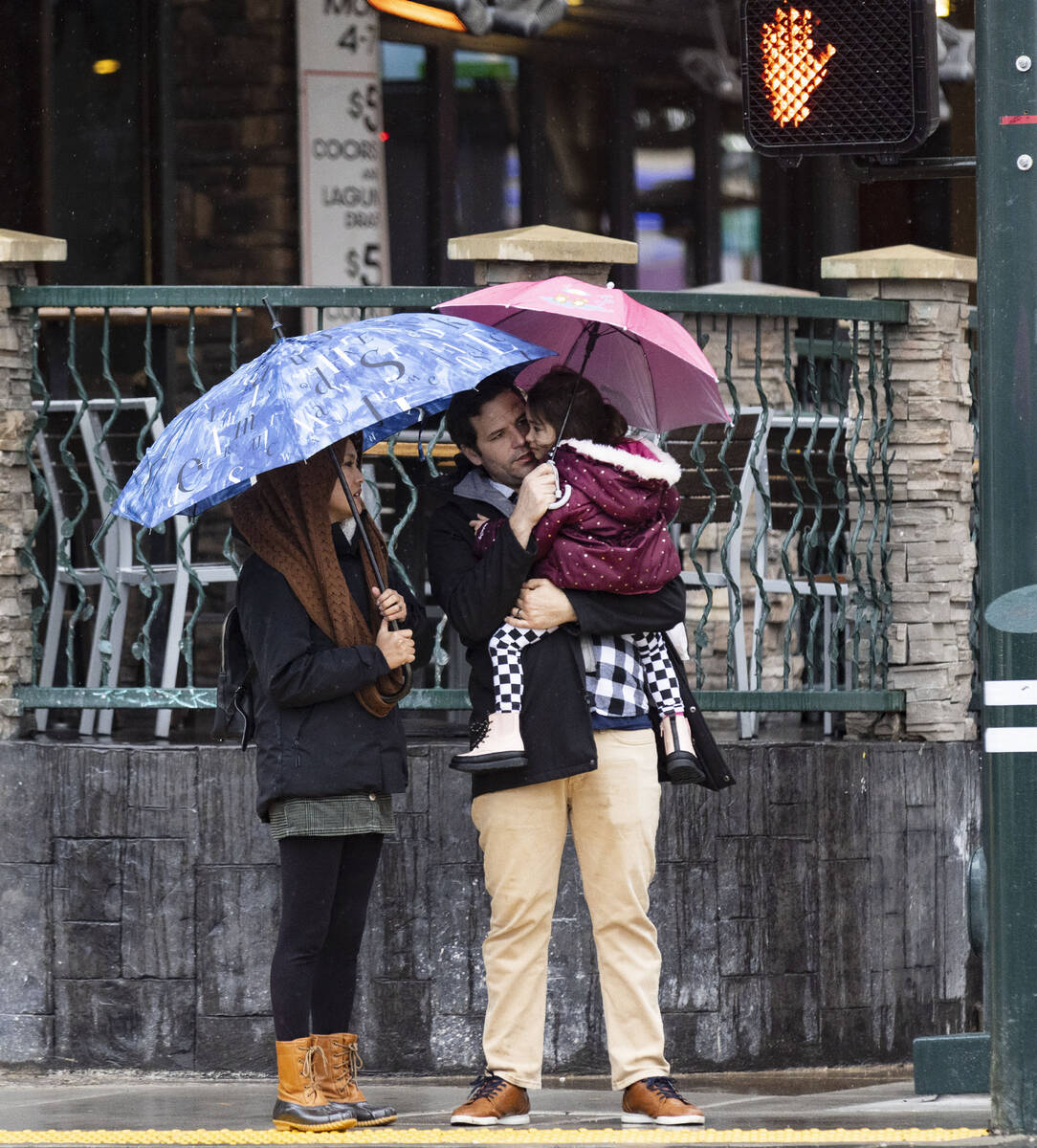 The second storm in less than a week gave Southern Nevada a good cleansing and added snow in the mountains Thursday.
Forest Service officials advised motorists avoid travel to Kyle or Lee canyons shortly after noon Thursday because of increasing snowfall.
Lee Canyon had received about 6 inches of snow at its base as of 3:30 p.m., Jim Seely, marketing director for the resort, said, adding that he expected a few more inches before the storm moved east.
Here are some 24 hour precipitation totals from across the area (not all data may be considered official). How much precipitation did you get?#NVwx #CAwx #AZwx pic.twitter.com/JWrzaBzPxM

— NWS Las Vegas (@NWSVegas) January 6, 2023
Humboldt-Toiyabe National Forest officials said in a tweet that the snow began to intensify in the early afternoon.
"The snow in the Mount Charleston area of the Spring Mountains is coming down now at a rapid pace," a tweet said. "We recommend that if you don't have to travel to Kyle or Lee Canyon today, it's best to stay home…even with snow chains or a four-wheel drive vehicle."
In the valley, mostly light but steady and widespread rain fell over most of the region before coming to a halt around 6:15 p.m.
Regional Flood Control District gauges showed.08 to .20 of an inch in nearly all measuring locations. Only areas far south of the valley were not rained on.
Boulder City received .39 of an inch and some east Henderson areas had received a quarter-inch.
The snow in the @GoMtCharleston area of the Spring Mountains NRA is coming down now at a rapid pace. We recommend that if you don't have to travel to Kyle or Lee Canyon today, it's best to stay home…even with snow chains or a four-wheel drive vehicle. #SafetyFirst pic.twitter.com/V4fHi7bTGZ

— Humboldt Toiyabe NF (@HumboldtToiyabe) January 5, 2023
Rainfall was heavier in the Spring Mountains with .63 of an inch recorded at a Harris Springs gauge east of Mount Charleston and .59 in a gauge along State Route 157.
A winter storm warning for the Sheep Range, Red Rock Canyon and Spring Mountains began at 4 a.m. Thursday and runs until 4 p.m. Friday.
Snowfall in the mountains had been projected at 6 to 15 inches above 7,000 feet with winds gusting to 50 mph.
Thursday's high reached 52 with clouds and rain keeping the forecasted 56 from being reached.
A power outage caused by a downed pole or wire near East Sahara and Spencer Street in east Las Vegas put 1,715 NV Energy customers without power starting shortly after 4 p.m. Thursday. The company said on its outage website that it expected restoation by 7:45 p.m.
California, Northern Nevada storms
The moisture was part of a massive storm moving into the Pacific Coast and then into the Great Basin. Heavy rain and flooding started Wednesday morning in California.
Damaging winds and heavy rains from a powerful "atmospheric river" pounded California on Thursday, knocking out power to tens of thousands, causing flash flooding, and contributing to the deaths of at least two people, including a child whose home was hit by a falling tree.
Northern Nevada, which was hit heavily by last weekend's storm, could be hit hard again this weekend, forecasters say.
At 6 p.m. Thursday, NV Energy was reporting about 2,600 customers without power in areas east of Carson City. That was reduced to around 500 customers by 7:20 p.m.
"As we face more incoming severe winter weather, state agencies are working diligently on their preparation and response efforts. I encourage all Nevadans to prepare for the storm, listen to local weather advisories, and use sound judgment when traveling," Gov. Joe Lombardo stated in a news release Wednesday night.
In Las Vegas, conditions should improve for the weekend.
"It looks fairly good for the valley for most of the weekend," meteorologist John Adair said.
Snow and rain are expected early next week as the region alternates between a day or two of stormy weather and a day or two of clear conditions.
Contact Marvin Clemons at mclemons@reviewjournal.com. Follow @Marv_in_Vegas on Twitter. The Associated Press contributed to this report.