Las Vegas ends record dry streak at 240 days
Updated December 18, 2020 - 4:11 am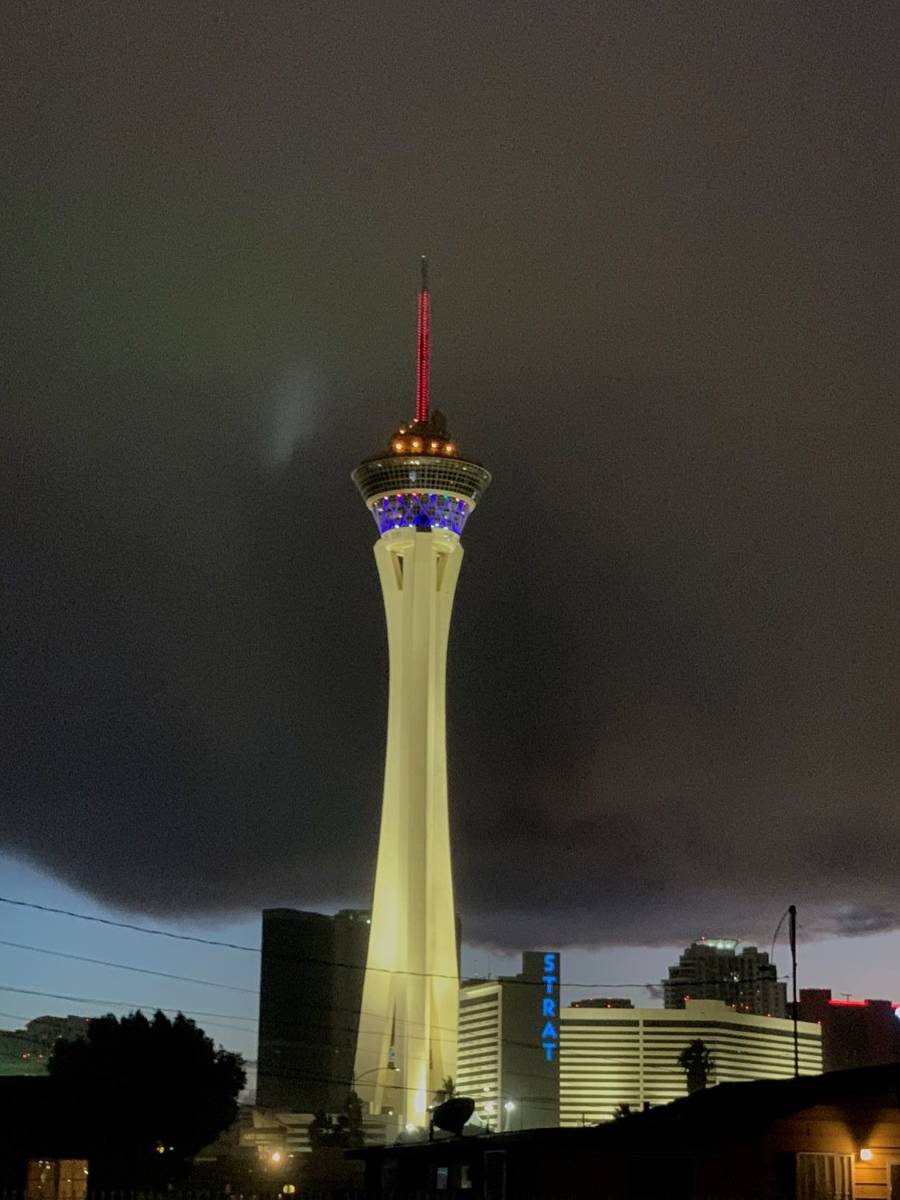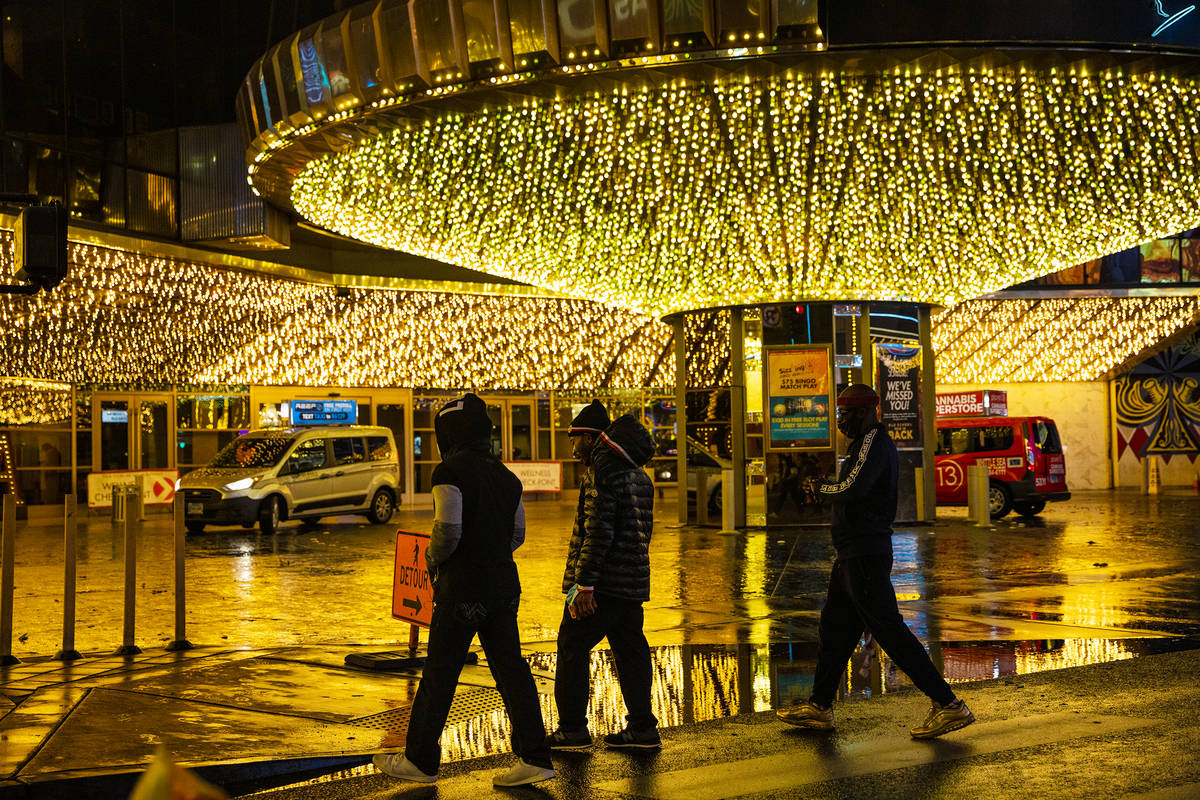 After 240 days, the Las Vegas Valley's dry streak is finally over.
McCarran International Airport recorded 0.04 inches of rain Thursday night, breaking the dry spell that began on April 20 in Las Vegas, the National Weather Service said in a tweet.
Weather service meteorologist Jenn Varian commented on the ending of the record-setting streak in the valley.
"Did we expect it to go 240 days? We did not. That shattered previous records," she said. "We did know it'd turn a little drier, as we're setting up for La Nina this winter. But we are excited by the rainfall."
The last time the city saw rain, a chilly morning at 59 degrees led to cloudy skies and near 80-degree temperatures. McCarran International Airport reported 0.2 inches of rain before the evening.
Thursday looked a bit different, with scattered clouds across the valley and a possible snow forecast for Mount Charleston. Thursday reached a high of 62 with wind gusts around 20 mph.
At 5 p.m., Varian said the northern parts of the valley had started seeing some precipitation, ranging from a light sprinkle to about a tenth of an inch of rain.
📣 LAS VEGANS! We did it!!
0.03" of rain at McCarran International Airport and counting!

Dry Streak: OVER!! 240 days. #VegasRain #DryStreak pic.twitter.com/IJIcuG23W2

— NWS Las Vegas (@NWSVegas) December 18, 2020
Instead of coming into central Nevada and then turning toward Utah, the small storm front, which Varian said lasted about 45 minutes until about 5:40 p.m., passed right over Las Vegas, and the front mostly cleared out by 6 p.m.
Broken records
The dry spell was by far the longest such streak to occur in the valley, shattering the previous record of 150 days set in 1959. This year passed the 150-day record Sept. 17, amid 100-degree temperatures and hot, hazy days caused by wildfire conditions.
Before Thursday's showers, rainfall for 2020 was 2.31 inches, with a normal full year being 4.12 inches. The driest year was 1953, when only 0.56 inches of precipitation fell at McCarran.
A few trace amounts were recorded during the 240-day dry streak, including July 19, when the city broke an 89-day dry spell of absolutely no rain. It was the fourth-longest dry spell on record. The day reached 109 degrees, and several parts of town saw real raindrops for the first time in nearly three months, but McCarran received nothing measurable.
The rainfall also came on a ceremonious day for longtime locals who remember exactly 12 years ago Thursday when 3.6 inches of snow fell at McCarran, breaking the previous record set in 1979.
It's raining with high winds in downtown Las Vegas right now. #weather #RJnow pic.twitter.com/t5N80OgK83

— Kevin M. Cannon (@kmcannonphoto) December 18, 2020
Hazardous conditions
Meteorologist Caleb Steele warned Thursday evening that drivers should be cautious as the rain loosened up 240 days worth of dirt and oil on the roads.
"After a dry period this long, the traction on the roads will actually be similar to packed snow, so drive like you're driving in snow," Steele said. " We didn't even have enough rain to clear the roads, just to loosen them, so we'll face this problem again the next time it rains."
Between 5 and 6 p.m., at the height of the rain, Las Vegas police responded to six injury crashes, seven crashes that were causing traffic problems and two hit-and-runs, according to logs maintained by the Metropolitan Police Department.
The wet roads garnered a total of 14 injury crashes as of 8 p.m., but the extent of injuries was unclear, and Las Vegas police could not be reached for comment.
A cold front is coming through the Las Vegas Valley tonight, bringing some showers into the area.
After an overnight low around 40, the Friday high will be about 59 with winds gusting close to 20 mph.
No rain is expected over the weekend.
Saturday should max out around 58 with a high of 62 for Sunday.
Contact Alexis Ford at aford@reviewjournal.com or 702-383-0335. Follow @alexisdford on Twitter. Review-Journal staff writers Marvin Clemons and Sabrina Schnur contributed to this report.